Description
READ FULL EVENT DESCRIPTION HERE.
What a better way of starting the new year than talking about one of the most discussed and controversial topics of the Internet of Things: security.
In order to deep dive into the present and future challenges of IoT security we have invited at Hardware Pioneers three top UK experts from UL, the IoT Security Foundation and TechUK.

Like usual this night will be fuelled with plenty of drinks.
Hardware Pioneers is kindly sponsored by Intel and UL.
---
About the speakers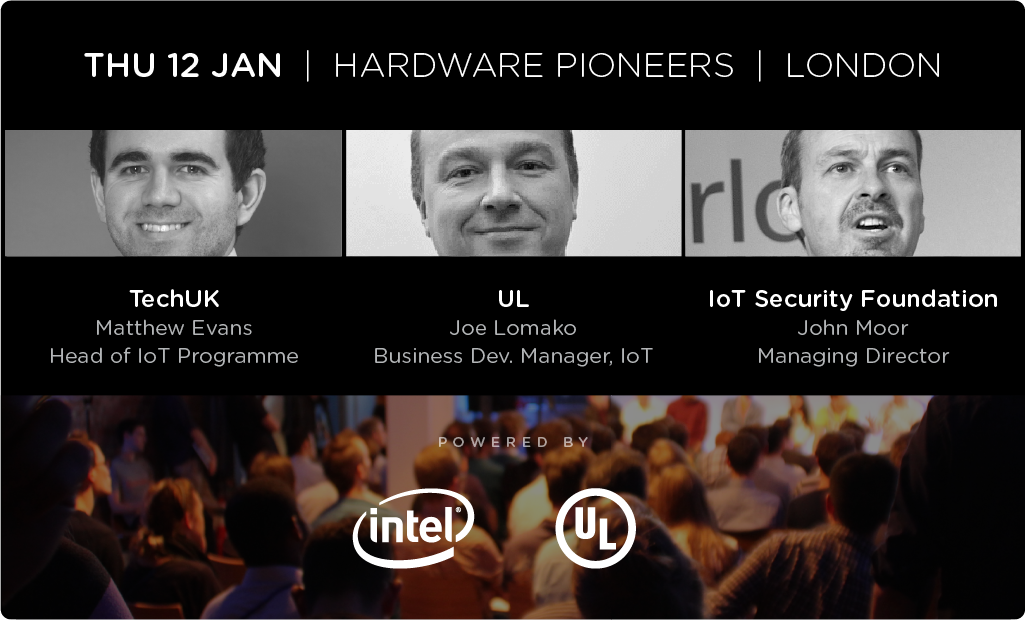 Matthew Evans, Head of IoT Programme at TechUK
Talk title: Trust in IoT
About the speaker: Matthew has led work on trust principles in an IoT world for consumers as well as helping techUK members explore new avenues of revenue within the connected home. Matthew is also CEO of the Broadband Stakeholder Group, the government-industry forum tackling strategic issues across the converging broadband value chain. Previously Matthew worked in Arqiva's public policy team, covering broadcast and telecoms markets for over two years.
About the company: TechUK represents the companies and technologies that are defining today the world that we will live in tomorrow. More than 900 companies are members of techUK. Collectively they employ approximately 700,000 members, about half of all tech sector jobs in the UK. These companies range from leading FTSE 100 companies to new innovative start-ups.
TechUK approach to Cyber Security - Video
Joe Lomako, Business Dev. Manager, IoT and M2M at UL
Talk title: Getting IoT Products to market which are legal, work, and are secure
About the speaker: Joe has over 20 years in the Wireless Regulatory and Standardisation Industry in both R&D and commercial capacities in areas such as short range radio, cellular and EMF Exposure.
He presently holds a position in UL assisting customers such as IoT device manufacturers and software developers, understand, plan and satisfy the requirements for placing their products in the Global Market Place from a Regulatory, Inetroperability and Security perspective.
About the company: UL is a global independent safety science company with more than a century of expertise innovating safety solutions from the public adoption of electricity to new breakthroughs in sustainability, renewable energy and nanotechnology. Dedicated to promoting safe living and working environments, UL helps safeguard people, products and places in important ways, facilitating trade and providing peace of mind.
UL wants to certify IoT security - ReadWrite
FDA and UL weigh in on security of medical devices, IoT - IoT Agenda
John Moor, Managing Director at the IoT Security Foundation
Talk title: IoT security – the bigger picture
About the speaker: John Moor has more than 30 years experience in electronic systems and microelectronics industries and holds executive leadership and general manager responsibilities for IoTSF. Previously John served as a vice-president at NMI where he was tasked with formulating strategy and leading the implementation of key innovation initiatives including establishing the UK Electronics Skills Foundation, running the Future World Symposium and participating in overseas trade missions to USA and Japan.
About the company: IoTSF mission is to help secure the Internet of Things, in order to aid its adoption and maximise its benefits. To do this it will promote knowledge and clear best practice in appropriate security to those who specify, make and use IoT products and systems.
The IoT Security Foundation: One year on - Article
---
Agenda
6:30pm - Arrival and registration
6:40pm - Networking and drinks.
6:50pm - Event opening
7:00pm - "Trust in IoT" - Matthew Evans, Head of IoT programme at TechUK

7:20pm - Speaker TBC (UL)
7:40pm - "IoT security – the bigger picture" - John Moor, Managing director at the IoT Security Foundation
8:00pm - Community announcements and demos: This is your time. If you would like to share what you are working on with the community or make any sort of announcement. You have 2 minutes max for a short shoutout.
8:20pm - Drinks and networking
9:30pm - Event ends
---
Local partners
ihorizon - London based accountants specialising in outsourced accounting and finance solutions to entrepreneurs and tech startups in the UK and US.
Airspace - We've just moved in this fabulous new co-working space in the heart of London (Oxford Street). If you'd like to join us and access special discounts contact Emily mentioning you are part of the Hardware Pioneers community.
---
About Hardware Pioneers
Discover more about Hardware Pioneers on our website.
Get notified about future events by subscribing here.
Check out what people say about @HdwPioneers on Twitter!