Sales Have Ended
Registrations are closed
Thank you for registering for the Lean In Supper Circle - Member's Holiday Social! We can't wait to see you on December 9th!
Want to be a changemaker at work?....
About this event
In this talk, Collette Philip, brand strategist, founder and passionate advocate for social justice will share her experiences and tips on how to drive change from within - even if you feel like your voice doesn't count or you are too small to make a difference. Anita Roddick said 'If you think you're too small to have an impact, try going to bed with a mosquito in the room.'. This talk is all about how to be more mosquito - especially when it comes to the biggest global issues of our time.
About Collette
Collette Philip runs award-winning brand and strategy consultancy, Brand By Me, helping organisations tackle inequity and drive social justice through brand strategy. She has worked with, on and for a breadth of amazing brands for over 20 years - from household names to amazing charities.
It was her love of brand and strategy and her passion for social justice that led her to set up Brand by Me in 2016 and right now, Brand by Me is helping charities, corporates and changemakers build anti-racism into their brands and tackle systemic racism head on.
Collette is also a celebrated speaker and writer and has been featured on BBC, Huffington Post, Forbes and Third Sector magazine. Brand by Me were also awarded 'Small Business of 2021' by Lloyds Bank.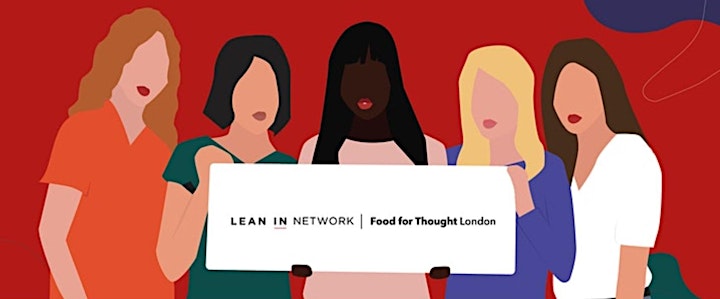 About Lean In Food For Thought Network
The Lean In Food for Thought Network is a London based not-for-profit Lean In Network organisation, run completely by a voluntary group of women that are passionate about supporting each other, and other professional women, to lean in over food and drinks!
From our humble beginnings as the Lean In Supper Circle in 2016, we have seen dramatic growth and have now reached over 1,300+ members.
Our two core values remain:
To foster a community that celebrates and promotes women in work.
To provide a platform where members can network with women from diverse backgrounds and professional industries in an intimate and/or big social setting.
If this is your first event with us, we look forward to meeting you! You can reach us via:
Please note that this event is only open to those who identify as women.