Sales Have Ended
Ticket sales have ended
Looking forward to seeing you at The Queens Suite in the Chesterfield Mayfair Hotel on Saturday 9th September. Susan x
Sales Have Ended
Ticket sales have ended
Looking forward to seeing you at The Queens Suite in the Chesterfield Mayfair Hotel on Saturday 9th September. Susan x
Description
An intimate intensive where you will learn the 3 key steps of How to start a love affair... with yourself.
You will learn the difference between fake confidence vs genuine confidence – and how to get it so you start living a life you love.
The workshop starts with understanding how & why you aren't treating yourself like someone you love. Then through experiential exercises you will unlearn lifetime ways of being & learn how to; talk to yourself like someone you love, look at yourself like someone you love, treat yourself like someone you love.
Throughout this interactive half day workshop Susan will share her journey into self and lovingly guide you to a better relationship with yourself.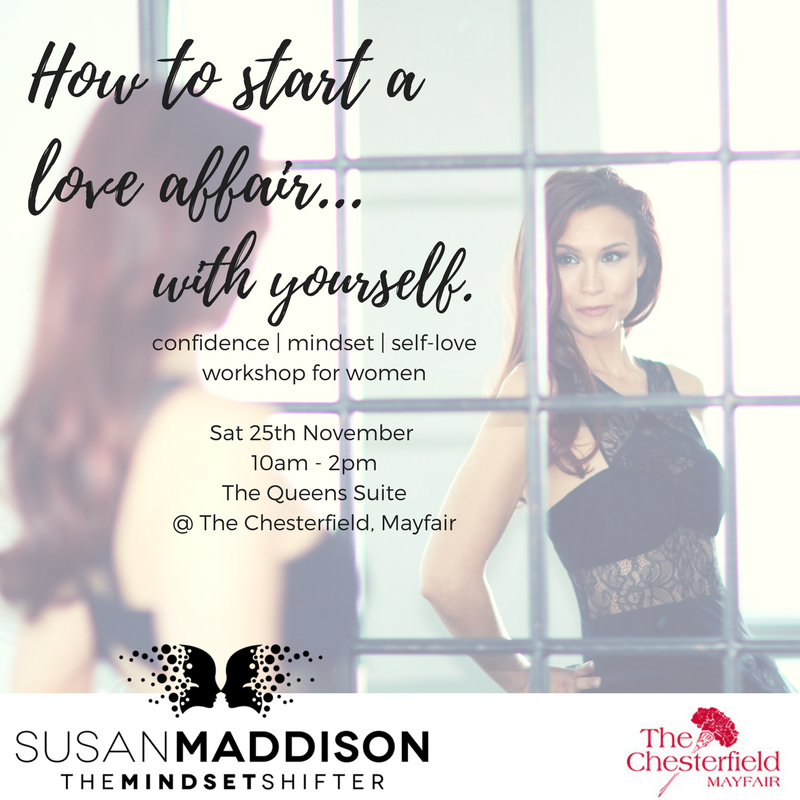 This half day intensive is for you if:

On the outside you look fine and seem to be holding it all together. But inside you suffer in silence with low self-esteem & self-doubt.
You spend way too much time in your head listening to the negative soundtrack playing like a broken record.
You constantly question if you are doing enough or are good enough. The battles in your mind exhaust you!!
You are a people pleaser
You are frustrated with yourself - not asking for what you want nor doing what you need to do for you & your life.
You want more from life and you know you are holding yourself back!
You want to start to heal the sadness behind your smile.
If you choose to treat yourself and attend this half day intensive you will:

Leave feeling confident
Have a new loving perspective of yourself
Know it's ok to be #1 in your life
Know how to shift your negative thinking
Have tools & tips to boost your self-love every day
DETAILS
When: Saturday 25th November – arrival from 930am.
The workshop will start promptly at 10am and finish 2pm. There will be short breaks and coffee, tea, water are provided.

Where: The elegant Queen Suite at the luxurious Chesterfield Hotel in Mayfair.

Bonus: 1hr private coaching session with Susan Maddison - each attendee will receive a link to book their 1:1 coaching experience after the event.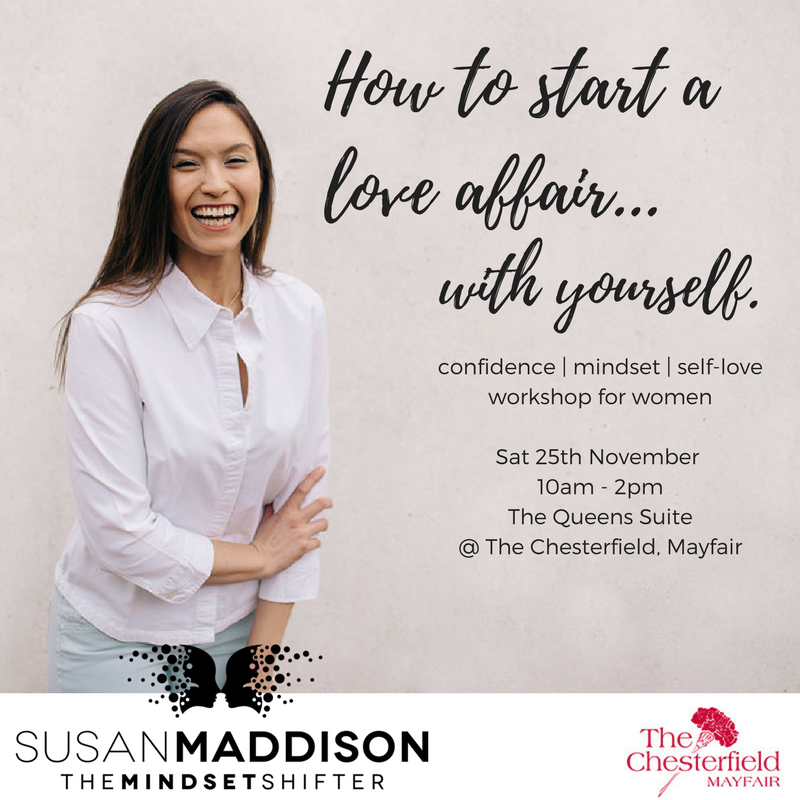 About Susan Maddison - The Mindset Shifter:
Susan is a powerful transformational coach & mesmerising speaker. Fascinated by the mind. Passionate about freeing people from their pasts & personal prisons.
What makes her standout is her journey and character. Susan is full of energy & positivity. She is a magnetic & unforgettable lady. As a coach she has NLP in her toolbox as well as a long list of life experience to draw from – she packs a lot of life into her years!!
Susan knows the mind hurts as much as the body. She doesn't like seeing people hurting themselves. She doesn't like seeing people accepting that's just the way they are or that's just how life is. Susan lives to snap you back into focus & loves to work her magic so you reach your full potential effortlessly.
In a nutshell, Susan helps you get the results you want - and collapses the timeline. She shifts your sh*t & transforms your mindset so you can be architect of your life built on a solid foundation of self-awareness & self-love.