Event Information
Refund Policy
Refunds up to 1 day before event
Eventbrite's fee is nonrefundable.
How to Stop Procrastinating and Start Writing Today! workshop with Windy Dryden
About this Event
After giving a very brief outline of Single-Session Therapy, I will discuss some of the major difficulties people in the field have with writing and that results in procrastination.
I will then consider what can be realistically achieved in a single session to help people who procrastinate over their writing. I will then work with two volunteers who would like some help in this area. Volunteers should bring a current issue that they would like help with respect to writing and should be prepared to discuss it in front of an online audience of their peers.
This 2-hour workshop will be recorded and you can use the ticket function to pre-purchase the recording before the event. This will be useful for colleagues who are not able to attend the event live and also for those who attend the event live and want to watch again.
This workshop will be hosted on the Zoom meeting platform where we will use our camera and microphones to interact with each other as a group.
To support practitioners in this time of extraordinary circumstances we are offering access to this group for a self-select fee.
The self-select fee is a radical inclusion policy to open learning for all colleagues. The guide price for this event is £20.00, however, we appreciate that income varies greatly in different locations and circumstances. Please contribute what you can to help us maintain inclusive professional training.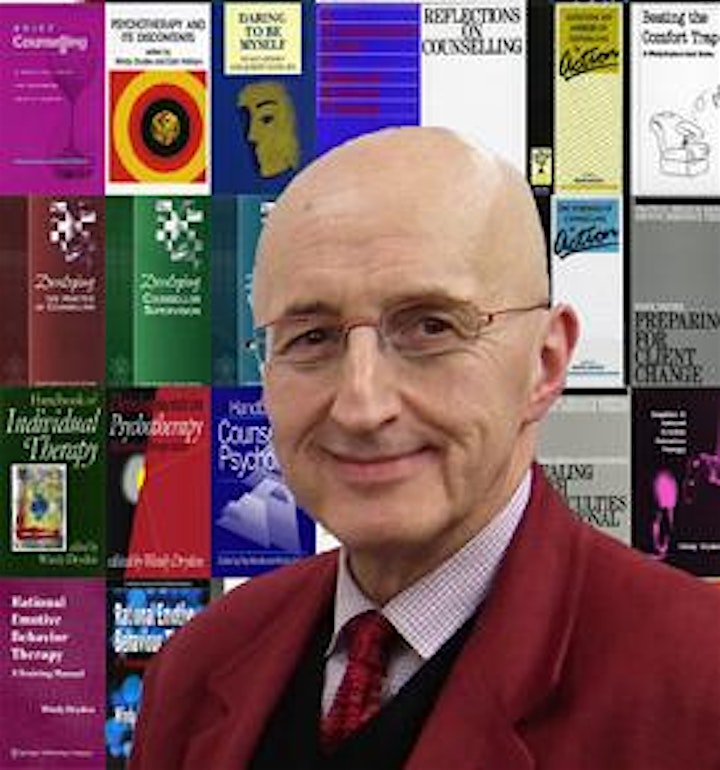 Professor Windy Dryden
CBT Therapist, Trainer, Academic and Writer
I am Emeritus Professor of Psychotherapeutic Studies at Goldsmiths University of London and have been working in the field of counselling and psychotherapy since 1975.
I was one of the first people in Britain to be trained in Cognitive Behaviour Therapy and have trained with Drs. Albert Ellis, Aaron T. Beck and Arnold Lazarus.
I have also trained at the University of Warwick where I was awarded an MSc in Psychotherapy. This was an eclectic course and gave me a very broad view of the field. What has been important and sustaining in my career has been variety. Thus, I work as a practitioner, trainer, academic and writer/editor.
CBT Practice
I have worked as a therapist in many settings: including in private practice, in a GP practice, in a clinical psychology service and in private psychiatric hospitals.
CBT Training
I have been active in training counsellors and therapists since 1975 and have trained therapists in many countries including Britain, USA, South Africa, Turkey and Israel.
Academic
I began my career as an academic as Lecturer in Counselling at the University of Aston in Birmingham (1975-1984) and joined Goldsmiths University of London in 1985 where I became Britian's first Professor of Counselling in 1992. I am now Emeritus Professor of Psychotherapeutic Studies at Goldsmiths and have held Visiting Professorships at University of Birmingham, University of East London, University of Westminster and London Metropolitan University. In 2005, I was awarded a DSc in Psychology at Babes-Bolyai University in Romania.
Writer and Editor
My first book was published in 1984 and I have now authored or edited over 230 books. I write for both the profession and for the general public. In addition, I have edited 20 book series and was, until 2012, the editor of the 'Journal of Rational-Emotive and Cognitive-Behavior Therapy'.
Date and Time
Location
Refund Policy
Refunds up to 1 day before event
Eventbrite's fee is nonrefundable.