Join Hampleton Partners and Bird & Bird's webinar to discuss the latest UK tech M&A trends.
About this Event
Hampleton has teamed up with Bird & Bird's legal experts to provide you with the latest insights into tech M&A conditions for UK-based companies.
Join Hampleton's Miro Parizek and Jonathan Simnett and Bird & Bird's Toby Bond, Sanjana Sura and Simon Fielder for an exclusive webinar.
We'll be discussing M&A developments, trends, volumes and valuations across tech sectors such as Autotech, Digital Commerce, Fintech, Healthtech, IT & Business Services and Enterprise Software.
You'll learn from our experts' decades of experience managing European and Nordic tech transactions. We'll be covering the following:
Understanding the M&A process
Knowing if your company is ready to sell
Preparing your business for sale
Managing legal risk in an M&A process
Emerging IP issues
Data protection dos and donts
Market trends, volumes and valuations
The impact of COVID-19 and Brexit
If you are a business owner or senior executive at a tech company and thinking of selling your business, sign up now.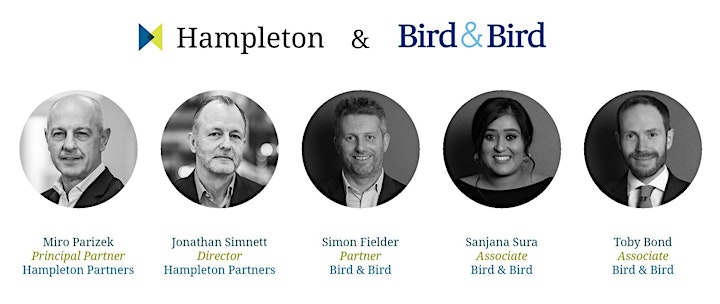 To hear our industry analysis and to take part in the Q&A at the end of the webinar, register your interest now.
---
You will receive log-in details to access the webinar within 24h before the webinar.
---
Hampleton M&A seminars are held exclusively for founders, shareholders and investors in technology companies. Only registrants with company email addresses will be accepted and we reserve the right to decline access to our webinar.
By signing up, you allow us to share your data with our partner (Bird & Bird). For more information about the use of your data, see our Privacy Policy.
If you cannot attend the webinar, but would like to discuss the prospects for your company, or if you would like to receive our technology M&A reports as they are published, please contact: nadine.karrasch@hampletonpartners.com
About Bird & Bird
Bird & Bird is an international law firm with a focus on helping organisations being changed by technology and the digital world. With over 1,300 lawyers in 29 offices across Europe, the Middle East, Asia-Pacific and North America, we're ready to help you wherever you are in the world.