How to supercharge employee engagement, loyalty and performance
How to increase engagement, loyalty and performance through simple wellbeing measures and mindful ways of working
About this Event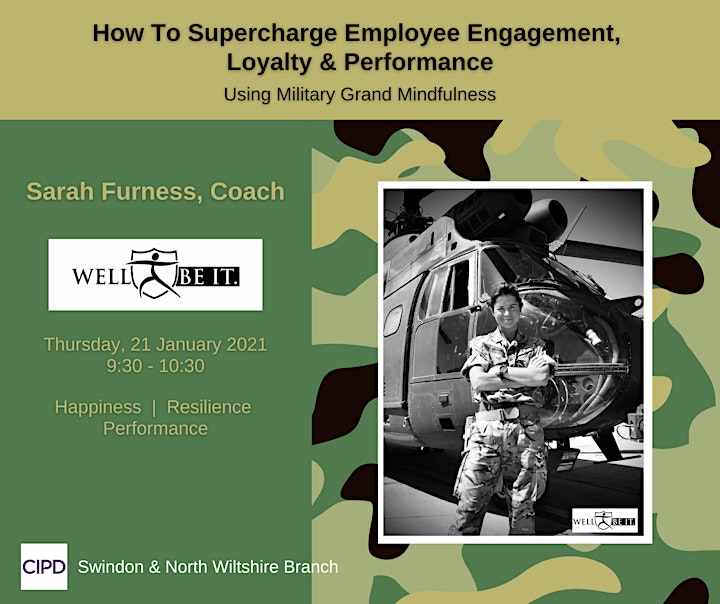 Due to the current Covid-19 situation, we will deliver this event as a webinar. Thank you for your support and understanding at this time.
How to supercharge employee engagement, loyalty and performance - using military grade mindfulness!!
Event details:
Sarah has spent 20 years flying helicopters in the Royal Air Force on combat operations. Inspired by her experiences in military service she has now turned her focus to mindfulness based performance coaching for exceptional people.
This is what 20 years of leadership in military war zones has taught her:
Confident capable people don't always feel as strong as they look
Personal resilience and fulfilment are NOT instinctive
BUT humans have an amazing capacity to adapt, grow AND flourish even in the toughest conditions...when we know how
She is now on a mission to teach strong minded individuals to use their brains as a force for good.
Content / Learning Points:
The cost of staff churn
The cost of presenteeism
The primary causes of staff churn and presenteeism
Timings / Agenda:
0930 - Intro
0935 - Why staff churn
0940 - Presenteeism
0945- So what?
0950 - Wellbeing enhanced performance
1000 - Mindfulness enhanced performance
1010 - Other productivity hacks
1015 - Q&A
Additional Information:
Please note this event may be recorded for future viewing. By registering for and attending this event, you are voluntarily acknowledging and accepting this may be a recorded event.
Coronavirus:
The CIPD is providing Coronavirus advice to Employers both online and in the media. You can find up to date information on the CIPD's website "here".