Description
Be part of the global street paper movement!
This is your chance to be part of a powerful movement for social change. Come along, hear from international street paper delegates and experience a innovative presentation by Eric Liu.
In June, street paper journalists, entrepreneurs and activists from around the world will descend upon Seattle for the Global Street Paper Summit. The summit is run by INSP – a nonprofit that supports 115 street newspapers all over the world, including Seattle's Real Change. Street papers are independent media that reach a unique worldwide audience of 6 million readers per edition, while helping 14,000 homeless and unemployed vendors to get back on their feet.
INSP is opening some highlights of the programme to the wider Seattle community. This is your chance to join the discussion.
Eric Liu: Keynote address
Eric Liu is the founder of Citizen University, and directs the Aspen Institute's Citizenship & American Identity Program. Liu's books include the national bestsellers The Gardens of Democracy, and The True Patriot, both co-authored with Nick Hanauer. Liu's first book, The Accidental Asian: Notes of a Native Speaker, was a New York Times Notable Book featured in the PBS documentary Matters of Race. His other books include Guiding Lights: How to Mentor – and Find Life's Purpose, the official book of National Mentoring Month; and his most recent, A Chinaman's Chance: One Family's Journey and the Chinese American Dream. Liu served as a White House speechwriter for President Bill Clinton and later as the President's deputy domestic policy adviser. A columnist for CNN.com and a correspondent for TheAtlantic.com, Liu serves on numerous civic boards, and can be found on Twitter @ericpliu.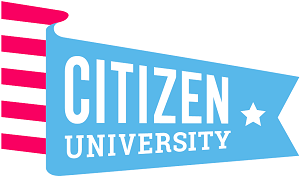 Eric's talk will be preceded by a series of short presentations profiling international street papers, and their responses to their local situations.
Organizer of How to Talk About Power: Eric Liu and Global Street Papers
INSP supports and develops 110 street papers in 35 countries, like the UK's The Big Issue. 
Street papers are independent newspapers and magazines operating on a social enterprise and self-help model to reduce homelessness and unemployment. Street paper vendors buy copies of their local street paper and become micro entrepreneurs, selling their product on the streets. Street papers also provide vendors with access to social support and training.
Since INSP was established in 1994, almost 300,000 vendors around the world have changed their lives through selling street papers. INSP street papers are also an important independent media resource, with a combined global readership of over 5.8 million (per edition).
All profits from INSP events go towards supporting street papers.