Description
This half-day training delivers the essential know how to undertake and run your own Local Entrepreneur Forum and a fuller citizen-led economic transition strategy. It's delivered in three sections:
Preparing the Soil – assessing current state of readiness and developing plans to build fertile conditions for a successful LEF – relationships, networks, funding, etc.
Planting the Seed – planning and implementing your first event, including timeline, communications, programme, recruiting and coaching.
Growing the Garden – leveraging the LEF into a broader community-led economic strategy.
Recommended for citizens of the world, social enterprise networks, development and regeneration NGOs, community groups, and local authorities. This training delivers practical step by step instruction and advice based on 7 years experience with this approach. It includes ample online resources.
Facilitator: Jay Tompt, Coordinator of the Totnes Reconomy Project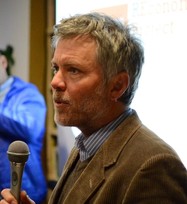 Co-founding member of the Totnes REconomy Project and associate lecturer in economics at Plymouth University. Jay co-developed the Transition Network REconomy Project's Local Economic Blueprint course and handbook, co-founded the REconomy Centre, and developed the Local Entrepreneur Forum model. He's worked with groups in many communities picking up these models. He has also developed a course on 'Citizen-led Economics', as well as led workshops and given talks in Europe, USA and Japan. Prior to moving to the UK from San Francisco, Jay spent 10 years as entrepreneur and consultant in the 'green business movement', after a 12-year career in Silicon Valley. Jay holds an MBA from the Middlebury Institute of International Studies and a BA in Philosophy from San Jose State University. He's also a fellow of the Royal Society of Arts.
Ticket Price & Requirements:
This event is free to anyone living in Somerset. Booking is essential. We will ask you to complete some paperwork and feedback forms.
This event is made possible thanks to funding from Somerset Skills and Learning and as such, is free to Somerset residents. We reserve 3 places on all of our short courses for people residing outside Somerset. These are available at a cost of £75 per person per training day by emailing info@edventurefrome.org
If you have any other questions please feel free to email info@edventurefrome.org or call us on 07548 014066 (9am-1pm Mon – Fri).
What to Bring:
Your curiosity and notebook.
Feedback from past Edventure: Frome Short-Courses
"...it has totally changed the way I am looking at my business. Thank you so very much for organizing this - I cant tell you the impact it has had". Victoria
"...it was run brilliantly and really well attended. As always there was a great mix of people of all ages, backgrounds and reasons for being there. The courses are always well-run, really interesting and accessible. I'm always amazed by the quality and experience of the teachers. I'm doing three courses at the moment - all brilliant". Anna
"Loved it...gave me so much clarity on how to be more strategic! " Milda
"A truly supportive, inspiring & creative environment..!" Frances