Event Information
Refund Policy
Contact the organiser to request a refund.
Eventbrite's fee is nonrefundable.
A 2-hour interactive workshop to help you transform your relationship with fear and step into self-confidence.
About this Event
"Mind-blowing, fascinating and revealing"
"I needed to learn methods and strategies of managing my fear, and this workshop certainly did that!"
" It was great and surprising how honest & open people were almost immediately."
Who's this for?
Whatever it's to do with, fear grips many of us and stops us from being the person we know we can be. So if you feel held back by fear and want new tools to help when you experience it, this workshop is for you.
You'll come out with a greater understanding of some deeply important questions like:
- what actually is fear?
- how can i turn the volume down when it comes up?
- how can I respond better to it instead of just reacting?
And whilst you'll learn you can't really get rid of it, by reframing your relationship with it, you'll grow in confidence and move towards a life without it dictating your decisions.
What's the workshop?
Born out of my own crippling relationship with fear and 10-year personal journey in the world of self-development and mental wellbeing, I discovered a lifechanging technique from someone who is now a good friend and mentor and now want to pass this framework onto you.
The workshop is a facilitated, interactive and confidential session. Expect interactive activities, reflection and a new perspective to take back out into your world. Oh and some fancy dress.
Who's Josh and Big Kid At Work?
Over the last 10 years, I've done all sorts of things in and around self-development to help me work through my fears, but it took COVID and spending an abnormal amount of time with my 3-year-old (see below pic), to realise there is more to learn from him than any wellbeing practice out there.
Curiosity, bravery, creativity, living in the moment...qualities that we find so difficult as adults, but come so easy to kids.
So, combining my years of learnings with this insight, I have rediscovered my own inner kid and am transforming my life in the process.
Big Kid At Work is a platform, methodology and my personal mission to help you do the same. Let go of fear, start doing more things that actually matter to you and rediscover the effortless joy you had once-upon-a-time.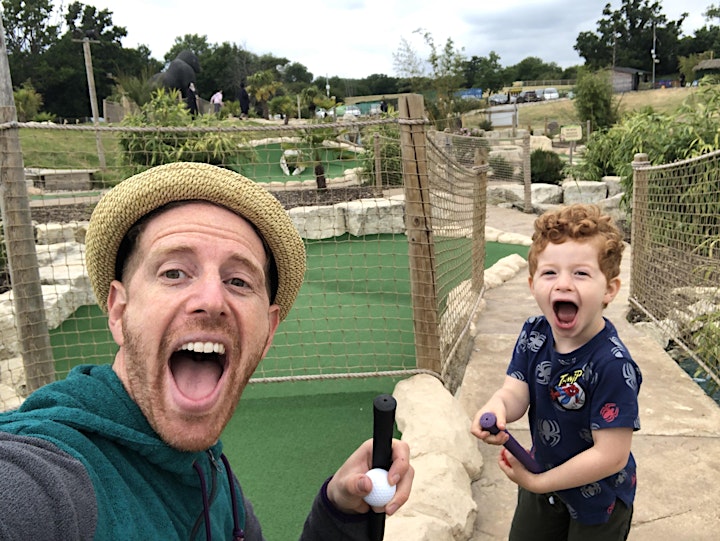 Date and Time
Location
Refund Policy
Contact the organiser to request a refund.
Eventbrite's fee is nonrefundable.