About this Event
Want to have the confidence to do almost anything? Well, you need to improve your cognitive performance.
The truth about self-confidence is simple – it comes from mastering the way you think, learn and behave. And if you want to think, learn and behave more efficiently, you need unpick everything you were ever told about how to learn, retain and use information – and change the way your brain works forever.
Changing how your brain processes new information is easy – it's just that the majority of people don't know the techniques that make it possible. We're offering you the chance to learn them – and to fundamentally change how you think about everything.
We're not offering snake oil fixes that will help you in the short term and be forgotten in a few weeks. These are scientifically proven, evidence-based learning processes that you'll reinforce every single day.
From childhood we're taught to learn in a particular way. But those classroom techniques are designed to make much of what we're taught easily disposable. That's why most of us have all but forgotten our French vocab or the Shakespeare quotes we learned for English Literature.
Conventional learning is the equivalent of putting knowledge in a folder that is set to auto-archive regardless of whether it's needed. We'll help you to unlock the science behind your cognitive processes to re-structure your internal filing system – making every single piece of information available to you instantly, whenever you need it.
Imagine how different your career would be if you had the certainty and confidence of knowing that you'd always be able to recall every fact or figure, instantly, within seconds of being asked.
Not being able to remember information you know you should know isn't just frustrating and debilitating – it's also stressful.
Whether it comes in the shape of a senior or high-powered job where information you need to be on top of is constantly changing, an academic career where you need to master large volumes of data or a home life where you're constantly under pressure to remember and juggle moving priorities, changing the way your brain works is the key to better confidence and less anxiety.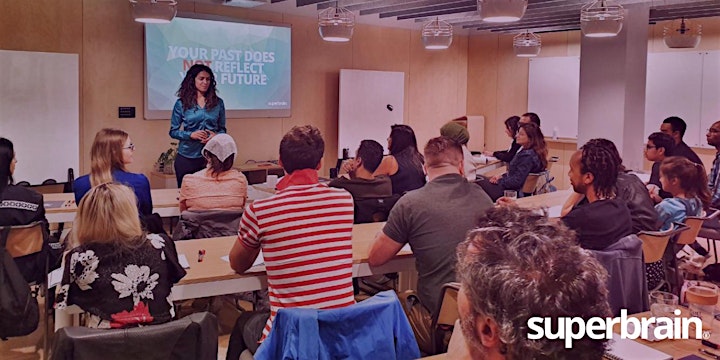 What will I get out of the Superbrain Discovery Webinar?
Gain Deeper Insight About Your Brain
Our Discovery Webinar is designed to change the way you think about learning. How we do it – and how we make learning completely interactive and fun – is what makes us truly unique.
You'll get science-based insight into how your brain is really designed to work – and then we'll show you why the way you're using it at the moment is actually working against you. As part of that process, you'll learn about the 4 stages of Cognitive Performance and how being able to master the power of your brain lies in training those crucial stages.
Do you find it difficult to focus and then stay focused on tasks? Our Discovery Webinar will reveal why that happens and how it has a negative impact on your performance. Then we'll introduce you to the physiological mechanism that controls your ability to focus – and, most importantly – how to train it so you can focus on demand and remain calm and relaxed.
Do you read slowly and find yourself having to re-read information? Most of us will be familiar with the frustration that comes from reading a passage of text or a set of instructions and then immediately forgetting most of what we looked at only a few seconds before. We end up constantly having to backtrack and re-read everything – wasting precious time and slowing down our ability to be able to work efficiently. That's not down to having a bad memory, it's down to not being able to train your brain to absorb information efficiently. If you want to increase your current reading speed 3x and maintain and even increase your comprehension and retention, our Discovery Webinar is perfect for you.
Struggle to understand things deeply? That's because your brain isn't operating at its optimum capacity. The science of how we learn is crucial but understanding how to use it is key to retraining our brains to absorb and store information at a much deeper level – and then retrieve that data when needed. If you find it difficult to explain complex topics, you'll know how limiting this can be on your personal growth. We'll show you amazing new ways to learn more effectively, giving you the tools to a more confident and assured future.
Do you find yourself forgetting everyday things or struggling to recall information? The tip of the tongue can be a very crowded place when the brain simply refuses to co-operate. Our Discovery Webinar will show you why you forget routine information such as people's names, find it difficult to learn new languages or just feel like your memory is getting worse with age. We'll also demonstrate how your memory skills can be radically improved in a very short amount of time.
Have a fear of presenting or public speaking? You're not alone. Research shows that a fear of public speaking is now the 1st most common phobia ahead of death, fear of heights and a fear of snakes!. There's a reason why public speaking seems daunting – and it has everything to do with the way you learn and retain information. At our Discovery Webinar, we'll show you how to reconfigure the way you learn, put your confidence exactly where you want it to be and how to overcome the root causes that lie behind the stress you feel when you have to speak to an audience.
Understand Your Current Abilities
We want you to leave our Discovery Webinar with a better understanding of how you use your brain now and what you can achieve in the future. To do that, we'll use some simple tests to map the way you learn today and give you a simple experience how you can learn tomorrow. There are no tricks, no sleight of hand – just a simple assessment of what's holding you back from fulfilling your potential.
Experience the Techniques
We don't just deal in facts and theory. Science is the foundation for all our proven techniques, but it's really important to us that you get the Superbrain experience for real – in a way that allows you to appreciate the tangible benefits of what we offer.
Other courses may seduce you with promises of what they can do, but we know that you want to see a measurable improvement in your cognitive ability – so our Discovery Webinar will back up the science theory that our learning techniques are based on with immersive and mind-blowing exercises.
We guarantee you'll leave our Discovery Webinar with a far better understanding of your skills you never knew you had – and a new found optimism for your potential which you'll retain forever.
Take Advantage of the Exclusive Superbrain Programme Promotion
If the Discovery Webinar leaves you wanting to know more about how we can help you to revolutionise the way you do everything, we offer a bonus 20-minute session where we'll explain how the Superbrain Programme works in more detail, with the opportunity to join at a significantly discounted fee.
To get the most out of the Discovery Webinar, take time to think about your goals and how what we can do might help.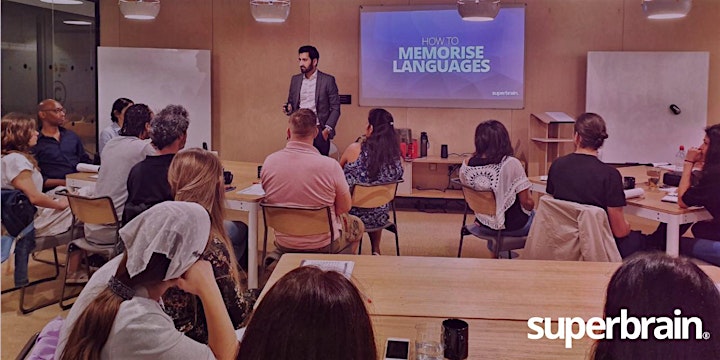 What is Superbrain?
Superbrain is an exciting and immersive training programme delivered experienced in-person and designed for professionals and students to improve their 4 areas of Cognitive Performance.
Focus on Demand
Lack of focus leads to impaired productivity, poor performance and a lot of wasted time. With Superbrain, you'll change the way you learn in order to be more efficient in everything you do.
Read 3x Faster
Being able to process and assess information more quickly is the key to maximising your effort. With Superbrain, you'll be able to read books, documents and emails three times as fast as your current speed, instantly filtering out irrelevant information and improving your comprehension level.
Process Information Deeply
Using the amazing Superbrain techniques, you'll be able to improve the depth of your understanding, allowing you to organise your work and study more efficiently and get more done with clearer focus, less stress and better results.
Memorise Anything Rapidly
Learn anything once and remember everything you want for as long as you need to with ease and without repetition.
Whatever it is you want to achieve in life, you already have the ability to achieve it. At Superbrain, we'll teach you how to unlock the secret cognitive power that's currently idling in your head. Our techniques can change the way you do everything – whether that's in your career, at home or at play.
The skills we teach are easy to learn – there's no high-concept theory and you don't need to be a rocket scientist to make our techniques a part of your day-to-day life. We simply help you to use the real potential of your brain to achieve your goals far more quickly and with less stress than you currently think possible.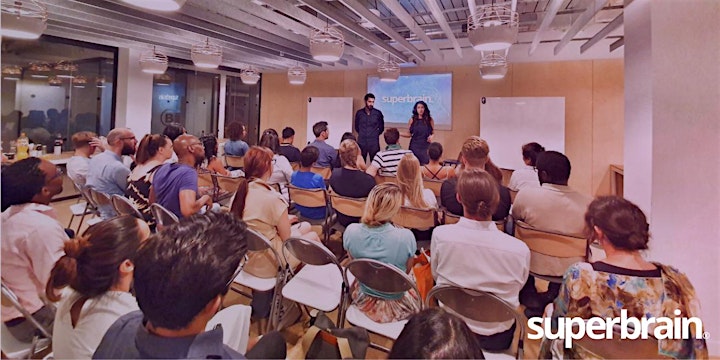 THE BENEFITS OF COGNITIVE TRAINING
If you're interested in broadening your horizons, achieving your life and career goals and finding inspiration in discovering your own cognitive power, here are just a few of the benefits Superbrain offers:
Remember People's Names and Network Better. No more awkward moments as you struggle to put a name to a face. Connecting with potential colleagues, clients or new social acquaintances will become effortless.
Learn New Languages. Whether you want to learn a language to enhance your travel experience or to increase your professional marketability, our techniques will enable to gain fluency more quickly than you ever believed possible.
Boost Your Confidence. Knowing you can retain and retrieve information whenever you need to will give your confidence a huge boost. You'll be able to walk into any situation being completely certain of your ground.
Step Up in Your Career. At Superbrain we can supercharge your cognitive ability to maximise your productivity and performance. You'll work smarter and better, adding value to the business you're in and increasing your professional worth.
Ace Exams Effortlessly. Exams that might now seem daunting will be a walk in the park as the new techniques you learn give you the ability to absorb and retain information more quickly, more efficiently and at a deeper level – making it easier to retrieve knowledge on demand.
Start or Grow Your Business. Running and growing a business is demanding and involves juggling and monitoring a score of different and often conflicting priorities. Our techniques will help to make that juggling act look and feel easy.
Reduce Stress and Anxiety. Having the total confidence of knowing you can retain and recall everything you need to will put an end to any sleepless nights or stressful days.
Speak Effectively in Public. Not only will you be able to memorise speeches and presentations to become a natural performer in public, the confidence the Superbrain programme gives you means you'll also dial down the anxiety you might currently feel when you need to speak in front of others.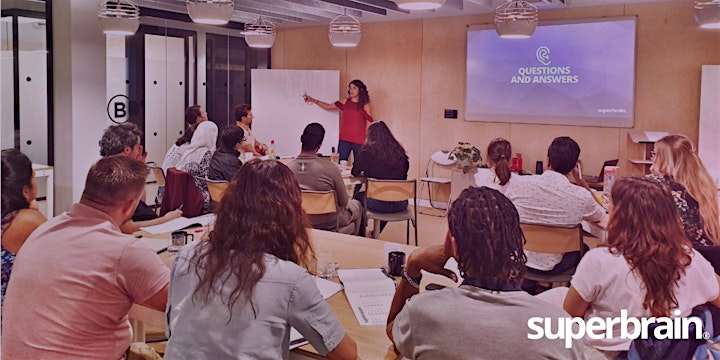 MEET YOUR TRAINERS
Yousuf Aslam, Co-Founder and Trainer at Superbrain
With a background in Biochemistry and Neuroscience, Yousuf has over 15 years' experience as an entrepreneur within the education sector. He has run a network of children's education centres and also alongside Superbrain he also runs a Children's Educational Publishing company (amazing.org.uk) and a marketing consultancy (brandagency.com). Yousuf specialises in mindset and his businesses all strongly bring this unique niche into the fold.
Francesca Dal Corso, Co-Founder and Trainer at Superbrain
While studying Law in Milan at the age of 19, Francesca discovered memory and speed-reading techniques and fell in love with how these skills could improve her performance. She went on to study the techniques in depth, eventually training over 3,000 students across Italy, the USA and the UK while setting up training academies for other organisations. Francesca has also starred in a brain talent TV show in Italy as well as being featured in the Telegraph newspaper.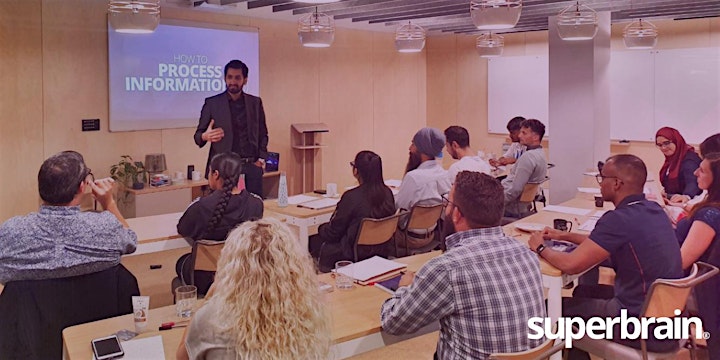 What people are saying...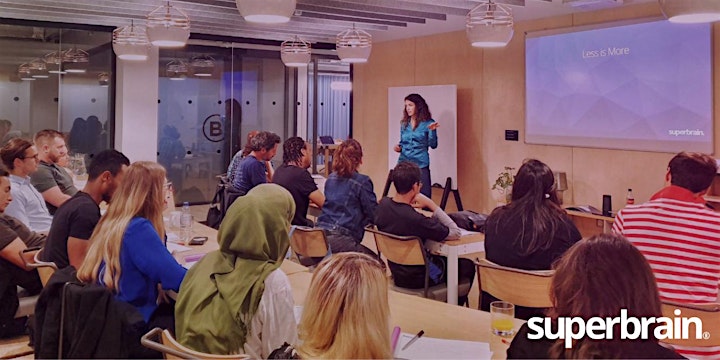 Attendance Rule
You may bring anyone else with you, however they will need to also register their seat
Please arrive at least 15 minutes prior to the session start time, late arrivals may be refused entry.
Anyone under the age of 18 must be accompanied by an adult. We reserve the right to refuse anyone admission to the event for any reason.
You will be required to register at the event which includes signing in with your full name, email address and mobile number. We adhere to the GDPR policies with regards to your data and will not pass your data on to anyone else, any other organisation or enterprise. You are always easily able to unsubscribe from our future communications.
We do not allow recordings of the event in any form as this breaches copyright. If you are found to be recording the event in any way then you will be asked to delete the content and we reserve the right to check your devices for any recordings.
We reserve the right to change the times, dates and venues for this event for whatever reason.
This event is a comprehensive Discovery Webinar and it's important that you attend the entire Discovery Webinar.
Refunds are not permitted for these tickets under any circumstances.
You do not need a printed ticket, an e-ticket will permit you entry.
For more information please visit superbrain.co.uk, email team@superbrain.co.uk or call 020 3150 3836.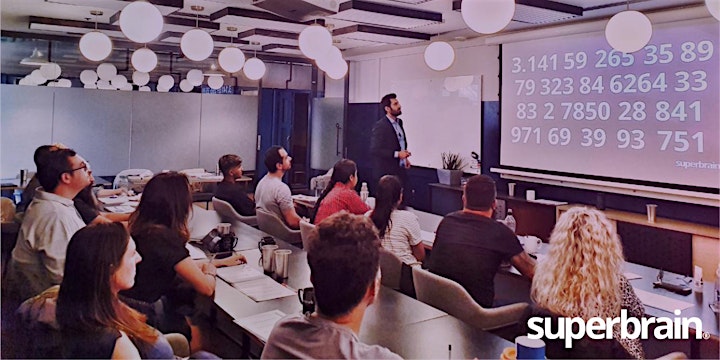 We look forward to meeting you in person and demonstrating how powerful your brain can be.
The Superbrain Team
Superbrain Ltd
Aviation House, 125 Kingsway, Holborn, London, WC2B 6NH
020 3150 3836 | team@superbrain.co.uk
superbrain.co.uk
Copyright © 2020 Superbrain Ltd, All rights reserved.
Superbrain is a registered trademark owned by Superbrain Ltd. No part of this text may be copied or redistributed without the explicit written permission of the owners.