How to Wake Up Energized Everyday
About this event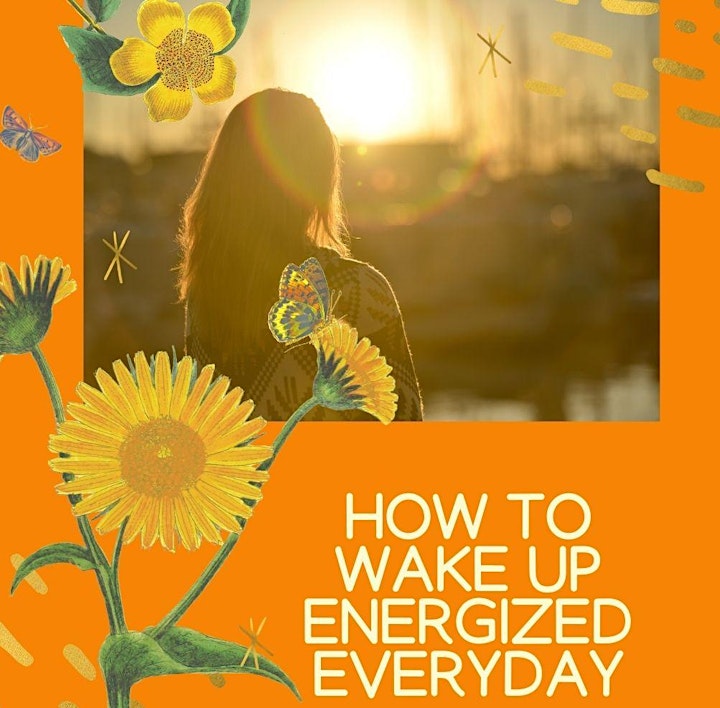 » Are you feeling tired of feeling tired?
» Are you going through your day drinking litres of coffee to stay awake?
» Are you tossing and turning in bed at night?
» Do you find it difficult to stay focused and maintain memory?
» Do you grab sweets and chocolates to feel more alert?
Then join us for an interactive online session with Vessela Warren.
Join this free live interactive workshop and Vessela will boost your mindset and support you with practical and simple techniques and strategies to help you tap into the power of Rest, and learn how to de-stress and wake up energized everyday, so that you can claim yourself back and live and lead at your best.
You will walk away with:
Understanding of the three dimensional aspects of the element of Rest of the Wellness 360 Wheel.
Practical tips on how to finally get to the bottom of your sleep challenges.
A powerful technique for sleeping like a baby every night, you can use to support you right away!
An easy technique to de-stress in 5 min and feel more calm and rested, you can implement right away!
The #1 thing that's holding you back from a good night's rest.
The 4 little known secrets to increase your energy and powerful self-reflection exercise.
Why traditional exercise and diet plans may not work for you and what will.
Plus: You'll receive the Wellness 360 Wheel, a take-home tool you can use to support you right away!
During this interactive and experiential learning workshop you will learn about the element of Rest and we will explore its three dimensional aspects.
Join me for a free live workshop to learn how to wake up energized every day and relieve stress in your mind and body.
Upon Registration you will receive a link to our Zoom virtual meeting room.
Please note that this is not a typical webinar but rather an informal and safe virtual space where you can show up as you are!
Active participation and sharing your own experiences and action steps is encouraged.
Feeling restless, tossing and turning in bed and waking up every day tired can be tough.
I can help you with simple techniques and strategies to de-stress and energize yourself so that you can be your best self again.
About your Workshop host – Vessela
Hi, I am Vessela.
Welcome! I am your Holistic Wellness Coach and Educator.
After working with entrepreneurs and becoming familiar with their challenges of balancing wellness, business and life, I realized how much support entrepreneurs need around wellbeing and how very little support exists, and I set out to change that. I am passionate about supporting entrepreneurs so that they can feel more energized, joyful and productive and in control of their health and business and thrive. I support women with simple, practical and transformational solutions to help them overcome exhaustion, stuckness, busyness and become adaptive and emotionally resilient and take control of their wellbeing and business.
Learn more about Vessela's background and experience.
Organiser of How to Wake Up Energized Everyday - free online live workshop
Being exhausted, depleted, overwhelmed and unfulfilled, it is not good for you and for those around you.
So many of us are running around empty or half filled up.
As women often we are not allowing ourselves to receive the nourishment and nurturing that we so need. The truth is that only when we consistently tend to our inner well, then we have plenty to give to those around us.
That's why we're building a community of like-minded women. Be Well Be Bountiful is a holistic wellness hub created to help women learn how to be healthier throughout all aspects of their life – nutrition, movement, daily habits, emotional health, mindset, relationships, career, finances, spirituality and more.
Join our community of like-minded women, through our social media, online & in-person courses, workshops and retreats, who want just like you to release the vibrant, joyful and fulfilled goddess that you are meant to be – together we are empowered!