Join our masterclass exploring the fundamental steps in writing a book during Covid-19 and the basic skills you need in book publishing.
About this event
The Authentic Worth masterclass is aimed at aspiring authors from all backgrounds and suitable for anyone looking to write and publish their first book during Covid-19. We want to reassure that YOU have what it takes to write your book – it's already in you. Life is like a book – some chapters are sad, some are happy, and some are exciting. However, if you never turn the page, you will never know what the next chapter has in store for you.
We will be covering the following from a theoretical, interactive and practical perspective:
- Introduction
- Why I started my writing career
- The process of book-writing
- How to start writing to avoid writers block
- How to write your book during Covid-19
- Why self-publishing is the way forward
- The difference between self-publishing and traditional publishing
- How to turn your book into an online course
- Interactive session – your book matters
- Prize give-a-ways
- Special treats and offers
- Networking and connecting
Remember: Your book has what it takes to:
- Establish authority and trust with readers
- Impact the world with your story
- Boost your confidence in storytelling
Every Author has a different writing style; how you write a book may not be the same as another person. As an author of three books, I desire to see those who have published with Authentic Worth and who are due to have a platform in sharing their story. When you've written a book, it's for the purpose of others. I encourage those who have a desire to write a book not to delay. Start with workshops, online courses, and being surrounded with existing authors who are willing to help in your writing journey.
If you've been to our previous book launches, events, social sessions and workshops you would know how useful they've been to many people whose first time is in writing a book. We want you to have full confidence in your writing skills and be effective in building your book. Your book is your brand which makes you stand out. Highlighted feedback from attendees from our previous events and workshops are below and also on our website: https://www.authenticworth.com/testimonials :
"I attended Esther's workshop in March 2020. I must say that I was so glad I attended. The workshop was very useful. It was full of relevant information from finances to having a career in book writing. Having known her for quite a while, I'm happy that Esther's character reflects her books and other people can see that. Her willingness to help other young people especially ladies grow in publishing is amazing. Esther is very knowledgeable in every topic. Honestly, I'm so grateful that I met an incredible leader like you, Esther. Thank you for all your three books and can't wait for the next one." – Meshach, May 2020.
"Authentic Worth has helped me in many ways spiritually and mentally. The company is passionate about helping and motivating others towards where they need to be but also by focusing on yourself and what you need to improve on. Esther hosts very professional workshops which suit all different types of people and backgrounds and her books are amazing too. Thank you for all that you've done and continuing to do!" – Olivia, May 2020.
"I met Esther for the first time when I attended her event that took place on the 14th of March 2020. The workshop helped me and installed valuable qualities in myself that I will need when pursuing my writing career. I have gained confidence, insight and knowledge of others experiences that will help me fulfil my experience in a positive way. Esther was a brilliant host, very helpful and it was nice to meet so many different people that share similar interest. It was great networking and learning from others too. I will definitely recommend anyone interested in writing to attend to Esther's future events that she will hold". – Charmelle, March 2020.
We look forward to seeing you on Saturday 25th July 2020 at 14.00pm prompt via Zoom. An email will be sent for the Zoom details after obtaining a ticket.
Authentic Worth is bringing worth back into you through storytelling and book-writing!
Esther Jacob
Founder of Authentic Worth
Website: www.authenticworth.com
General enquiries: authenticworth@gmail.com
Instagram: authenticworth
Facebook: Authentic Worth
Twitter: authenticworth
LinkedIn: Authentic Worth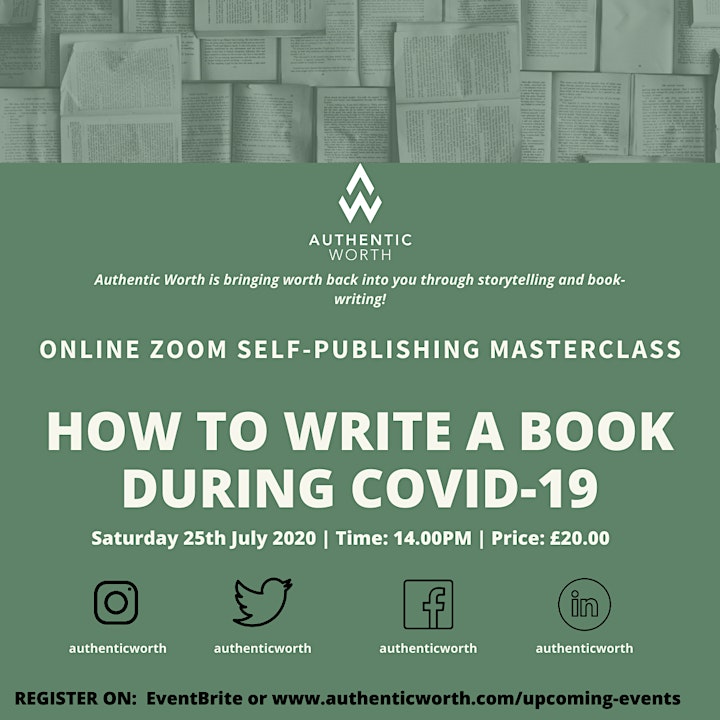 Date and time
Location
Refund policy
Organiser of HOW TO WRITE A BOOK DURING COVID-19
Esther Jacob is the Founder of Authentic Worth Publishing, Multi-Published Author, Influential Speaker, Blogger and Online Course/YouTube Content Creator. She uses her skills and expertise to support and coach aspiring authors in writing books through storytelling. Esther believes in being transparent and selfless as she writes gracefully in her books, delivers workshops on book-writing and speaks at several events. Esther is an advocate for building self-confidence and personal development and has been offered numerous opportunities on several TV programmes, podcasts and radio stations including BEN TV, Yanga! TV, United Christian Broadcast (UCB) Radio, Elim Radio Girl Talk, Premier Gospel Radio and Christian Devotion Speak Up Podcast in the United States.
Keep in touch with our social handles below:
Authentic Worth Publishing Socials:
Facebook: Authentic Worth
Instagram: authenticworth
LinkedIn: Authentic Worth
Twitter: authenticworth
YouTube: Authentic Worth
Esther's Socials:
Facebook: Esther Jacob
Instagram: esthernjacob
LinkedIn: Esther Jacob
Twitter: esthernjacob
YouTube: Esther N J