A book is a tangible resource that impacts the community. Join Authentic Worth Publishing in learning how to write a book for beginners.
About this event
It has been our pleasure, not only in running workshops and online seminars, but the opportunity to see people transform their stories into inspirational books that help others to know that their story can be publicised and make an impact. If you attended our first event of the year in January 2021, you would know how much Authentic Worth Publishing are intentional about every aspiring author that would like to turn their story into a practical and effective book.
For this reason, we have strategized and planned how we can help aspiring authors and creatives alike to learn about the process of writing a book for beginners. There is a lot to cover when it comes to writing a book, and the best way to start learning is by investing in workshops and online courses. Authentic Worth Publishing offers practical advice, tips and ways that we help engage our authors to know about their why (purpose) behind writing a book, and the impact it will make in the lives of those who read it.
In the meantime, why not check our recent testimonials from our last online seminar below via the website:
"I attended my first event with Authentic Worth Publishing on Saturday 30th January and I just have to say it was amazing. The information that Esther shared was so insightful and very informative, especially as I'm still learning about publishing. I definitely left the event feeling really encouraged and motivated to achieve my goals for the year. It was such a confidence booster. Thank you so much Authentic Worth for hosting such a great virtual event. I can't wait for the next one!" – Yejide – 01/2021.
"I initially came to the Authentic Worth Publishing event on Saturday 30th January to support my good friend Esther, but I was honestly so impressed! Esther really did deliver in this virtual event. So informative and helpful. So inspiring and motivating. One of the best online events I've been to!! I learnt a lot about book writing/publishing; do's and dont's. More insight to Esther's amazing book collection. Esther puts so much passion and love into her books and this also reflected at the event! Would 100% recommend. Can't wait for the next!!" – Sarah 01/2021.
"I attended the Publishing event by Authentic Worth on 30th January and would like to express how much of a blessing it was. Esther is an inspiration to aspiring authors and her books have so much meaning. I enjoyed the conversations at the end of the event which were very transparent and encouraging. Will definitely be attending more events!" – Nkechi 01/2021.
"I attended an event organised by Authentic Worth Publishing on Saturday 30th January, and as always, it was very informative, engaging and fun at the same time. It was a great opportunity to learn about the business, network and socialise with some wonderful people. I look forward to future events and the awesome things that are yet to be accomplished through this wonderful organisation. Thank you and keep up the great work! You're impacting lives!" – Charlotte 01/2021.
If you want to learn a new skill for 2021, you are in the right place! Book your space today and let us help you learn how to write a book:
Standard tickets are £20.00 and will be held on Zoom.
We look forward to seeing you on Saturday 27th February at 14.00pm prompt.
Authentic Worth Publishing
Website: www.authenticworth.com
Email: authenticworth@gmail.com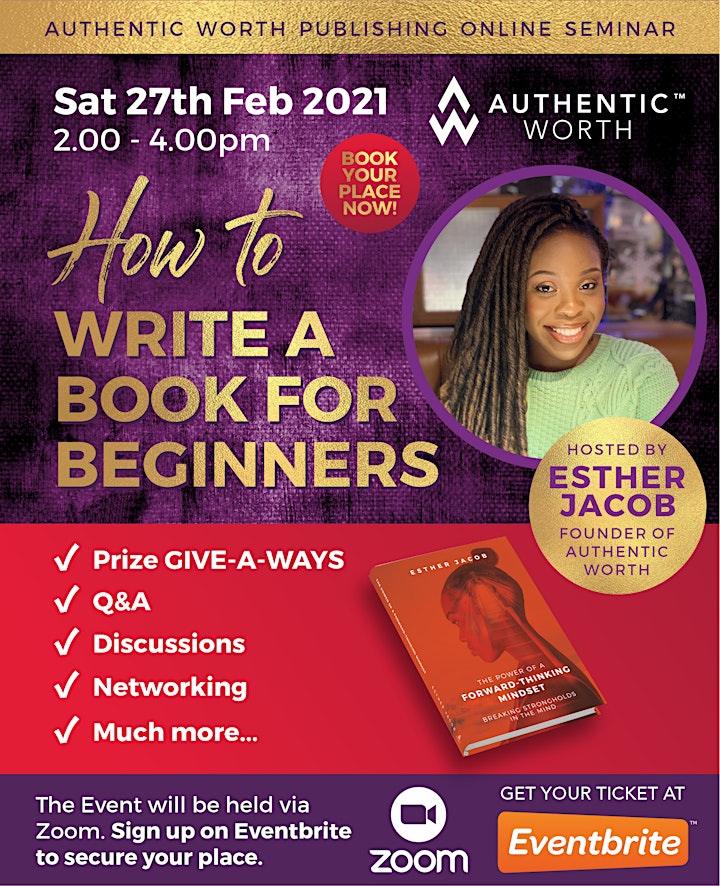 Date and time
Location
Refund policy
Organiser of How To Write A Book For Beginners
Esther Jacob is the Founder of Authentic Worth Publishing, Multi-Published Author, Influential Speaker, Blogger and Online Course/YouTube Content Creator. She uses her skills and expertise to support and coach aspiring authors in writing books through storytelling. Esther believes in being transparent and selfless as she writes gracefully in her books, delivers workshops on book-writing and speaks at several events. Esther is an advocate for building self-confidence and personal development and has been offered numerous opportunities on several TV programmes, podcasts and radio stations including BEN TV, Yanga! TV, United Christian Broadcast (UCB) Radio, Elim Radio Girl Talk, Premier Gospel Radio and Christian Devotion Speak Up Podcast in the United States.
Keep in touch with our social handles below:
Authentic Worth Publishing Socials:
Facebook: Authentic Worth
Instagram: authenticworth
LinkedIn: Authentic Worth
Twitter: authenticworth
YouTube: Authentic Worth
Esther's Socials:
Facebook: Esther Jacob
Instagram: esthernjacob
LinkedIn: Esther Jacob
Twitter: esthernjacob
YouTube: Esther N J