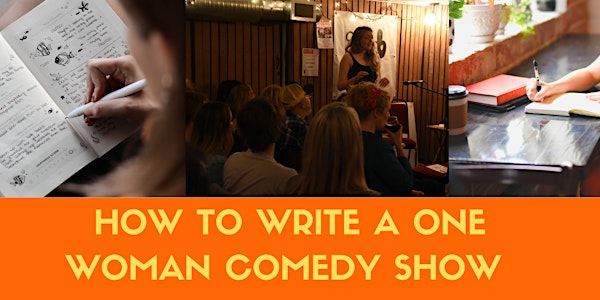 How to Write Your Own One Woman Comedy Show - 6 Week Online Masterclass
Have you always wants to write your own one woman comedy show? Take the leap in 2022 & learn everything you need to know!
About this event
Do you feel like you have a comedy show inside you? Do your friends say you're funny and should write about your life? Have you been wondering how an Edinburgh fringe show is put together and what is involved? Or, are you struggling to write alone and need some support?
If so, this intensive 6 week Masterclass gives you all the tools to get writing your own one hour comedy show and gives you help with everything that is involved.
There is no other workshop like this available in the UK that takes you through everything step by step. This masterclass will give you a head start and save you time/money. Plus, you will get feedback on the show you are wanting to write and support from the group. Often it is hard to work alone and not have anyone to bounce ideas off so you will be meeting like minded women!
Why is the masterclass just for women?
Often women feel more supported and safe in an all female environment especially when they are stepping out of their comfort zone. My workshops are for cis and trans women, as well as non-binary people who are comfortable in a space that centres the experiences of women.
Over the 6 weeks the Masterclass includes:
✅ How to put your ideas together for a show
✅ Setting out your intentions and goals
✅ Tools for storytelling and story structure
✅ How to explore themes and stories
✅ Tools for writing
✅ Creating a timetable
✅ Exploring your relationship with the Audience
✅ Marketing and Promotion
✅ Financing your show / Crowdfunding
✅ Branding yourself / PR and Press releases
✅ Poster & Flyer Designs
✅ Making a website and using social media
✅ Booking Venues
✅ Mental health and self care
✅ Building an audience
✨ Bonus stuff ✨
✅ Which are the best Facebook groups to join to get details of competitions and new material gigs
✅ Using social media to network and promote yourself
✅ Great social media sites to follow
✅ A list of the best comedy books
✅ The best podcasts for research and inspiration
✅ Best online resources to take your comedy to the next level including websites and Youtube channels
✅ Details of competitions and writing opportunities
✨ Who is Jane?✨
I'm a multi-comedy award finalist who has had sell out runs of my one woman shows at Brighton and Edinburgh Fringe Festivals over the last five years. My shows have appeared at Brighton Fringe, Edinburgh Fringe and the Women in Comedy Festival. I've also been heard on BBC Radio 4, BBC Radio Cumbria and BBC Radio Extra.
I ran a successful comedy night in Brighton for three years and produced a couple of comedy podcasts. I have done full one woman comedy character shows and I do straight stand up. I also do voice acting for radio plays and voice over.
I also have over 15 years of experience working in marketing and social media which will help you promote your show and yourself as a brand.
During the workshop you will be able to ask me any questions about the industry and have time to talk about any creative projects or get some advice for your own career. I share all my experience and secrets about the comedy industry - Most of which I wish I'd been told when I started out!
I've taught hundreds of people across the UK and internationally to help them get on their comedy path. My workshop students have gone on to do stand up, win comedy competitions, write one woman shows, write children's books and write scripts / sketches.
You can find out more about me at www.jane-postlethwaite.com
What do others say who have completed the Masterclass?
"I was delighted to be able to take part in Jane's One Woman Show Masterclass. She is extremely experienced in performing several of her own shows throughout festivals and venues. She is intricate in detail and it really is an eye opener as to what needs to be done before you take your show on the road. I was delighted to realise I have enough material for 2 if not 3 One Woman Shows." - Margo C
"Just finished Jane's 6 week masterclass and went from being a complete beginner with no idea, and just doing for myself, to having a concept, timeline and storyline for one show, concept for another, plus synopsis for a radio sitcom, and most importantly all the information I needed to start performing, finding venues and also advertising." - Elle W
"Jane is a supportive teacher and is on hand to help us with whatever we are required to do and how to do it. I now have ideas not only for a one woman show but a radio play and podcast" - Katie K
"I came to the masterclass thinking I would write a show but came out of the 6 weeks with far more. I now have an idea for a book and have more clarity on the comedy career I want to pursue." - Emma R
"Thanks for a brilliant workshop! Great bunch of people - I'm still laughing now. Highly recommend!" - Sarah F
✨When is the workshop?✨
Week 1 - Tuesday 11 January 2022 from 7-9.30pm
Week 2 - Tuesday 18 January 2022 from 7-9.30pm
Week 3 - Tuesday 25 January 2022 from 7-9.30pm
Week 4 - Tuesday 1 February 2022 from 7-9.30pm
Week 5 - Tuesday 8 February 2022 from 7-9.30pm
Week 6 - Final date is Tuesday 15 February 2022 from 7-9.30pm where you will pitch your show to the rest of the group.
By the end of the course you will have all the elements ready to be able to sign up for a festival / put on your own show.
Please note: You will get homework between the sessions and weekly feedback. Please make sure you can commit to every session during the 6 weeks.
The Masterclass takes place on Zoom - sign in details are sent a few days before the event.
✨Cost for intensive training ✨
£300 full price or £280 for students / low income / OAP / NHS.
This is an investment in your comedy career and taking your comedy show forward. This workshop will save you so much time and money in the long run.
To attend this Masterclass it does help if you have experience of writing and performing. However, people from all levels of experience have previously attended including beginners. They have left with not only ideas for shows but also podcasts, books, radio scripts and more!
Check out our day workshops to gain skills in writing comedy or characters if you feel like you are a complete beginner. These are on eventbrite and on the website www.writesomecomedy.com
Only 8 places available per course. These fill up very fast and often sell out so book your place asap. This workshop only takes place a few times a year.
PLEASE NOTE: There are no refunds for this workshop once you have signed up and no refunds will be given if you have attended / completed the workshop.
Make sure to check out the other comedy workshops on offer at www.facebook.com/writesomecomedy or www.writesomecomedy.com
We also sell tickets on our website which do not include any booking fees.
*Only ever buy tickets through Eventbrite or directly from the official email / website - never ever buy off a third party who claims to have spare tickets as they don't have them.
Any other questions get in touch. Look forward to working with you,
Jane :)
Date and time
Location
Refund policy
Organiser of How to Write Your Own One Woman Comedy Show - 6 Week Online Masterclass
Jane is a comedian, writer and actor. She runs online Comedy Workshops and Courses for Women. 
Over the last six years she has taken her own one hour comedy shows to Brighton and Edinburgh Fringe where she received rave reviews and had sold out shows. She is a Multi-Comedy Award Finalist who's been heard on BBC Radio 4 Comedy shows and BBC 4 Extra at the New Comedian Heats. She has hosted the Friday Showcase on BBC Radio Cumbria. 
She teaches comedy writing and comedy character workshops across the UK and Worldwide. Her workshops have helped people write their first stand up set, first solo character fringe shows and more! 
Follow the Facebook page at www.facebook.com/writesomecomedy