How to...Confident, Calm and Clear Speaking & Presenting Workshop

Tuesday, January 24, 2017 from 9:00 AM to 5:00 PM (GMT)
Event Details
How to...Confident, Calm and Clear Speaking & Presenting Workshop
Get rid of public speaking nerves and presentation anxiety for good! 
Ideal for managers, business owners and leaders who suffer from presentation nerves and fear. Those wanting to  just be themselves when they stand up to speak. Managers who are nervous or apprehensive and want to feel less anxiety when presenting and leaders with an important message to share who are fed up of their nerves getting in the way!  
What you learn:
A proven FEAR-FREE Speaking system that removes your fears and nerves around presentations and sales pitches, brings you confidence and will help you attract more business. As a specialist in public speaking, Dee Clayton has developed the concept of helping people to train & tame their Public Speaking Monkeys. These fear monkeys are the voices in our heads that tell us unhelpful things like: 'you'll forget what to say!' and 'you aren't good enough!' or perhaps 'I can't ask for the business!'
Different people have different monkeys but they all have one thing in common...they stop us from presenting our business, team or ourselves in the best light.
Just follow the 3 Golden Rules to Taming your Monkeys and you'll lose those presentation fears.
Golden Rule # 1 - Catch Your Monkeys.
To catch the monkeys running around in your head you need to listen out for them. Don't ignore them, they won't go away.   
Golden Rule # 2 - Connect With Your Monkeys.
Get to know the monkeys and understand why they are there. Tune in to the voices and hear what they are saying. The good, the bad, and the downright ugly...
Golden Rule # 3 - Challenge Your Monkeys. 
This means you can decrease their power and hold over you. You no longer need to be fearful.
We cover each of these Golden Rules and step by step complete the exercises necessary to get rid of the fear meaning you can then learn to speak with confidence. 
Attend this one-day Workshop and you'll know how to permanently tame your monkeys using the 3 Golden Rules. Whether you've been on other courses before or this is your first ever - these strategies will work for you!
Some might say that alone justifies the investment in the Workshop, but there's more ...
In today's competitive market place you know it is important to communicate your message clearly and succinctly, so I'll help you to do that too.
I combine a wealth of knowledge from the fields of buyer behaviour, psychological insight, presentation skills and commercial marketing experience to help you:
Identify your business message

Communicate your uniqueness succinctly

See things from your customer's point of view
A fun, fast & effective workshop with like-minded business people

What do we cover?
T

he 3 Golden Rules to FEAR-FREE Speaking

Practise using your presentation or talk throughout the day & see it improve dramatically

Experience a fear-free and calm relaxed presentation style

Discover a simple & easy 4-step structure for any presentation

What 1 thing you're probably doing right now which makes the fear and worry 100 × worse!

Why it is ESSENTIAL to do the exact opposite of "Common Wisdom"

What your fear monkeys feed on and what to give them to eat instead

How to present and speak naturally and feel (more than) OK being yourself!
How does the programme look? 
A one to one coaching call prior to the workshop
A hard copy book ot read before the workshop to get ready
During the one day workshop a blend of individual, small & group learnings & exercises
A personal follow up coaching call after the workshop 

Registration & tea/coffee 8.45am for 9.00am start 
What is the investment price?

Investment price only £795 + VAT and in just one day you'll learn how to present your business and yourself in the best possible light. Now all you need to is to feel how empowering it will be when you are no longer nervous of presenting in public, and are calm, clear and confident instead. 
Strictly Limited to 4 delegates per workshop, so BOOK NOW!  
EARLY BIRD OFFER BOOK EARLY BEFORE IT EXPIRES.  
This Early Bird offer will end soon - so hurry!
 Note: Lunch is not provided, but a Starbucks is on site so you can grab a sandwich or bring your own.
Note: Max 2 participants per company.  
BACKGROUND ABOUT YOUR TRAINER - DEE CLAYTON
Dee Clayton is author of "Taming Your Public Speaking Monkeys" (obviously!)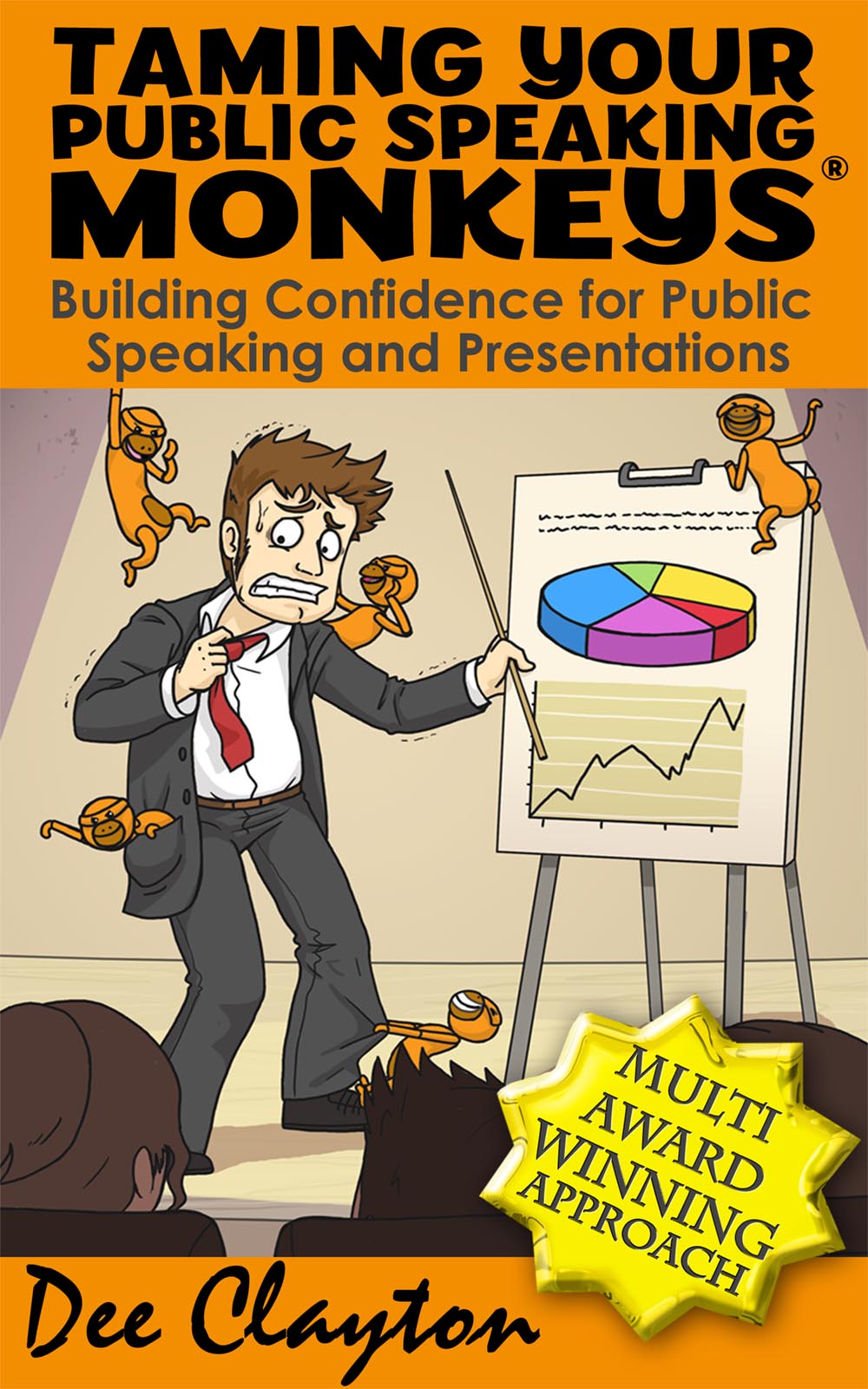 Before Dee established her international training business Simply Amazing Training Ltd, she worked on a wide range of products for different companies. Her brand responsibilities ranged from Jacob's Creek to Jammie Dodgers, Bernard Matthews to Boddingtons and Marigolds to Murphy's giving her a wealth of experience in all aspects of media advertising, sponsorship and international sporting events. Dee understands how challenging it can be to get your message across to others in a way that makes them want to buy your product or service, however good it is!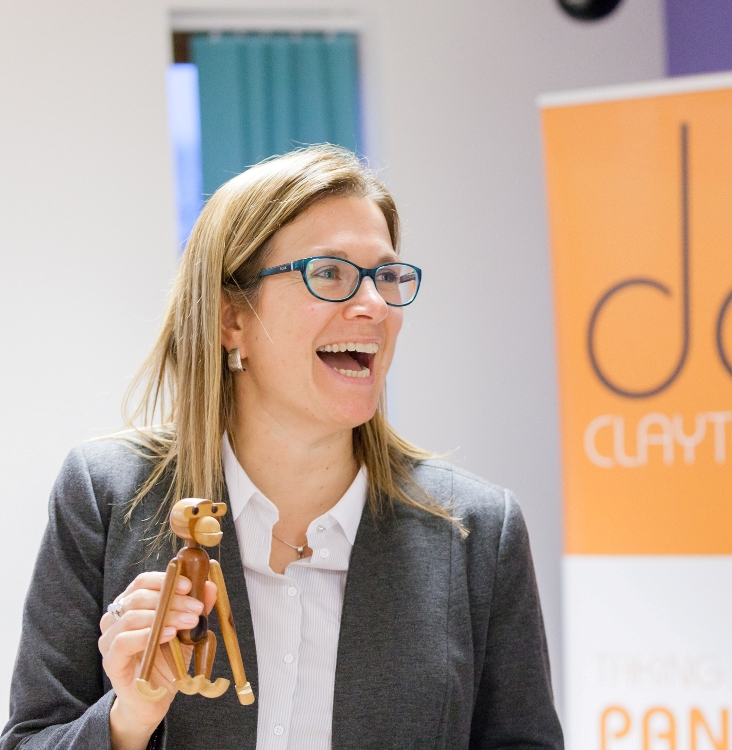 Every day, more and more businesses are setting up and more and more are closing down too! More people are going for those jobs that require great communications skills. The difference between those that fail and those that succeed is NOT just the ability to do the job  but the ability to COMMUNICATE with your customers and colleagues.
On this course you will learn how to communicate what you do in a way that helps others understand your message, want to buy from you and get you talked about - for all the right reasons!   
Dee is a Master Practitioner and Trainer of NLP, an Accredited Insights Discovery Practitioner, and an Accredited Motivational Maps Practitioner.  
When & Where

The Village Hotel Club

Deansleigh Road,
BH7 7DZ Bournemouth
United Kingdom


Tuesday, January 24, 2017 from 9:00 AM to 5:00 PM (GMT)
Add to my calendar
Organizer
Simply Amazing Training Ltd
Dee (as seen on TV!) has a vast range of experience presenting and speaking in seminars and business environments. She has been guest speaker at a number of groups and organisations such as Enterprising Women and The Business Club and has spoken at the Royal British Institute of Architects conference.
Dee is a highly skilled NLP (Neuro Linguistic Programming) Trainer and Master Practitioner. She is a member of the British Board of NLP as well as a Trainer member of ANLP International (Association of NLP). This enables her to work with you to build your confidence by combining learnings from the field of personal development with best practice in presentation skills.
As a marketer with over 17 years experience and a Member of the Chartered Institute of Marketing, her background ensures clear advice and guidance is also given on the structure and content of a talk. Dee believes that confidence alone isn't enough - you need great content too. 
Dee has recently overcome her own fears to attend a stand up comedy course culminating in a live gig! She uses that experience to bring humour to the learning environment and enable you to really bring your presentations to life in an appropriate and relevant manner. She is a member of Toastmasters International (a public speaking organisation) and is always open to new challenges to develop her communications skills further. 
DeeClayton.com is a little bit of Simply Amazing Training which delivers effective solutions using unique tips and tricks in a fast paced environment. We combine practical experience for you, with a positive feedback style that will leave you feeling confident and ready to absorb even more.  
When you work in any business time is money. You'll be pleased to know we use the best accelerated learning techniques to create a fun learning environment where you learn more, in less time. This results in many satisfied clients such as Chivas Brothers, SCA, Burtons Foods & RNIB.
How to...Confident, Calm and Clear Speaking & Presenting Workshop