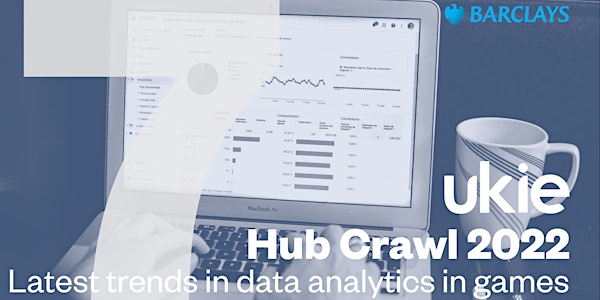 Hub Crawl 22 - The latest trends in data analytics in games
Analysing and understanding in-game trends and behaviours of consumers is crucial to a games success
About this event
The Ukie Hub Crawl is an essential series of events for those looking to broaden their knowledge or deepen their understanding of the key opportunities within the games industry.
The twelve-date series will feature 8 virtual events and 4 physcial events taking place on a Tuesday afternoons. With one event a week and with fresh speakers every time we hope this becomes a key part of your weekly schedule.
All events within Hub Crawl 22 are free to attend thanks to our amazing partners Barclays Bank and Amazon.
All virtual events will be webinars on Zoom. All registered attendees will be sent a link in advance of the event and will be sent all appropriate slides after the event has concluded. Video recordings will also be available.
This event, Analysing the latest trends in games analytics, is delivered by Ukie and GAME:UP - Gaming Analytics Meetup in partnership with the Institute of Directors ERP/Digital Special Interest Group.
Our experts will share their insight into how analytics underpins commercial success in games and how companies can excel by better understanding and responding to consumer behaviour in online games and the surrounding ecosystem.
Speakers include -
David Gowans, Barclays - welcome
Oona Tillotson, GAME:UP
Peter Tillotson , EMEA Analyst Riot Games - How Does Data and Analytics Drive Success in the World of Video Games?
Simon Honey, Cyber Security and Data Protection Ambassador - The value of good data practice
Chris Ling, Director of Data Platform and Analytics, Kolibri Games - Automating the Analysis of A/B Tests
Marco Blume, Trading Director Pinnacle Sports - How & why esports is breaking into mainstream
The event will be followed by a social meet up, details will be sent to you on registration.
Check out our other events in the Hub Crawl 22 - here.