Description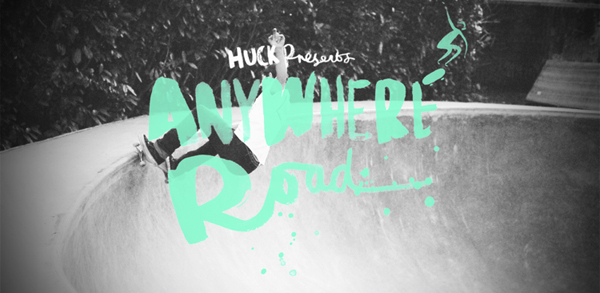 A photography exhibition by girls who skate.
PRIVATE VIEW GUESTLIST IS NOW FULL BUT THE SHOW'S OPEN UNTIL THE 29th. Come down! Keep checking huckmagazine.com for more happenings over the weekend (jams/screenings/etc)

"What's your road, man? - holyboy road, madman road, rainbow road, guppy road, any road. It's an anywhere road for anybody anyhow. Where body how?" - Jack Kerouac, On the Road
To celebrate the release of the On the Road issue, HUCK magazine and COPSON ST. would like to invite you to the private view of Anywhere Road, an exhibition that cuts to the core of skateboarding life. Featuring photography by female skateboarders from around the world, it's a snapshot of life on the road, by girls who live it.
Featuring: Maria Falbo, Jenna Selby, Alana Paterson, Sarah Meurle, Sophie Allen, Lisa Kindberg and Louisa Menke.
Plus: secret jams / creative briefs / screenings and more... Stayed looped in via #AnywhereRoad.
--
Anywhere Road
25–29 October 2012
Open 9.30am-5.30pm Mon to Fri, 12pm-6pm Sat
71a Leonard St, London EC2A4QS
--
Kerouac never knew where he was going, he just knew he had to go. Join us!
In association with: DC + Nikita
Please note: Please note that we reserve the right to change the programme details of events without prior notice. Numbers are limited. Entry may be refused once capacity is reached – come early to avoid disappointment.
Organizer of Huck presents Anywhere Road private view
71a is TCOLondon's gallery and events space, hosting exhibitions, film screenings, parties, panels, workshops & more. 
TCOLondon is a media company based in Shoreditch, London. We make Little White Lies and Huck, two award-winning, internationally-distributed magazines. We also help some of the world's most innovative brands tell their stories in print, film, digital and through events.
If you'd like to know more about what's coming up, join our 71a mailing list.
& if you'd like to host your event at 71a, please get in touch, we'd love to hear from you.