Learn all about the hidden world inside us all, the conditions that affect your digestive system and what we know about how to fight them.
About this Event
This is your chance to hear from leading experts in a friendly but informative way. Exploring the Science of Digestion is open to all.
• 5pm: Doors open
• 5:30pm: Introduction & Living with Crohn's Disease (Dr Phil Smith)
• 6:00pm: Diet, Bugs & Gut Health - which 5-a-day? ( Prof. Jon Rhodes)
• 6:20pm: What if it's Coeliac Disease? (Christian Costas)
• 6:40pm: IBS & Food: What do we know? (Julie Thompson)
• 7pm: Liver: 500 Functions (Dr Varinder Athwal)
Register today for free to reserve your place.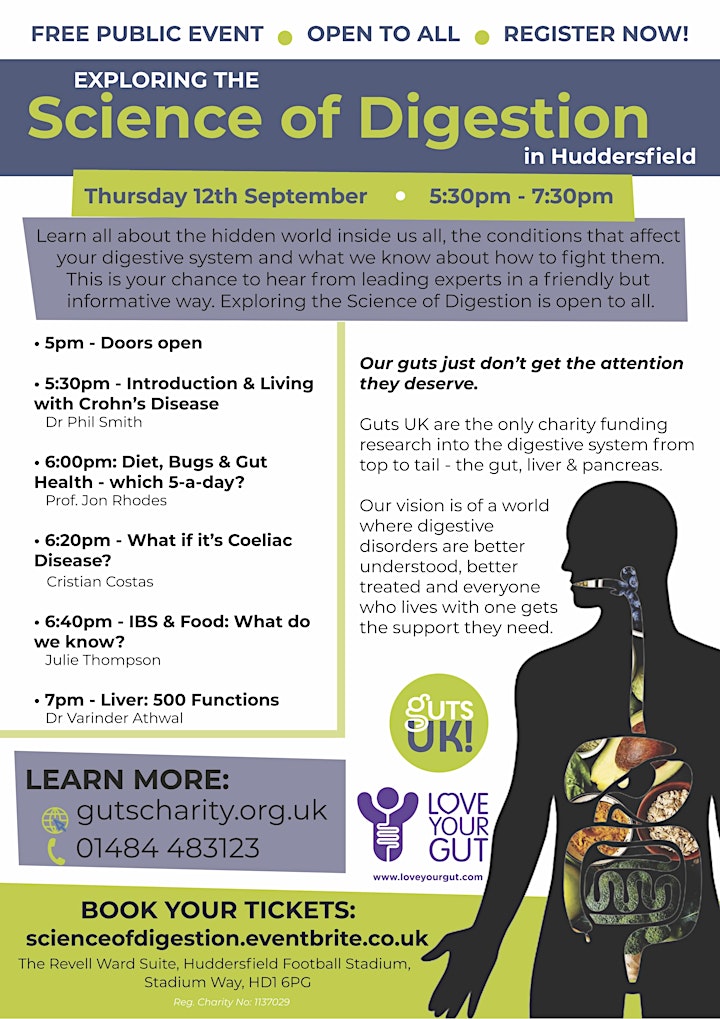 Guts UK are the only charity funding research into the digestive system from top to tail - the gut, liver and pancreas.
Our vision is of a world where digestive disorders are better understood, better treated and everyone who lives with one gets the support they need.
Guts UK's mission is to provide expert information, raise awareness of digestive health and fund research into conditions of the gut, liver and pancreas. Find more information at gutscharity.org.uk
If you have reserved tickets but can no longer attend the event, we ask that you inform us as soon as possible by emailing info@gutscharity.org.uk or calling 01484 483123. We want as many people as possible to benefit from this free, open to all event.
This event is kindly supported by Love Your Gut, and falls just before Love Your Gut Week. This week runs from 16-22nd September and aims to highlight the vital role of the digestive system and emphasise the importance of good gut health!