Description
Teachmeet Hull and East Yorkshire returns. Brought to you by The Education Alliance hosted at Malet Lambert. A great opportunity for teachers from Hull and East Riding to get together and discuss ideas and techniques that have proved effective and inspiring in their colleges, secondaries or primary schools.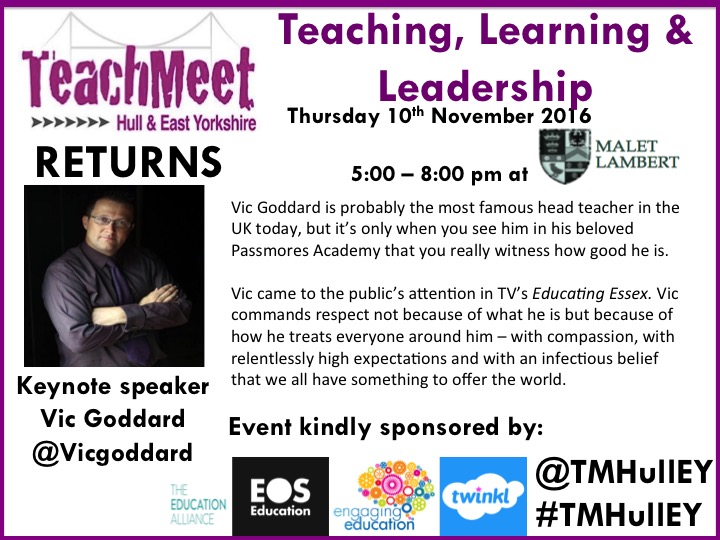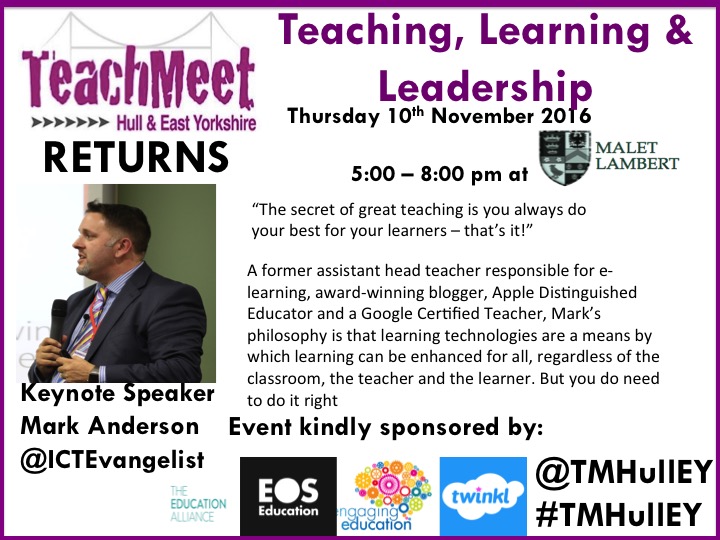 The theme is Teaching, Learning and Leadership
Do you want to hear about an idea that's worked well for others? Would you be willing to share something that your students have been enjoying? Are you interested in developing your leadership? You're the experts and this is the moment to tell others what's worked well for you in your classroom.
It isn't about drafting in theorists who know how to do your job. This is about teachers sharing their thoughts, innovations and expertise.
We are delighted to confirm our keynote speakers, the inspirational @Vicgoddard and @ICTEvangelist
You might choose to do a micro-presentations (lasting about seven minutes) or even a nano-presentations (just two minutes long).
Speaker Sign up form:
https://docs.google.com/forms/d/1ebOIz8ltYmN-wIORSGMuflSRPeG2xsEdEwKLjgwgqRo/viewform
Or perhaps you'd simply like to attend, pick up some ideas and chat with local/national teachers and leaders from different sectors.
Refreshments and a small buffet will be available from 4:30 pm and we aim to start at the latest at 5:00 pm. We anticipate that the event will last approximately 3 hours.
All teachers, from all phases are welcome.
If you have any questions regarding this event , please contact:
@Stephen_Logan @BorisMcDonald or @DTbobbin for more information
Email: sltslogan@gmail.com or Richard.mcdonald@southhunsley.org.uk
Headline sponsors
The Education Alliance
Event is also kindy sponsored by Engaging Education, Twinkl Resources and Make Your Marque.
Places are limited, book early.