Description
Human-Centred Design for Innovation: Design Thinking in Action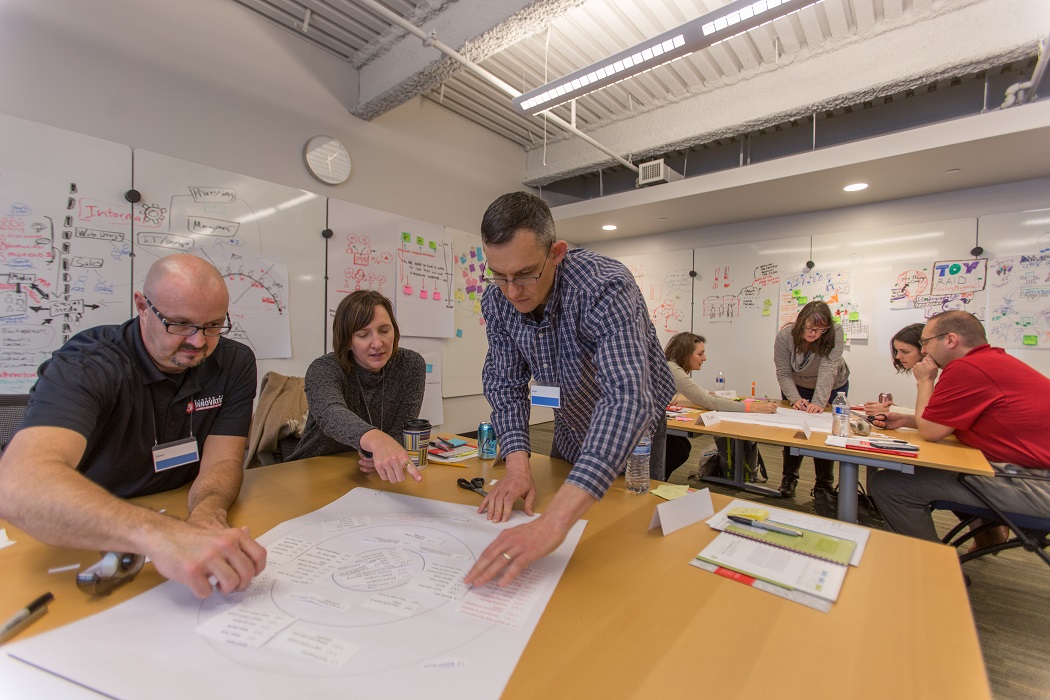 WORKSHOP OVERVIEW
Through a dynamic mix of short lectures and hands-on activities, this two-day workshop introduces participants to the LUMA System of Innovating for People–a flexible framework for practicing the discipline of Human-Centred Design. It will help you:
- Understand the needs of different stakeholders and customers

- Generate a wide range of ideas using alternatives to traditional brainstorming/ideation

- Prioritise ideas and test them quickly to get feedback

- Promote productive interdisciplinary collaboration and provide teams with a repeatable way to innovate
This workshop is ideal for anyone who seeks to accelerate innovation within their organisation, is interested in Human-Centred Design, or who wants to improve their skills in these areas.
WHO SHOULD ATTEND?
- Product managers, designers, researchers, user experience professionals, marketers, consultants, engineers, and learning professionals interested in improving their skills in Human-Centered Design, also known as Design Thinking;
- Business, non-profit, government, and academic leaders interested in building a culture of innovation or otherwise creating new value through Human-Centered Design
HOW RECENT ATTENDEES DESCRIBE OUR WORKSHOPS
- "The most I've learned in two days in the last 10 years."
- "This experience was a career-defining milestone."
-"Even though I was taught some of these methods 18 years ago - and I've learned many more since - the LUMA structure and the teaching from Future Tonic has bought things to life, reinvigorated my thinking and given me an invaluable suite of tools."
- "This course has the absolute best information on how to rapidly and effectively improve not just the design process, but nearly every process in your team. I will not only recommend this course, but insist upon it! Thank you so much."
HARVARD BUSINESS REVIEW: LUMA'S TAXONOMY OF INNOVATION

Fast-changing markets demand rapid development of new products and processes. Thousands of tools and methods are available to help innovators discover what users want and how to deliver on their expectations. The challenge is to figure out which ones to use when. The LUMA Institute has distilled the portfolio of methods down to 36 of the most effective tools for innovation—the majority of them in common use—organized in three categories: looking, understanding, and making. This hierarchical model makes it much easier to identify the tools you need and then put them to use. See the article and interactive framework.

ATTENDEE ORGANISATIONS HAVE INCLUDED
Accenture, American Cancer Society, Amway, Autodesk, British Telecom, Cisco, Citrix, Design Singapore Council, Dun & Bradstreet, Emerson, Facebook, Google, Harvard Business School, Honeywell, IBM, Inmarsat, Intuit, Knight Foundation, LEGO, Marvel Entertainment, McDonald's, MIT, Oracle, PepsiCo, Procter & Gamble, Progressive, Stanford Medical, Starwood Hotels and Resorts, Steelcase, The Behavioural Insights Team, U.S. Department of Veterans Affairs (VA), Wells Fargo, The White House
EXAMPLES OF METHODS TYPICALLY COVERED
- Rough and Ready Prototyping
- Storyboarding
- Think-Aloud Testing
- Stakeholder Mapping
- Interviewing
- Contextual Inquiry
- Experience Mapping
- Rose, Thorn, Bud
- Affinity Clustering
- Importance/Difficulty Diagramming
- Abstraction Laddering
- Round Robin
- Creative Matrix
- Visualize-the-Vote
- Concept Poster
- Video Scenario
WHAT YOU WILL GET
- LUMA Institute's "Innovating for People: Handbook of Human-Centered Design Methods"
- "Innovating for People: Human-Centered Design Planning Cards" and other planning tools
TERMS & CONDITIONS
We do not offer refunds. We do not permit transfers from one workshop date to another. However, it is possible to send someone else in your place should you be unable to attend.
Also, please note that we reserve the right to cancel any public workshop up to fourteen (14) days prior to the start date of that workshop. In such a case, registrants will be promptly notified and will receive a full refund or be given the option to attend a future public workshop within six (6) months. We are not responsible for travel expenses or any costs that may be incurred as a result of a cancellation.
All materials and handouts provided by LUMA during the workshop are published, copyrighted works proprietary and owned exclusively by LUMA and its licensors. Workshop participants do not acquire title nor ownership rights in any of these materials, and agree not to reproduce, modify, or distribute any of the materials received from or provided by LUMA.
OTHER DETAILS
After registering, each attendee will be sent additional information about logistics. If you have additional requirements, please contact Future Tonic, and we'll be happy to help.
Breakfast, Lunch and Morning & Afternoon Tea are included in your workshop registration fee.