Description

Learn the world's most practical, flexible and scalable approach to innovation
Organisations of all types are facing bigger, more complex challenges and disruptions, and the ability to innovate has become an imperative to adapt and thrive.
Our two-day workshop introduces you to the LUMA System of Innovation — a flexible framework for solving problems faster, with better results, using the discipline of Human-Centred Design. Through a dynamic mix of presentations and hands-on activities, you will learn to apply a versatile system that:
Provides your teams with a repeatable way to innovate

Promotes productive interdisciplinary collaboration

Offers creative alternatives to traditional brainstorming

Helps you get more out of your direct customer research

Measurably impacts your development work for products, services and processes

What You Get
Expert instruction built on real-life scenarios

A common language for problem-solving

Hands-on practice to deepen new skills

Guidance on how to bring a new way of working into your workplace

"Innovating for People," LUMA's handbook of Human-Centred Design

A deck of LUMA's Human-Centred Design planning cards

Frequently Asked Questions
What's it like to attend the workshop?
Our workshops are hands-on, dynamic, collaborative and fast-paced! We know that the best way to learn is through doing, so you'll be tackling different challenges, using a mix of Human-Centred Design methods and working with people from a variety of backgrounds and organisations.


Who is the workshop for?
We welcome anyone who wants to accelerate innovation within their organisation and to learn about Human-Centred Design. Job titles we often see include: product managers, designers, researchers, user experience professionals, marketers, consultants, engineers and educators & learning professionals.
What organisations send people to LUMA workshops?
Our public workshops typically draw a lively mix of people from business, non-profits, government and education, You may be surprised who you'll be teamed up — we've had participants from British Telecom, Google, Honeywell, Inmarsat, Intuit, LEGO, Coca-Cola, Procter & Gamble, The Behavioural Insights Team, Jaguar Land Rover, Teignbridge Council and many more.

What should I bring?
Bring your curiosity, creativity and enthusiasm for learning a new way of working. We supply the rest, including breakfast, lunch and morning & afternoon tea.
Who should I contact with more questions?
After you register, we'll send you additional information about workshop logistics. If you have questions or additional requirements, contact Future Tonic. We're happy to help.



Do you offer certification in Human-Centred Design?
Yes, we do! You can become a certified LUMA practitioner by building your skills after the workshop. We'll provide peer-to-peer learning, expert coaching, and practical, on-demand resources.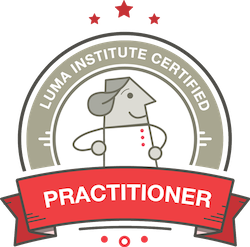 How it works:
Choose the Practitioner Certification option at check-out

Participate in a LUMA+Future Tonic Human-Centred design course
After the course, create a plan for how you intend to use a few LUMA methods, put your plan into action (practice the methods) and document how things went
Share your experience during monthly check-ins (via Zoom), receive constructive feedback from LUMA instructors and other practitioners-in-training
Collect your LUMA Practitioner Certification, including a digital certificate and badge that can be used on LinkedIn
You will also get:
A 1-year subscription to LUMA workplace (a £200 value), an online platform with videos, templates, tips and advice for applying HCD methods
A LUMA Passport, a booklet that helps you create a plan for using the methods and documenting the outcomes

What is the refund policy?
Once you have registered, we do not offer refunds and we do not permit transfers from one workshop date to another. It is possible to send someone else in your place should you be unable to attend.
Also, please note that we reserve the right to cancel any public workshop up to 14 days prior to the start date of that workshop. If that happens, we'll notify you promptly and give you a full refund or the option to attend another public workshop within six months. We are not responsible for travel expenses or any costs that may be incurred as a result of a cancellation.
Additional Terms & Conditions
All materials and handouts provided by LUMA during the workshop are published, copyrighted works proprietary and owned exclusively by LUMA and its licensors. Workshop participants do not acquire title nor ownership rights in any of these materials and agree not to reproduce, modify, or distribute any of the materials received from or provided by LUMA.
Organiser of Human-Centred Design for Innovation: Design Thinking in Action
We're an innovation studio that combines Design Thinking with Futures Thinking to help our clients develop products and services relevant for tomorrow. We..
Inspire companies to envision and prepare for the future

Transform organisations to become more innovative and human-centred

Train teams to amplify their creativity, collaboration and problem-solving capabilities