Event Information
Refund Policy
Contact the organiser to request a refund.
Eventbrite's fee is nonrefundable.
About this Event
Agenda (all times in British Summer Time (BST)):
5:00pm: 🎙️Welcome and Announcements by host Richard Foster-Fletcher and sponsors Aiimi and Data Reply

5:10pm
Speaker: Dr. JT Kostman
Title: AI Psychologist & CEO, ProtectedBy.AI
Presentation: The reasons why AI projects fail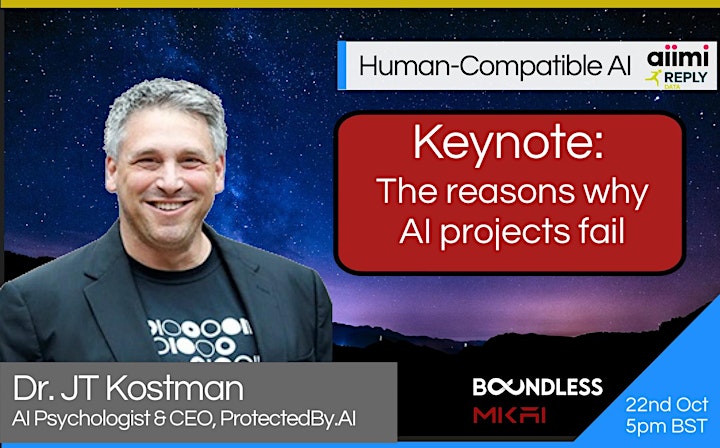 Dr. JT Kostman has been recognized by his peers, the press, and professional associations as one of the world's leading experts in Applied Artificial Intelligence and Cognitive Computing. A highly sought-after speaker, writer, advisor, and educator, JT has earned a reputation for his ability to demystify frontier-technologies – and for developing practical, actionable, data-driven solutions.
Dr. Kostman is the CEO of ProtectedBy.AI, where he and his team develop cost-effective AI-enabled solutions that augment human capabilities and optimize performance for their government and private-sector clients around the world.

5:30pm
Speaker: Nikhil Malhotra
Title: Global head of innovation at Tech Mahindra
Presentation: Beyond Neural Networks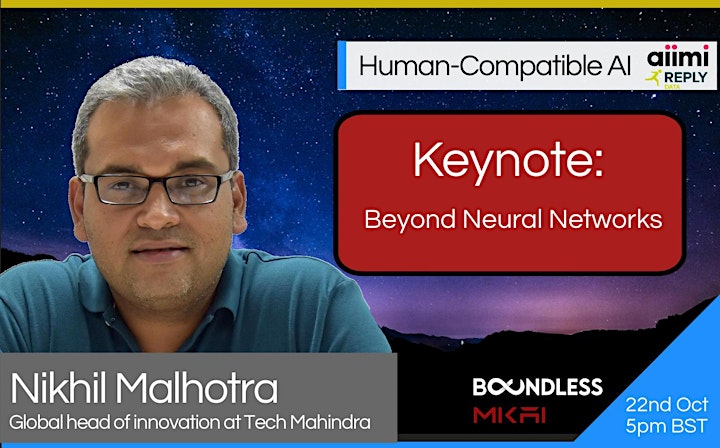 Nikhil Malhotra is Head of Maker's lab the thin-q-bator division at TechMahindra. His expertise and passion include Artificial intelligence, typically natural language processing. At the lab the primary objective is to understand intelligence at its primal level and then apply it to create IPs or solutions to benefit customers and employees alike.
Solutions in the lab are built based on the following:
Robotics (physical) and Robotics augmentation of software
Machine learning with a focus on NLP, Recurrent neural nets, Deep Belief Networks
IoT which includes working with Raspberry pi's, beaglebones, Intel Edison, microservices and augmented reality.
Nikhil has a personal robotic assistant at his lab which guides visitors to meet him. Now, he is creating a holographic agent for himself.

5:50pm
Speaker: Hessie Jones
Title: Digital Strategist and Privacy Technologist
Presentation: Human-Centric Design in an Increasingly Automated World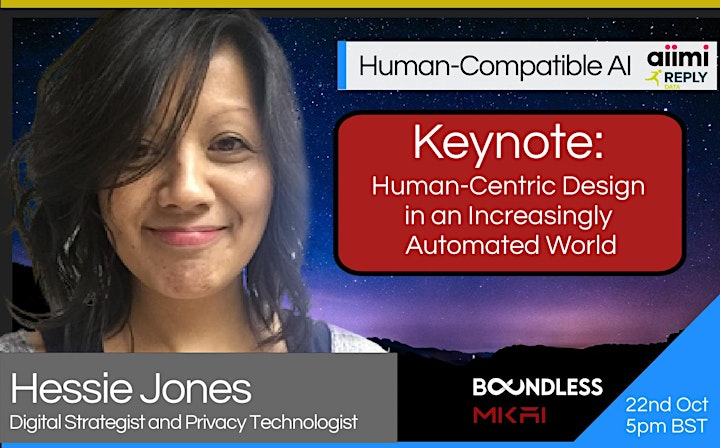 Hessie Jones is a seasoned digital strategist and privacy technologist that continues to challenge the notion of complacency. She advocates for data rights, and sovereignty, human-centred AI through ethical distribution strategies. Hessie sees the rise of decentralization as being a catalyst that will transform every facet of society and industry.
In her 20 year journey, she ventured into start-up technologies: privacy, security, data targeting: behavioural and ID profiling, MarTech and industry experience in advertising, banking, and digital technology. Her current focus is on Data Privacy, Identity, Sovereignty and Ethical AI as data breaches and data misuse become more commonplace. As an active contributor for Forbes, Cognitive World and Towards Data Science publications, a former Huffington Post contributor and a member and contributor to VentureBeat, Ethical AI and Machine Learning, MyData Global and a Women in AI Ethics Council.

6:10pm
Speaker: Tulsee Doshi
Title: Google Product Lead - ML Fairness and Responsible AI
Presentation: Building Responsible AI into Products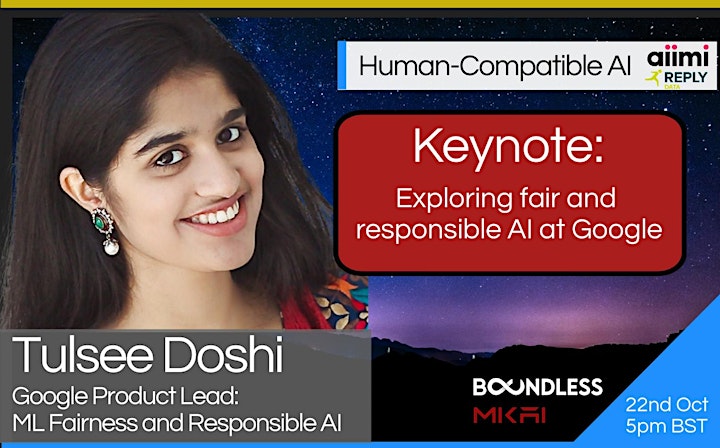 Tulsee Doshi is the product lead for Google's ML fairness and Responsible AI efforts, where she leads the development of Google-wide resources and best practices for developing more inclusive, diverse, and ethical products. Previously, Tulsee worked on the YouTube recommendations team. She has a BS in Symbolic Systems and an MS in Computer Science from Stanford University.
6:30pm: Panel discussion with all speakers
6:55pm: Roundup + What's next with MKAI
7:00pm Close
MKAI's Human-Compatible AI Series is made possible by our partners
We are a tech company that specialises in data and information. We believe that companies who win at data will become their market leaders, so we built a software platform to make sure our clients are first across the line.
Put it like this: you know the way your company has a ton of data in clouds, lakes, networks, computers and devices? We've found a way to organise it and link it all together. The result is improved productivity, compliance and privacy. Which is fine. But things get really interesting when our data scientists plug their AI solutions into the platform to drive amazing insight and incredible automation. That's when you get real competitive advantage. That's when you start to win.
Our software platform is called InsightMaker, because that's what it delivers. Simple. Usable. Insight.
It's used by utility companies, government departments, banks, car manufacturers, and law firms – that's the level we work at. And we haven't come across an organisation yet that InsightMaker hasn't been able to help.
Clients like our attitude – it's a refreshing alternative to the big consultancies and system integrators. We're faster and more flexible because we're totally independent - so decisions are quick and solutions are developed at hyper-speed. To find out more visit www.aiimi.com
Part of the well-known Reply group, Data Reply UK offers a broad range of advanced analytics and AI-powered data service to enable Digital Leaders and Chief Officers achieve meaningful outcomes through the effective use of data.
They support companies in designing and implementing human-centered data products to turn embryonic ideas into enterprise solutions with Big Data Engineering, Data Science and Intelligent Process Automation.
You can find out more and get in touch at www.reply.com/data-reply
MKAI is supported by:
Webtrends Optimize: AB Testing & Website Personalisation
Webtrends Optimize is a powerful, enterprise-grade experimentation platform with a suite of website optimisation tools to enhance your visitors digital experience. Full access to all features is available, as standard, to all users. That means no paywall features, no tiers and no upgrades needed.
You can find out more and get in touch at https://www.webtrends-optimize.com/
Date and Time
Location
Refund Policy
Contact the organiser to request a refund.
Eventbrite's fee is nonrefundable.