Event Information
Refund Policy
Contact the organiser to request a refund.
Eventbrite's fee is nonrefundable.
MKAI November Expert Forum | Human-Compatible AI: Part 3 | Artificial Intelligence Augmentation, Disruption and Control
About this Event
Agenda (all times in British Summer Time (BST)):
5:00pm: 🎙️Welcome and Announcements by host Richard Foster-Fletcher and sponsors Aiimi and Data Reply

5:10pm
Speaker: Rudy van Belkom
Title: Futures Researcher at Netherlands Study Centre for Technology Trends (STT)
Presentation: Ethics by Design: How can we design human-compatible AI systems?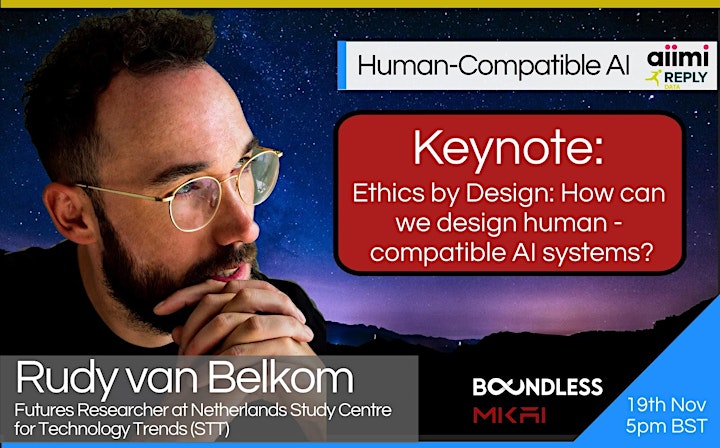 Rudy van Belkom is a futures researcher at the Netherlands Study Centre for Technology Trends (STT). He recently published his book about ethics in the design process ('AI no longer has a plug') that offers developers, policymakers, philosophers and basically anyone with an interest in AI, tools for integrating ethics into the AI design process.
In addition, he developed an ethical design game for AI, inspired by the scrum process, that can be used to better streamline the discussion about ethics. The essence of the game is based on the position paper that he wrote together with the HU research group and was accepted for ECAI 2020: 'An Agile Framework for Trustworthy AI'. Van Belkom also investigated the role of AI in the future of his own field. His scientific article 'The Impact of Artificial Intelligence on the Activities of a Futurist' appeared in World Futures Review.

5:30pm
Speaker: Professor Sally Eaves
Title: Emergent Technology CTO
Presentation: AI for Sustainability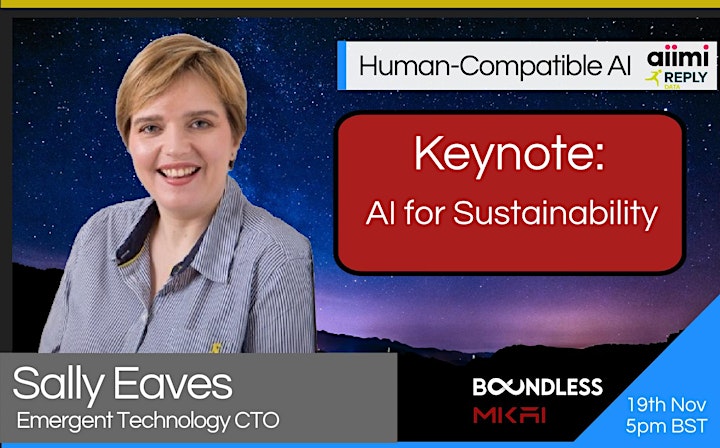 Prof. Sally Eaves has been described as the 'torchbearer for ethical tech'. She is an international advocate for opening access to opportunity and has founded Aspirational Futures to help skill, empower and support the generation of interdisciplinary talent into careers yet to be conceived, alongside scaling the application of emergent technology as an enabler for business transformation and social good. Sally is also Social Impact lead for the Hult Prize and contributes to parliamentary policy thought leadership. She was an inaugural recipient of the Frontier Technology and Social Impact award, presented at the United Nations in 2018 and is now leading major initiatives in this area, including presenting at Davos and leading events worldwide.
Sally also brings a depth of experience from both Chief Executive Officer and Chief Technology Officer roles, as a Professor in Advanced Technologies and as a Global Strategic Advisor. She specialises in the application and integration of Blockchain, Artificial Intelligence and associated emergent technologies for business and societal benefit. Sally works globally with bleeding-edge disruptors, governments, academia and leading corporate institutions to apply her expertise for achieving sustainable competitive advantage alongside purpose-driven change.

5:50pm
Speaker: Dr. Danko Nikolic
Title: Brain and Mind Scientist
Presentation: Differences between AI technology and our brains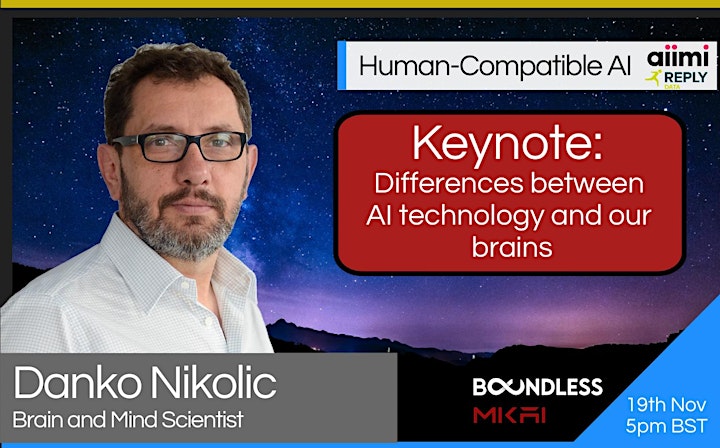 Dr. Danko Nikolic is a brain and mind scientists and AI practitioner and visionary. He led for many years a lab at Max Planck Institute for Brain Research. and is foremost interested in:
i) closing the mind-body explanatory gap, and
ii) using that knowledge to improve machine learning and AI.
His work on brain research at Max Planck Institute led him to develop the theory of hierarchical adaptations (aka practopoiesis). From there he proposed the concept of AI-Kindergarten — a method for creation of biological like artificial intelligence. He also introduced the concept of ideasthesia and most recently is active in applied machine learning and AI. For a full list of his publications visit his personal web site (www.danko-nikolic.com).

6:10pm
Speaker: Alison B. Lowndes
Title: Artificial Intelligence DevRel, NVIDIA
Presentation: Addressing Humanity's Greatest Problems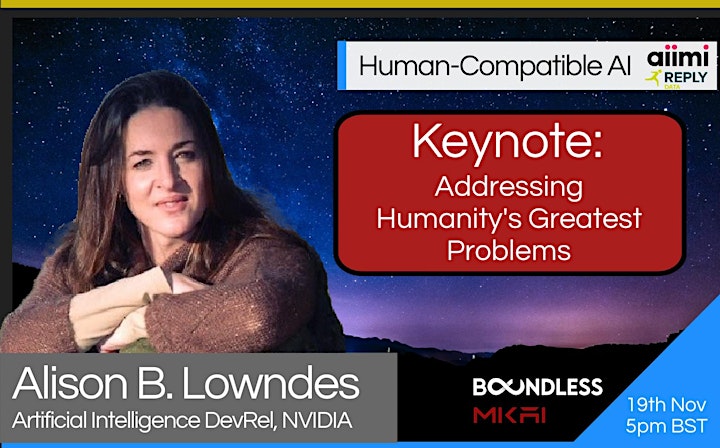 Alison B. Lowndes joined NVIDIA in 2015 and spent her first 18 months as a Deep Learning Solutions Architect. She is now responsible for NVIDIA's Artificial Intelligence Developer Relations across the EMEA region (Europe, Middle East, Africa) & North America. She is a mature graduate in Artificial Intelligence combining technical and theoretical computer science with a physics background & over 25 years of experience in international project management, entrepreneurial activities and the internet.
She consults on a wide range of AI applications, including planetary defence with NASA, ESA & the United Nations. Alison works closely with the community of AI & Machine Learning researchers around the world, remaining knowledgeable in state of the art across all areas of research. She also advises on & teaches NVIDIA's GPU Computing platform, around the globe. Twitter: @AlisonBLowndes
6:30pm: Panel discussion with all speakers
6:55pm: Roundup + What's next with MKAI
7:00pm Close
MKAI's Human-Compatible AI Series is made possible by our partners
We are a tech company that specialises in data and information. We believe that companies who win at data will become their market leaders, so we built a software platform to make sure our clients are first across the line.
Put it like this: you know the way your company has a ton of data in clouds, lakes, networks, computers and devices? We've found a way to organise it and link it all together. The result is improved productivity, compliance and privacy. Which is fine. But things get really interesting when our data scientists plug their AI solutions into the platform to drive amazing insight and incredible automation. That's when you get real competitive advantage. That's when you start to win.
Our software platform is called InsightMaker, because that's what it delivers. Simple. Usable. Insight.
It's used by utility companies, government departments, banks, car manufacturers, and law firms – that's the level we work at. And we haven't come across an organisation yet that InsightMaker hasn't been able to help.
Clients like our attitude – it's a refreshing alternative to the big consultancies and system integrators. We're faster and more flexible because we're totally independent - so decisions are quick and solutions are developed at hyper-speed. To find out more visit www.aiimi.com
Part of the well-known Reply group, Data Reply UK offers a broad range of advanced analytics and AI-powered data service to enable Digital Leaders and Chief Officers achieve meaningful outcomes through the effective use of data.
They support companies in designing and implementing human-centered data products to turn embryonic ideas into enterprise solutions with Big Data Engineering, Data Science and Intelligent Process Automation.
You can find out more and get in touch at www.reply.com/data-reply
MKAI is supported by:
Webtrends Optimize: AB Testing & Website Personalisation
Webtrends Optimize is a powerful, enterprise-grade experimentation platform with a suite of website optimisation tools to enhance your visitors digital experience. Full access to all features is available, as standard, to all users. That means no paywall features, no tiers and no upgrades needed.
You can find out more and get in touch at https://www.webtrends-optimize.com/
Acknowledgements: MKAI is kindly supported by MK Council. The title Human-Compatible AI was inspired by the book of that title by the ever brilliant Stuart Russell. You can get a copy of the book at: https://amzn.to/38ubMxA
Date and Time
Location
Refund Policy
Contact the organiser to request a refund.
Eventbrite's fee is nonrefundable.