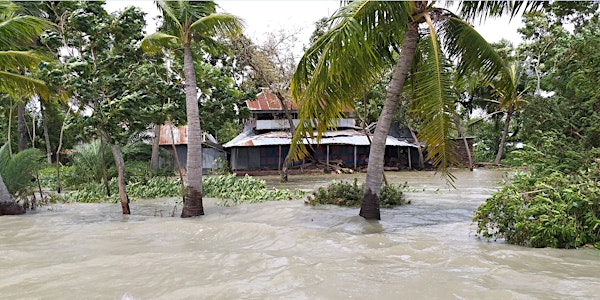 Human displacement in the context of extreme weather and climate change
Location
Roberts Building G06 Sir Ambrose Fleming LT in Roberts Building and South Cloisters
University College London
Torrington Place
London
WC1E 7JE
United Kingdom
How do extreme weather events and human-caused climate change affect disaster displacement and human migration decisions?
About this event
The UCL Humanitarian Summit will bring together scientists, practitioners and policy-makers to consider the impacts of these events and seek new ways forward.
The United Nations Office for Disaster Risk Reduction (UNDRR) and Intergovernmental Panel on Climate Change (IPCC) recognised climate change as a potent driver of involuntary migration and disaster displacement as a tremendous humanitarian challenge of the 21st century.
The IPCC WGII Sixth Assessment Report (2022) highlights that climate and weather extremes are increasingly driving displacement in all regions, mainly where climate hazards interact with high vulnerability and low adaptive capacity. This trend of human displacement will increase with the intensification of heavy precipitation and associated flooding, tropical cyclones, drought and, increasingly, sea-level rise.
Likewise, the Groundswell Part-2 report (2021) estimates that as many as 216 million people could move within their own countries due to slow-onset climate change impacts by 2050. In addition, the Internal Displacement Monitoring Centre (IDMC) warns that displacement by disasters is regularly reaching around 25 million people each year, which is three times higher than people displaced by conflicts and violence. In contrast, even a much higher number of people are trapped in the climatic hotspots making them significantly vulnerable to continuing poverty, land and water degradation, loss of livelihoods and ecosystems, food insecurity, health hazards and increased inequality.
Climate change is contributing to humanitarian crises. Against this background, the one-day, in-person event will provide stimulating talks, interactive discussions and networking opportunities on the impacts of extreme weather events and human-caused climate change on disaster displacement and non-migration.
For full programme and speaker details, please visit the UCL Institute for Risk and Disaster Reduction (IRDR) website.
If you are unable to attend in person, watch the livestream on our YouTube channel.