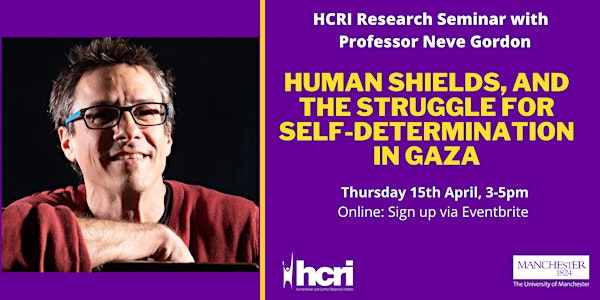 Human Shields and the Struggle for Self-Determination in Gaza
From Syrian civilians locked in iron cages to veterans joining peaceful indigenous water protectors at the Standing Rock Sioux Reservation..
About this event
From Sri Lanka to Iraq and from Yemen to the United States, human beings have been used as shields for protection, coercion, or deterrence. Over the past decade, human shields have also appeared with increasing frequency in Black Lives Matter protests and environmental struggles, and even computer games. In this talk, Neve Gordon will focus on human shielding in the Gaza Strip, discussing how the position of civilians trapped in theatres of violence has become more precarious and their lives more expendable. He will go on to show how international humanitarian law often fails to protect civilians and at times even facilitates the use of lethal violence against vulnerable people while portraying the violence as humane.
This event will be chaired by Professor Mandy Turner (HCRI)
Speaker bio
Professor Neve Gordon teaches in the School of Law at Queen Mary University of London. Focusing on international humanitarian law, human rights, the ethics of violence, and the Israeli-Palestinian conflict, Gordon first book, Israel's Occupation (2008), provided a structural history of Israel's mechanisms of control in the West Bank and Gaza Strip, while his second book, The Human Right to Dominate (2015, with Nicola Perugini) examines how human rights, which are generally conceived as tools for advancing emancipation, can also be used to enhance subjugation and dispossession. In Human Shields: A History of People in the Line of Fire (2020 also with Perugini), Gordon follows the marginal and controversial figure of the human shield over a period of 150 years in order to interrogate the laws of war and how the ethics of humane violence is produced. Gordon has also edited two volumes, one on torture (with Ruchama Marton) and the other on marginalized perspectives on human rights. He is currently working on a project that examines how new warfare technologies challenge the underlying framework of the laws of war.
Chair bio
Before joining HCRI in January 2020 as Professor of Conflict, Peace and Humanitarian Affairs, Professor Mandy Turner was the Director of the Kenyon Institute, the British Academy research centre in East Jerusalem, where she lived and worked for eight years. Prior to this, Mandy was a Lecturer/Senior Lecturer in Conflict Resolution at the Department of Peace Studies, University of Bradford, UK. Her research focuses on the politics of international intervention, development in war-torn societies, and the Israel-Palestine conflict. Some of her publications include the edited books: From the River to the Sea: Palestine and Israel in the Shadow of 'Peace' (Rowman and Littlefield, 2019), The Politics of International Intervention: The Tyranny of Peace (Routledge, 2015, co-edited with F.P. Kühn) and numerous articles such as 'Peacebuilding as counterinsurgency in the occupied Palestinian territory', Review of International Studies, 41(1), 2014.