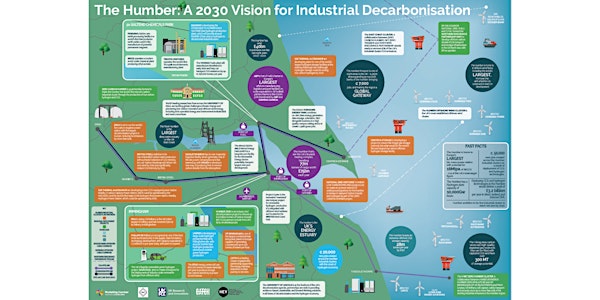 Humber Industrial Decarbonisation Conference & Exhibition
Location
The Baths Hall
Doncaster Road
Scunthorpe
DN15 7RG
United Kingdom
An event to bring together for the first time - The Humber: A 2030 Vision for Industrial Decarbonisation Map.
About this event
This event will bring together key stakeholders who are actively involved with decarbonisation activities and projects in the Humber Region.
The Humber Industrial Cluster plan, which is led by the HEY Lep and CATCH, alongside 8 industrial partners will showcase what is happening in the region, the opportunities available and provide visitors with access to key people from prominent companies across the decarbonisation space.
The Humber: A 2030 Vision for Industrial Decarbonisation Map will be brought to life, with companies featurerd on the map taking exhibition space and hosting breakout sessions throughout the afternoon.
The map brings together for the first time, the breath of infrastructure, carbon sequestration capacity, hydrogen storage and production plus highlights the vast potential for skills, job creation and huge investment bolstering the local and UK economy. This is the first iteration of the 2030 vision, which was created through a collaboration, between the Humber Industrial Cluster plan, its partners and Marketing Humber.
Please note that the morning session is dedicated to showcasing the careers opporunities to young people and the afternoon to SMEs and Supply Chain companies who have an interest in decarbonisation.
Special thanks to HICP partners Philips 66 and VPI for helping to organise this vast event!
Meet the Buyers
The Humber region, as a result of millions of pounds of investment, has ample opportunities to support and work with the local supply chain. With many companies setting targets for local content. A number of our exhibitors are hosting tables at the front of the room in order to meet delegates on a drop in basis. Two of our companies are taking bookings for 1-2-1 appointments with their respective procurement teams. If you would like book a 1-2-1 appointment to meet Harbour Energy and learn more about the V Net Zero project and HICP partner Drax please email lisa.buck@catchuk.org and a member of their team will be in touch.