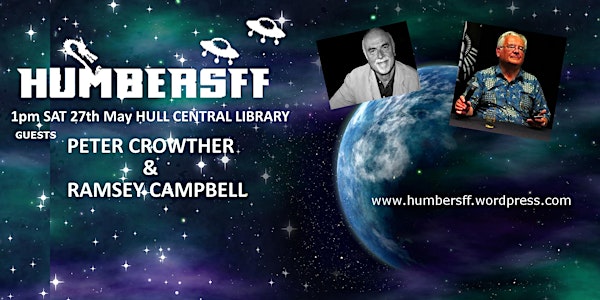 HumberSFF#4 with Peter Crowther and Ramsey Campbell
Location
Hull Central Library
Albion Street
Hull
HU1 3TE
United Kingdom
Description
HumberSFF #4 Best In Class
HumberSFF is a regular FREE social for fans of the Science Fiction, Fantasy and Horror genres. Backed by the British Fantasy Society and the British Science Fiction Association, and with the help of Hull Central Library, Humber SFF provides the opportunity to meet others who love the fantasy and speculative fiction genres as well as an opportunity for aspiring writers and published authors to discover more about the industry both locally and nationally.
BEST IN CLASS
The City of Culture's second season – Roots and Routes – is all about a city connected to the world beyond our port. Accordingly, our guest on Saturday May 27th will be Peter Crowther, and Ramsey Campbell.
Within their fields, both Peter and Ramsey are not simply award winning individuals but undisputed masters.
---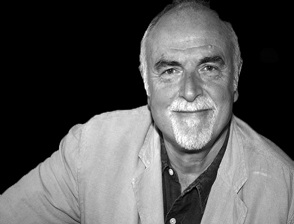 Peter Crowther is both an editor and author. His written work is available in several collections, and has been adapted for TV. You can read some of it on his site http://www.petercrowther.com/stories.php.
Many now know Peter for his work within PS Publishing. He and his wife Nicky have established PS Publishing as one of the most respected publishers of Science Fiction, Fantasy and Horror in the UK. PS Publishing is one of the few publishers also covering poetry, and though they are based right here in East Yorkshire their reach is global.

---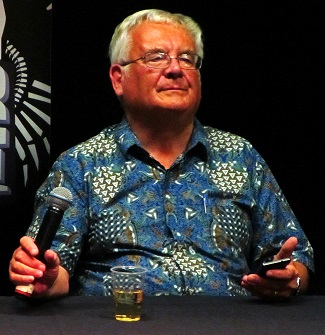 Ramsey Campbell writes horror. His bibliography runs from 1957 to present day, and his work has been winning awards since 1978. His work includes Cold Print, The Parasite, Ancient Images, The Long Lost, and The Chimney, but his catalogue is immense.
His horror novels and stories have earned him many accolades including the Grand Master Award at the World Horror Convention in 1999, in 2015 Ramsey received an Honorary Fellowship from John Moores University in his home town of Liverpool for "Outstanding Services to Literature". He continues to lead the way in horror fiction today. Ramsey is also an exceptional editor, having worked on a number of short story collections that have – naturally – gone on to win awards.
---
Perhaps the most important aspect of both our guests is not the awards they've won or the volume of exceptional stories, novels and publications they have created, but the high regard they are held in by those who read and love their work.
Tickets & attendance are free. However, seats will be reserved on a first-come first-served basis.
As well as the chance to hear both Peter and Ramsey discuss their current works, there will be the chance to win free books in our raffle.
All guests are welcome to join us after the event at the Old English Gentlemen on Worship Street for (possibly free) sandwiches and (definitely not free) drinks!