Sales Have Ended
Ticket sales have ended
Tickets sales for this event are now closed. If you would like to discuss your training requirements please contact the organiser directly.
Sales Have Ended
Ticket sales have ended
Tickets sales for this event are now closed. If you would like to discuss your training requirements please contact the organiser directly.
Description
Learn to make traditional Wattle Hurdles, you will have the opportunity to make either a panel or an arch woven from Hazel and if you have room on the roof of your car you are welcome to take your finished work home!
NOW OFFERING BOTH A ONE DAY AND TWO DAY TRAINING COURSE
Training is provided by Hedges & Hurdles owner, Paul Matthews a Hedgelaying and Hurdle making professional. Hedges & Hurdles has been in operation since 2000 contracting out services to local authorities, organisations such as the National Trust and private residents and landowners including local farmers who wish to ensure a stock-proof barrier around their land. Paul is a registered and active member of the South of England Hedgelaying Society and the National Hedge Laying Society of England & Wales. An active participant in Regional and National Hedgelaying competitions Paul was awarded the title of National Champion in 2012, 2014 and 2017, he was also very proud to be awarded Supreme Champion status in 2015.

Paul is highly skilled at 'hurdle making', this is an age-old practice of weaving cleft hazel rods through upright hazel rods. Hurdles are used as a rustic, practical and attractive alternative to modern day fencing panels. These skills can also be used to make rustic arches as shown below: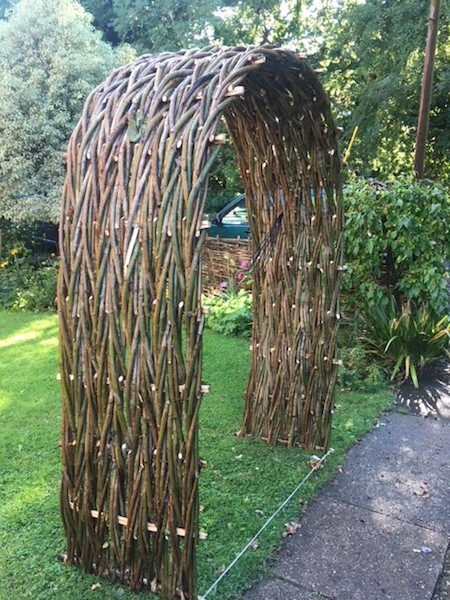 Who should attend?
The courses are open to both men, women and children over 10 years old. We can facilitate individual bookings and private groups. This course is great as a team building activity!
When are the courses?
The training courses take place during selected weekends from 13th October 2018, through to the end of December 2018. The course is spread over two days, commencing at 9.00 a.m. each day through to 4.00 p.m. with an hour break for lunch.

What will I learn?
SATURDAY: Coppicing

Following an introduction to the course, you will spend the day learning how to coppice the hazel rods used to make the hurdles from the neighbouring woodlands and prepare them ready for use.

SUNDAY: Hurdle making

Using hazel rods you will learn how to cleave the wood and weave it into a fencing panel, screen or rustic arch.

COST:
£110.00 (1 day: Sunday)
£190.00 (2 day's: Saturday & Sunday)

Course suitability
We welcome both novices and intermediates training up to 10 individuals per course. Private groups are also welcome.

Bespoke courses
If you would like a bespoke training course this can be discussed with the organiser and a quoation provided. The trainer maybe willing to travel to undertake the course elsewhere e.g. on your own land. Training is not necessarily restricted to weekends, please inform the organiser of the dates you would like to be considered.
What shall I bring with me?
We will supply all the required tools and protection required. You will be cutting with hand tools. If any chainsaw cutting is required this will be undertaken by the instructor for safety reasons.

You will remain in the open air throughout the day, therefore, participants should dress warmly and bring waterproofs and strong footwear.

You can either bring your own pack lunch or order lunch through the organiser and pay on the day. Lunch includes home made soup of the day, a sandwich or rolls with a choice of fillings plus a piece of fruit. You will need plenty to drink, bottled water will be provided.

Where can I park?
Car parking is available at Earlswood Lakes car park, this is directly opposite the drive to the fields at New Pond Farm. Toilet facilities can also be found here.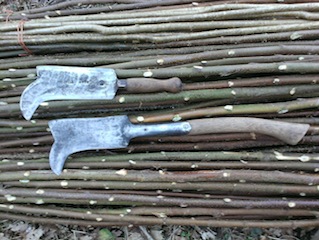 Hedges & Hurdles reserves the right to alter or vary the programme due to events or circumstances beyond its reasonable control without being obliged to refund monies.
If the course is cancelled by the organiser for any reason e.g. if the course does not meet the minimum requirement of 5 participants, we will contact you as soon as possible and will always endeavour to reschedule your booking for another date, however, if this is not possible a full refund will be provided.