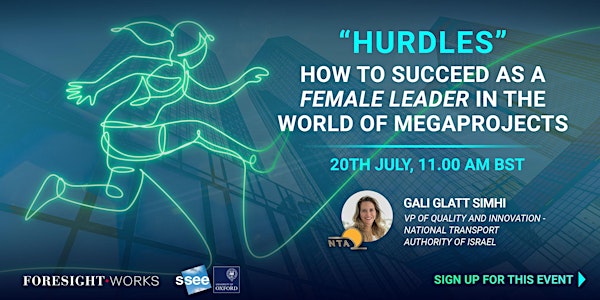 Hurdles: How to Succeed as a Female Leader in the World of Megaprojects
Female leaders play a vital role in our industry. Gali Glatt Simhi, VP of Quality and Innovation at NTA shares her keys to success.
About this event
For this exclusive event, we will be joined by Gali Glatt Simhi, VP of Quality and Innovation at the National Transport Authority, Israel.
Gali has more than 20 years of management experience in transportation and infrastructures, including the position of CEO at Aviv AMCG consulting Company that operates in the fields of engineering, environment, and infrastructures. Aside from this, she is the author of the book 'Hurdles- The Path of a Career Woman' where she shares her own life story and the hurdles she has faced in trying to push forward her career and raising her 3 sons.
Her book addresses a key question: why are there are so few women in leading roles?
Our event delves deeper into this question and provides a unique opportunity for audience members to learn from Gali's wealth of experience.
This event is part of our Sustainable Megaprojects series, which we host in partnership with the Smith School for Enterprise and the Environment at the University of Oxford.
Tickets for the event are free and we are looking forward to a hugely insightful discussion.