Hwyrnos: Y FAGDDU | Lates: PITCH BLACK
About this event
[Scroll for English text or 'show more' on mobile devices]
Ymunwch â ni bob nos Iau ym mis Mai am raglen o weithiau newydd eofn gan artistiaid Y FAGDDU* wrth iddynt:
Ddathlu Düwch fel peth diderfyn a diddiwedd.
Drafod effaith Ymerodraeth Prydain a'i diwylliant ar bobl Ddu a'u hanes.
Edrych ar ffyrdd newydd o freuddwydio ar y cyd.
* Comisiynwyd gan Amgueddfa Genedlaethol Caerdydd ac Artes Mundi
Ynghyd â'r comisiynau hyn, bydd eich tocyn Hwyrnos: Y FAGDDU yn rhoi mynediad i chi i'r canlynol:
Sesiynau holi ac ateb byw gyda'r artistiaid
Gweithdai byw
Dangosiadau ffilmiau
Setiau DJ
Teithiau Hanes Du arbennig drwy gasgliadau Amgueddfa Cymru
Deunydd ychwanegol o arddangosfa Artes Mundi 9.
Cliciwch ar y dyddiadau isod am fwy o fanylion rhaglenni'r digwyddiadau unigol.
Hwyrnos: Y FAGDDU yn cyflwyno:
Ymholiad drwy berfformiad yw Sometimes we're invisible, sy'n ystyried presenoldeb pobl Ddu yng ngweithiau celf casgliad hanesyddol Amgueddfa Genedlaethol Caerdydd.
Cerdd ffilmig yw NDAKO (Home) sy'n datgelu natur farddonol y profiad o ddod i Gymru o'r Congo fel ffoaduriaid.
Gwaith celf sain wedi ei gynhyrchu fel cywaith yw Dreaming Bodies, wedi'i ddatblygu o ymholiad corfforol sy'n canolbwyntio ar ofal ar gyfer pobl Du LHDTQRhA+ anabl.
Amlygiad arbrofol yw A time for New Dreams, sy'n pontio cenedlaethau o freuddwydion cenhedlaeth Windrush yng Nghymru.
Gwybodaeth Bwysig
Nifer cyfyngedig o docynnau sydd ar gael ac mae'n rhaid archebu ymlaen llaw.
Tocynnau yn £6 y digwyddiad + ffioedd Eventbrite. Os yn prynu tocynnau i'r 4 digwyddiad gyda'i gilydd, dewisiwch y tocyn 'Gostyngiad' am ostyngiad o 15%.
Bydd y cynnwys ar gael ar y dydd trwy Borth Ar-lein Eventbrite. Bydd mwy o wybodaeth am sut i ymuno â'r digwyddiad yn cael ei rannu maes o law.
Mae peth o'r cynnwys wedi eu recordio o flaen llaw, felly gallwch fwynhau'r sesiynau yma ar eich cyflymder eich hun. Rydym yn argymell eich bod yn ymuno â'r elfennau byw ar y pryd er mwyn cael y profiad gorau. Byddwn yn cyhoeddi amserlen llawn cyn y digwyddiad.
Bydd y cynnwys ar gael i ddeiliaid tocynnau tan 5pm dydd Gwener 4 Mehefin 2021. Byddwn hefyd yn darparu recordiadau o'r elfennau byw ar ôl y digwyddiad.
-------------------------------------------------------------------------------
Join us every Thursday evening in May for a programme of bold new works from our PITCH BLACK* artists as they:
Celebrate Blackness as boundless and infinite.
Interrogate the impact that the British Empire and culture has had on Black people and their history.
Explore new ways to dream collectively. 
* Commissioned by National Museum Cardiff and Artes Mundi
Alongside the commissioned works, your Lates: PITCH BLACK tickets will give access to:
Live Q&A sessions with the artists
Live workshops
Extra film screenings
DJ sets
Exclusive Black History tours of the National Museum Wales collections
Extras from the Artes Mundi 9 exhibition.
Click dates below for programme details of each event.
Lates: PITCH BLACK presents:
Sometimes we're invisible is a performance-based inquiry into the presence of Black people in Art from National Museum Cardiff's historic art collection.
NDAKO (Home) is a cine poem that reveals the poetic nature and experience of coming to Wales from Congo as refugees.
Dreaming Bodies is a collaboratively produced audio-visual artwork. The work has been developed out of a care focused somatic inquiry for Black, LGBTQIA+ disabled folx.
A time for New Dreams takes its name from a book by Ben Okri, a collection of essays on how the world is and how it could be. The work is an experimental and intergenerational manifestation of the dreams of the Windrush generation in Wales.
Important Information:
Tickets are limited and must be booked in advance.
Tickets are £6 per event + Eventbrite fees. If buying tickets for all 4 events at the same time, please select the 'Bundle Price' ticket for a 15% discount.
Content will be available on the day via the Eventbrite Portal. More information on how to join will be shared prior to the event.
Some content is pre-recorded, so you can enjoy these sessions at your own pace. We recommend that you join the live elements in real time for the best experience. A full running order will be sent closer to the event.
Ticketholders will have access to the content until 5pm Friday 4 June 2021. Recordings of the live elements will also be made available post event.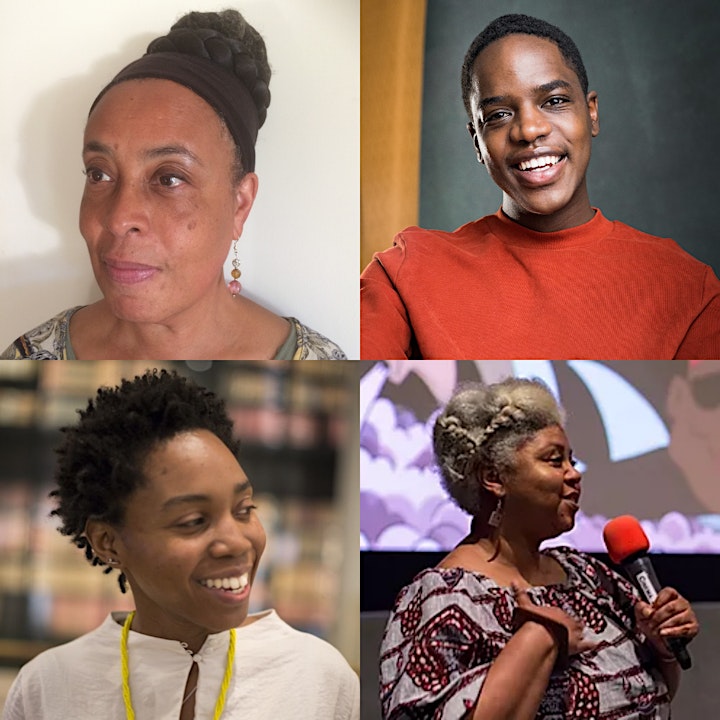 Organiser of Hwyrnos: Y FAGDDU | Lates: PITCH BLACK