Description
Hexagon Event to Focus on Future Manufacturing Trends and SMART Factories.
HxGN LOCAL Smart Manufacturing UK is a two-day event at The Belfry Hotel and Resort near Birmingham, to be held on the 1-2 October 2019. The event includes a variety of speakers addressing topics which are vital to UK manufacturers, such as automation, autonomous mobility, smart factories, the type of skills likely to be required in the future and the economy.
Day 1:
10:00 – 11:00 Arrival and registration
11:00 – 11:15 Welcome and introduction
11:15 – 12:00 Keynote: Norbert Hanke "Smart is Hiding in Plain Sight"
12:00 – 12:45 Keynote: Stefan Hyttfors "Five things you must know about the future"
12:45 – 13:00 Close morning session
13:00 – 14:00 Lunch in Ryder Grill (Session 1) / Live lounge
14:00 – 15:00 Lunch in Ryder Grill (Session 2) / Live lounge
15:15 – 17:15 Breakout speaker sessions
17:15 – 18:30 Close and room check-in
All-day – Live exhibition zone
Evening Entertainment:
19:00 – 19:45 Arrival in the Bel Air Bar & Lounge & drinks reception
19:00 – 19:45 The Stig welcome and presentation
19:45 – 21:30 Evening buffet

20:00 – 00:00 An evening of spectacular food and entertainment, including:
Simulated racing with Ben Collins AKA The STIG

Magician, Magic Singh

Live band, Jukebox

Casino games


Day 2:
07:00 – 09:30 Breakfast at leisure & check-out
09:30 – 10:30 Keynote: Raf Lobato, Strategic Product Development Director, Hexagon
10:30 – 11:00 Coffee break
11:00 – 12:00 Keynote: Sir Ranulph Fiennes OBE "Living dangerously"
12:00 – 12:15 Prize draw
12:15 – 13:30 Lunch in lunch in Ryder Grill
13:30 – 15:00 Exhibition zone
15:00 – Close and departures
All-day – Live exhibition zone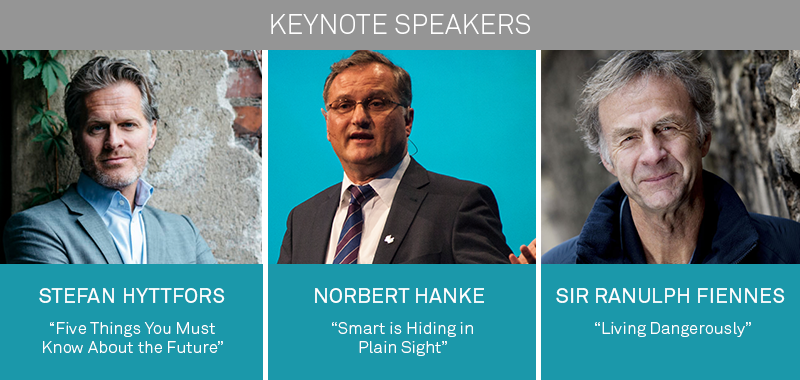 Stefan Hyttfors – "Five things you must know about the future"
An acclaimed futurist, author and global speaker focused on disruptive technologies, behavioural change and next-generation leadership with a background in journalism and economics. His mission is to make you ready for change. "Change is what makes life fun, what makes each generation more well off than the one before and what makes this a great time to be alive. It's a relentless tide that we can either fight against or ride. I prefer riding it, and I want to help you do the same."
Norbert Hanke – "Smart is Hiding in Plain Sight"
No single factory has all the resources or capabilities to capture, defend, and win in design, production, quality control and autonomous processes, nor all the other areas where data must be leveraged in order to remain competitive. Yet, making our factories smarter today is an urgent imperative. Join Norbert Hanke, President of Hexagon's Manufacturing Intelligence division, as he uncovers some surprising places where smart is hiding in plain sight and shares the solutions taking shape that will drive increased quality and productivity throughout your factory's entire ecosystem.
Sir Ranulph Fiennes – "Living dangerously"
Ranulph inspires and entertains with his presentation drawing a connection between nature's most dangerous and difficult challenges, and the day-to-day hurdles we all face. Teamwork, determination, patience, discipline and creative thinking are all critical in expeditions; we may not risk our own lives, but the parallels are clear even in less hazardous occupations.





Choose 3 of our breakout sessions
Paul Andrews – "Autonomous Racing"
From Roborace, the world's first racing series for humans and artificial intelligence, Paul will explore the interface between humans and artificial intelligence and what we have learnt from pushing the technology to its limits in a range of controlled environments.
The SUMO Guy (Paul McGee) – "The SUMO Guide to a Smarter Mindset: How to develop your resilience and build better relationships"
Providing insights, inspiration and practical tools you can use instantly for inspiring leadership; how to survive and thrive in changing times, how to communicate with influence and impact and make a difference to customers.
Mike Falconer – "Smart Students"
Education & Development Manager for the Manufacturing Technologies Association (MTA), Mike Falconer, advises members on the latest reforms and education policy. He'll cover how to engage fresh talent and bring the best and brightest into the engineering-based manufacturing industry, as well as addressing the barriers to recruitment with the current decline in apprentice numbers.
And much more…
FAQs
Is there parking available at the event?
Yes, free on-site parking is available.
How can I contact the organiser with any questions?
For any enquiries please email events.uk.mi@hexagon.com
Do I have to bring my printed ticket to the event?
Yes, your ticket will be required for registration.
Is my ticket transferrable?
Yes, please notify events.uk.mi@hexagon.com if you wish to change any details regarding your ticket.
What is included in the ticket price?
Tickets include a two-day event at The Belfry Hotel, overnight accommodation including breakfast and a networking buffet lunch followed by an evening of entertainment and dinner.