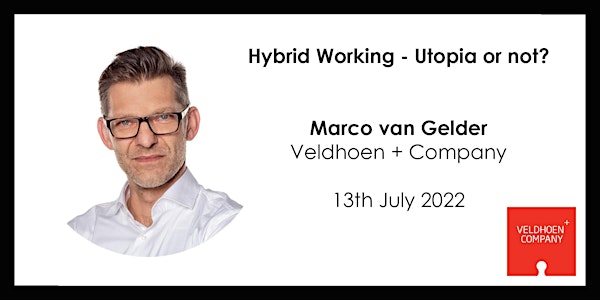 "Hybrid Working - Utopia or not?" - Marco van Gelder of Veldhoen + Company
About this event
We are entering an era where hybrid ways of working will be part of the new way of working.
A way of working in which we want to keep the benefits, such as less commuting, a better work-life balance, and spontaneous encounters that matter, while at the same time realising a reduced workplace footprint .
Marco considers the theory that this is a utopia which will be impossible to realise. Is this right? Or, is there a way that we can have it all?
SPEAKER: Marco van Gelder
You will receive a link 2 days before the webinar
There are 2 sessions available to cater for different time zones
APMEA Session - 08:00 BST / 09:00 CEST & SAST/ 11:00 GST / 12:30 IST / 15:00 HKT-SGT-ChinaST / 16:00 JapanST / 15:00 AWST /17:00 AEST
US/Europe Session - 08:00 Central / 09:00 Eastern / 10:00 BRT / 14:00 BST / 15:00 CEST / 15:00 SAST
About the speaker
Marco is Senior Consultant in the EMEA team of Veldhoen + Company and Lead Workplace Analytics. As an advisor to the CHRO, Marco has been responsible for the Future Way of Working at a large technological corporate, with a focus on Working from Home, sustainability and Activity Based Working.
Marco has a BA in Philosophy, a master's in business administration and is currently working on his PhD at Tilburg University in the HR studies department.