Hydration Festival 2021 hosted by popular Christian Music & Entertainment Blog Gospel Hydration feat some of the biggest artist worldwide.
About this event
Gospel Hydration are back this year with their annual Christian music event Hydration Festival. Featuring amazing artists worldwide with a colourful mix of genres. From Afrobeats to Grime Hydration Festival has it all. The 4 Stages are as follows. ( time subject to change)
Fully Hydrated
Host: Derrick Tchie (Founder of Gospel Hydration & Hydration Records)
Artists
Asha Elia
LT & ABXL
NOS & Team
Mark Asari
Reblah
Urban Praise Project
Beloved
Under The Son (Summer Bangers)
Host: Cass (Premier Gospel Drive Time Show Presenter)
Artists
Tee Supreme
Ryan Hylton
Northface
Stevie Valentine
Renzo Ba
Naffymar
Shawna Cain
DJ EM D
Refresh (Worship)
Host: Shane Sawyer Lehman (Christian blogger & missionary)
Artists
Brice Davis
Enoch Mukasa
LOVKN
Eluzai
Idrees Oloyede
Special Guest TBC
Afrobeach (Afrobeats)
Host: Kojo (Christian Youtuber and host)
Artists
Limoblaze
St - Saint
K.O.F.I
Angeloh
Kobbysalm
Azarel
Gospel Hydration Daytime Party Online
Hosts: Andrew & Shireen Morrison (Founders Of Visions TV Online & TMMP Awards)
Filled with Giveaways, interviews and chilled time.
DJ Of The Nights
DJ Azee (Gospel Hydration Resident DJ): Live on Youtube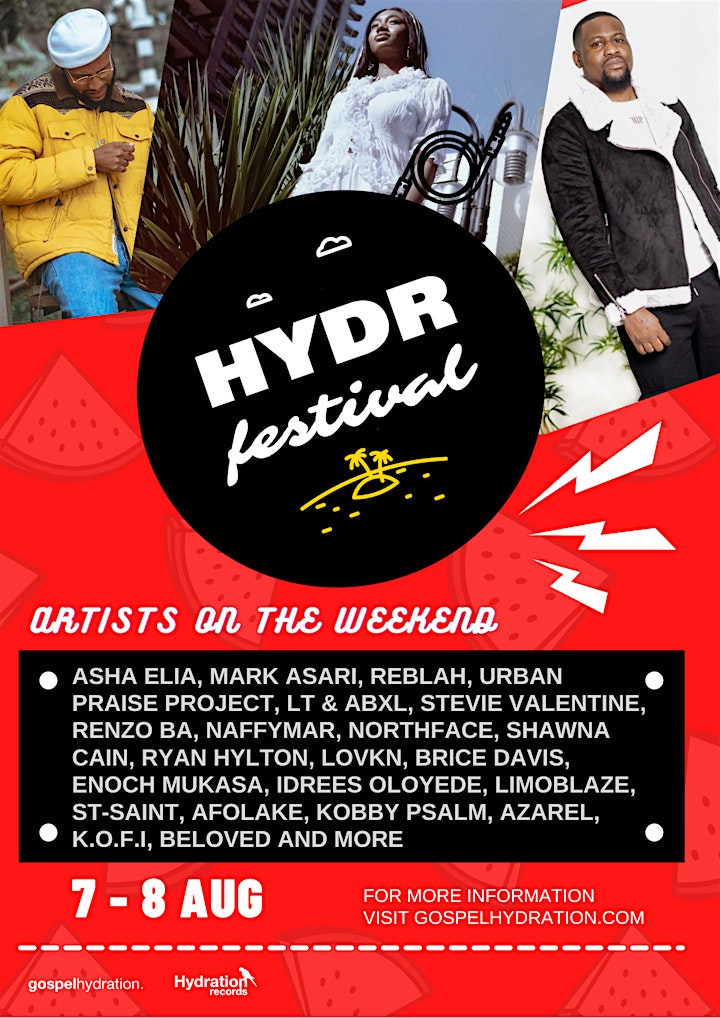 Organiser of Hydration Festival 2021