Welsh event testing UK Breakin's new league table process in Partnership with Woosh Competition Management System.
About this event
1 v1 competition
Breakers will sign up with the membership system, will be given a membership number to record their breakin' achievements at UK Breakin' events across the UK.
This is the first event using the system and feedback from members will be really appreciated.
Judges will be trained in the Versus System.
Hosted by B Girl Sun Sun
DJ Silence and DJ Jam Fu on the decks.
--------------------------------------------------------------------------------------
1 v1 cystadleuaeth
Bydd y rhai sy'n torri'r system aelodaeth yn cael rhif aelodaeth i gofnodi cyflawniadau eu toriadau yn digwyddiadau UK Breakin ledled y DU.
Dyma'r digwyddiad cyntaf gan ddefnyddio'r system a gwerthfawrogir adborth gan aelodau yn fawr.
Bydd barnwyr yn cael eu hyfforddi yn y System Versus.
Cynhelir gan B Girl Sun Sun
DJ Silence a DJ Jam Fu ar y deciau.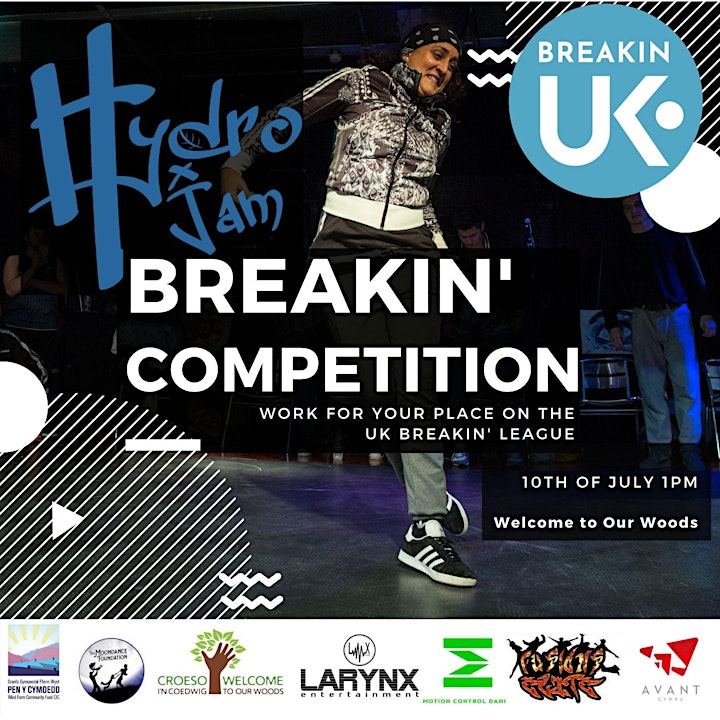 Organiser of Hydro Jam Breakin' Competition / Cystadleuaeth
Organisation Summary:
Avant Cymru are a forward thinking theatre company from the South Wales Valleys. Creating relevant, distinctive theatre, dance, Hip Hop and artistic activity with and for our community and championing this work at home and afar.
Vision Statement:
To artistically enrich and inspire all (locally, nationally and internationally) to achieve community celebration, preservation and regeneration. 
*Valleys theatre art celebrating the past, discussing the present and creating the future*
Mission Statement: 
To create relevant, compelling, imaginative professional theatre performance and/or artistic experiences (including but not limited to dance, film, visual arts, music and drama) in the Valleys and beyond, to champion the diversity of the stories from the valleys.