Hydrogen for Energy Storage and Clean Fuel Production
Description
Due to unforeseen circumstances, this lecture has been postponed.
Energy Technologies Research Institute Lecture
In this lecture, Graham Cooley will discuss the electrolyser and store system designed by ITM Power for installation into the new RAD building (pictured) as part of the Hydrogen System Test Bed research facility here at the University of Nottingham. Graham will include an overview of the different technologies involved and will explore issues around the wider hydrogen economy and how hydrogen as an energy vector could revolutionise the storage of renewable energy, enabling a step-change from a carbon-based economy to one based on hydrogen. He will explain how ITM's technology will be used to enable greater flexibility in the electricity grid across the UK and beyond.
ITM Power are the leading UK-based supplier of electrolyser and hydrogen storage systems for industrial, research and automotive purposes.
Draft Agenda
5:15pm Lecture, B03 Sir Colin Campbell Building
6:30pm Close
Speaker Profile
Dr Graham Cooley
CEO, ITM Power plc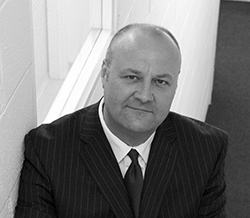 Graham joined ITM Power as CEO in 2009. He has focussed the company on two key areas of industry; Energy Storage Power-to-Gas and Clean fuel for fuel cell electric vehicles. This addresses the market requirements for grid balancing, caused by an increase of renewables coming online, and the push for more hydrogen refuelling stations, which generate the gas onsite, eliminating fuel deliveries. Before ITM Power, Graham was Business Development Manager in National Power plc and spent 11 years in the power industry developing energy storage and generation technologies. Before joining ITM Power Graham was CEO of Sensortec Ltd, founding CEO of Metalysis Ltd, a spin out of Cambridge University and founding CEO of Antenova Ltd

State Aid
This event is part-funded by the European Regional Development Fund 2014-2020. This event is classed as State Aid to participating businesses, but is delivered completely free of charge. For more information about the programme, please contact energy@nottingham.ac.uk