HYPER JAPAN Festival 2020 is your one-stop destination for all things Japanese - a great experience to share with friends & family alike.
About this event
**This event has been postponed due to the ongoing COVID-19 situation. We will be in touch with more information once we have rescheduled.**
Indulge in your love for the latest video games, anime & manga, J-entertainment, food & drink, fashion and more! Of course, if you're into traditional culture, we've got you covered with our wide selection of demonstrations, talks and workshops!
Official Website: www.hyperjapan.co.uk

For HYPER JAPAN Festival 2020, kids aged 11 and under go FREE!
Children aged 15 and under must be accompanied by an adult.

Visitors between the ages of 17 and under can get 20% off of the cost of a Saturday Dual Pass or a 3 day pass!
Children aged 15 and under must be accompanied by an adult.
Please show your ID at the entrance alongside your ticket.

The 20/20 Ticket Campaign is our way of giving back to some of the fans who have supported HYPER JAPAN over the 10 years that we have been bringing various elements of Japanese culture to the UK for everyone to enjoy!
Each month, we will be rewarding 20 fans who have purchased tickets for HYPER JAPAN Festival 2020 by giving them the opportunity to attend for free as well the chance to win some exclusive prizes provided by our wonderful partners!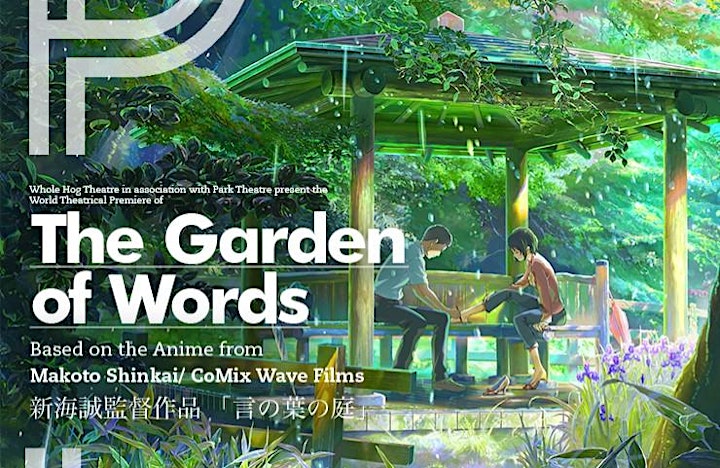 We've got loads of amazing content planned for HYPER JAPAN Festival 2020 that we're working on behind the scenes, but what about afterwards? If you're still craving a unique experience that champions both British and Japanese talent – you should definitely consider checking out Whole Hog Theatre's next Anime stage production. Whole Hog Theatre will also be at HYPER JAPAN Festival 2020 to talk about their work and give a little flavour of the production.
The tickets are available as an add-on with an EXCLUSIVE SIGNED POSTER, only for HYPER JAPAN Festival 2020 visitors.
Find out more: The Garden of Words

Concession
Visitors with disabilities are eligible to apply for a concession ticket which will be available for all sessions, including the Dual and 3 Day passes. The ticket will include one carer for free.
Visitors above the age of 60 are also eligible to qualify for a Senior Discount.
You will be required to show relevant ID/documentation with your ticket at the entrance.
On the Door Tickets
In the event of tickets for a particular session selling out, we may release on the door tickets in two hours from the session starts on a first come, first serve basis. Please note, we cannot guarantee that this will happen.
There will be a £2 surcharge for tickets purchased on the door.
PRICES (including surcharge and VAT):
D= Disability | O= Over 60
Friday: £19 (D: £9 | O: £17)
Saturday 1st Session: £20 (D: £10 | O: £18)
Saturday 2nd Session : £24 (D: £14 | O: £22)
Sunday: £25 (D: £15 | O: £23)
Saturday Dual Passes and 3 Day Passes are not available on the door.