A spectacular space, which could have come straight from a Stanley Kubrick film set is open for the first time this London Design Festival.
About this event
Click register to book your ticket
Art Furniture / Digital Fabrication / Future Sustainability Research / Generative Design Systems / Industrial design / Interactive + Experiential Art / Speculative Design / Robotics / Public Realm Design / Skatepark Design + Construction
This is the first time the doors will be open to the public and we are holding.
Design talks (Monday + Wednesday)
Skate sessions (Open daily from Tuesday)
Group Exhibition (Open daily from Tuesday)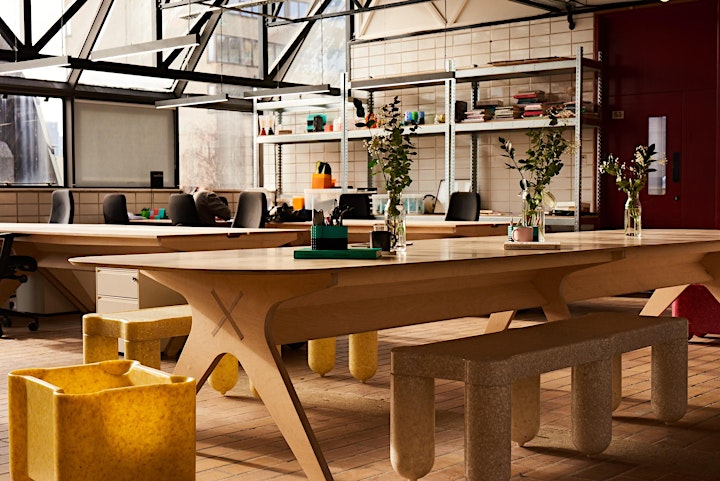 Women in Design, the Power of Diversity
Jo Barnard the Director of industrial design studio Morrama
With guests:
Merle Hall - CEO of Kinneir Dufort, Founder of XXEquals and Nat Maher of Kerning the Gap.
Merle Hall is CEO of Kinneir Dufort, a global innovation, design, and development consultancy, creating positive impact products and services, that align with their purpose of designing a better world.
Founded by Nat Maher in 2015, Kerning The Gap is a collective of like-minded people who want to see more women in design leadership roles, hear their voices and be inspired to create change.
Monday 20 September 2021 18:00 Open. 18:30 onwards
Free drink from Sharps Brewery with every ticket.
Computational Crafts - Algorithmic Art and Design in Practice
Computational Designer Felix Faire
Hosting a discussion with:
Charlotte Dann - Creative Coder and creator of hexatope.io
Dan Hoopert - Digital Artist
Matt Deslauriers - Generative Artist
Monday 20 September 2021. 19:30 onwards
Distributed Design and Material Reuse
In this series of short talks Nat Hunter, Director of design studio Other Today will share reflections and learnings from developing the new Distributed Design Toolkit and Milo Mcloughlin Greening, lead designer at Batch.Works will talk about turning circular and distributed design principles into practice and Gareth Owen Lloyd from Clear Village will talk about the Urban Mined project part of the Circular Construction in Regenerative Cities (CIRCuIT) project, funded by the EU's Horizon 2020 programme.
Monday 20 September 2021 20:15 - 20:45
Skate ramp sessions
Betong Park have created a large scale timber ´mini ramp´ - A skateable ramp that doubles as a stage for talks during the week
They are a specialist design and construction firm that provides bespoke concrete skateparks and other skateable structures to public and private sector clients.
Originally Founded in Oslo in 2012, Betongpark opened its London design studio in 2020 under direction from construction experts from the Oslo head office.
Drawing on a team comprised of trained landscape architects, skatepark designers, concrete shapers and project managers, Betongpark spans disciplines and works with passion and an eye for detail.
Tuesday 21 September to Sunday 26 September 2021 16:00 onwards
Crafting with waste Glass and Plaster workshop
Join a team of designers from Good Waste, Other Today and Clear Village to learn about material reuse.
The Urban Mined team experimented with glass and plaster from building sites by crushing, drying and melting them, first in a domestic microwave and later using a hobby kiln. By working at this craft scale the team has innovated circular ways that make it possible to sculpt and re-sculpt the materials into architectural forms that celebrate their flaws.
For London Design Festival we will share this process and use the opportunity as as a conversation starter with architects, designers and industry professionals to discuss the opportunities and challenges of scaling these techniques.
This workshop is free of charge and materials will be provided and you can take away your creations with you.
- This workshop is suitable for adults age 18+
- PPE will be provided and our environment will be safe however please be aware these can be dangerous materials and participants must take part responsibly.
Circular Construction in Regenerative Cities (CIRCuIT) project, funded by the EU's Horizon 2020 programme
Organised by Clear Village
tickets here: https://www.eventbrite.co.uk/e/168458882051
Design Principles to Save the World
Jo Barnard the Director of industrial design studio Morrama
With guest Alex Fefegha of Comuzi
Alex is the co-founder & head of making at Comuzi, a digital design and innovation studio, working at the intersection of emerging technology and humans.
Wednesday 22 September 18:00 onwards
Free drink from Sharps Brewery with every ticket.
Hackney Depot Pecha Kucha
With guests based at Hackney Depot TBC
Individuals are invited to bring along pre prepared presentations to be shown in a Pecha kucha style (20 slides, 20 Seconds per slide with a rolling clock) No subject is out of bounds!
Come along to present an idea, story, thought or theory to a group on interested individuals. Or just come along and enjoy the show.
Batch.space is an independent studio located within Hackney offering a unique mix of facilities to nurture a vibrant and diverse community of people working across creative disciplines.
Wednesday 22 September 19:00 onwards
Please book a ticket for the day you wish to come.
Drinks are for 18+ guests only. We reserve the right to deny entry to the event.