Location
Laura I.Gallery
Abbey Road
London
IG11 7BT
United Kingdom
Description
I AM A WOMAN AND THIS IS MY LEGACY

Laura I. Gallery is pleased to announce a major group exhibition of contemporary women artists. Featuring works in a diverse range of mediums, styles and genres, the exhibition represents a cross-section of the work produced by women today. Laura I. Art Gallery brings together 40 artists to display artwork in our new exhibition "I am a woman and this is my legacy".
This exhibition is raising awareness of women who are making a difference to society and celebrating their brilliance to ensure there are more role models for girls and women.
2018 marks 100 years since some women were granted the right to vote. Among other places in the UK, Barking and Dagenham was one of the places who is celebrating women's role in the suffrage movement and mark the progress that's been made by women over the past 100 years. As part of the community we want to support and honour this milestone, through an exhibition that highlights stories and personalities from women not from the past but from women of the present who are making an active contribution to the development of our culture.
Laura Iosifescu the curator said:
This significant event about celebrating equality between gender has a huge impact of me. It reminded me of my own experience and how as a woman from another country I had to fight discrimination stereotyping and suffer from marginalization. In the UK, British women are still shockingly underrepresented in positions of power and influence. And a lots of groups of women do face additional forms of discrimination based on nationality, their age, ethnicity, religion, health status, marital status, education, disability and socioeconomic status, among other grounds. I personal still feel at times very much discriminated based of where I come from. Being a woman from another country it's even more harder to be taken seriously and have your values respected. I don't only fight for my equal rights as a citizen but I have to fight for my dignity as a women and recognition of my entrepreneurial contributions to the society. How many European women leaders are represented in this diverse world we are living in?
But through this exhibition we are giving a platform to all women in spite of their nationality and social stage to have a voice in the society, and art is a good way to express ideas and emotions in a way that a lot of people can't with words.
The show highlights women talent, innovative thinking and potential through a collection of artworks that explores complexities of being a woman, with all the struggles and joys therein. This gives women artists a platform to talk about issues and problems women everyday are facing from unrealistic expectation placed on a image of a woman, domestic violence, Female genital mutilation, breastfeeding, catcalling, sex-selective abortions, trafficking, stalking and harassment, low rape conviction rate, poor parliamentary representation, gender pay gap, online trolling and these are only few to mention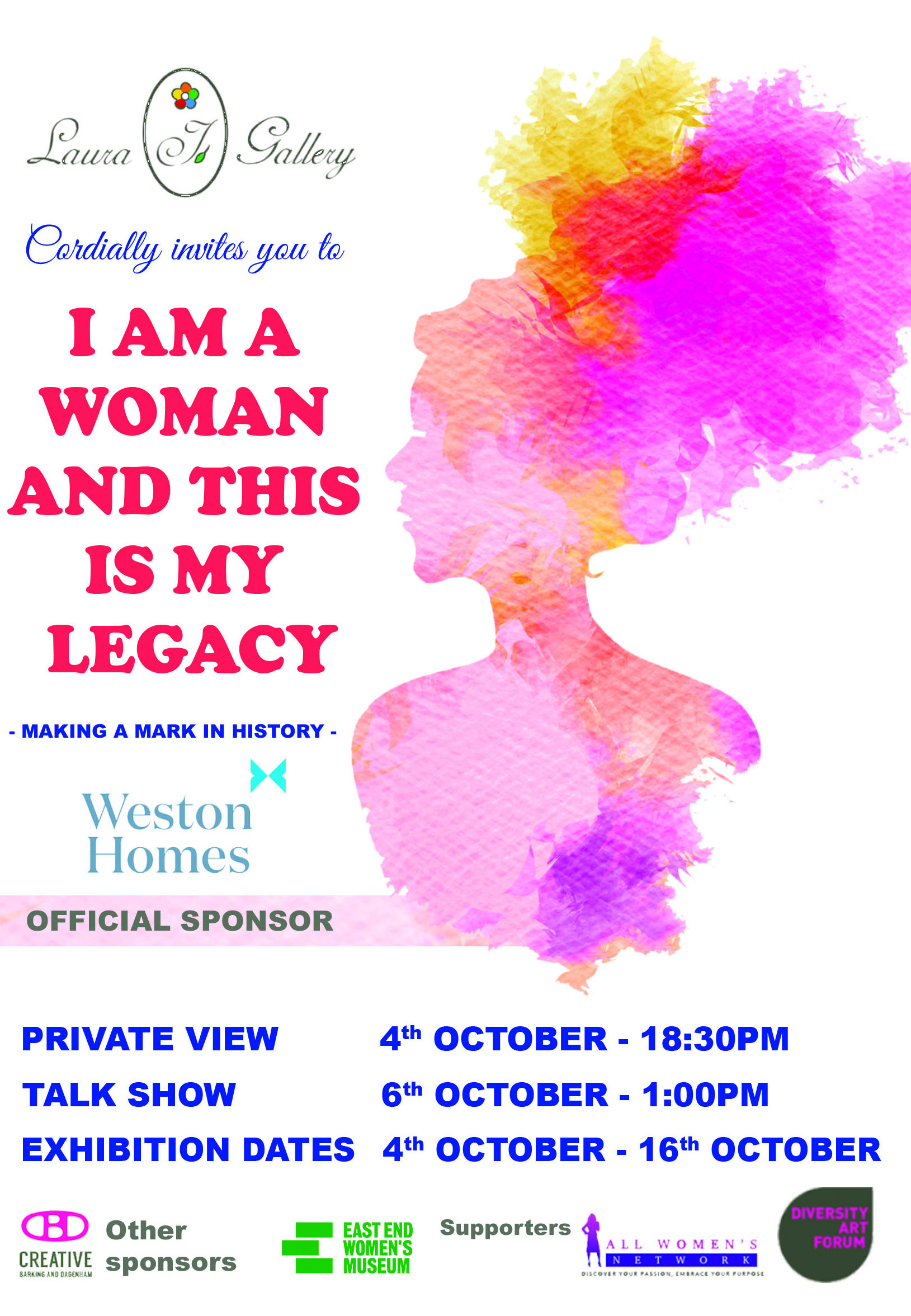 CALENDAR

• 4th of October 2018: 18.30 PM: Opening Reception – Announcement of prize winners and special guests: Weston Homes PLC, Creative Barking and Dagenham and Mayor of Barking and Dageham Borough, Sanchia Alasia.

• 6th of October 2018 ,1PM: Talk Show – expert panel made up of women of high profile that includes Sanchia Alasia,The Mayor of Barking and Dagenham Borough , Sarah Jackson, Co-Founder of East End Women Museum, Pauline de Souza ,Director of Diversity Art Forum London, , Hannah Kupoluyi the director of All Women Network , and the gallery owner Laura I. Gallery, will discuss related ideas and topics, including the importance of equal access to opportunities and recognising women for their talent and input in society.
.
•19th of October 2018 : Final day of the exhibition.