I AM ECHO, Design a Model Fashion Show. Sponsored by UJR Talk Radio . Poet and singer
About this event
I AM ECHO, proudly present, a Fashion Show with a twist. Design a model is exactly what it says on the tin. Come prepared with laughter in your heart and a sparkle in your shoes. Join an audience of like minded people as we team you up to show off your creative flare, all in the name of fun. We will provide you with the tools you need to create zap your magic wand and pull off a design, which you will make for a model, fit for a king or queen. so get your creative hats on and allow your imagination to run wild.
Who will be the winning team.
You will be entertained by a poet, singer and I AM ECHO models.
Food will be available on the night for you to purchase and to feed your energy. If you would like to eat it is advisable to arrive early so you are not eating during the show.
We look forward to meeting you
Tray-Ann and Paulette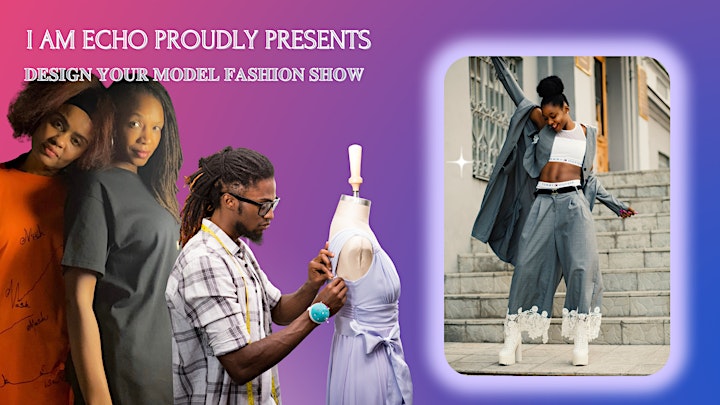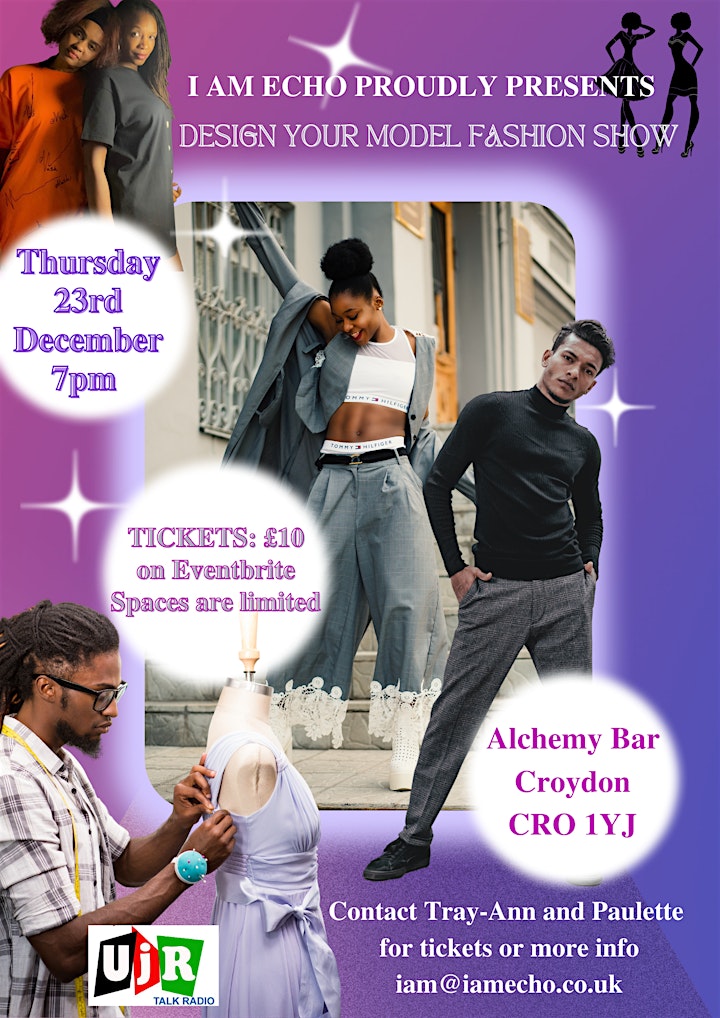 EXPERIENCED TRAINERS Tray-Ann and Paulette are skilled in the art Of runway coaches. We have trained over 20 years ago at the Laurie Small School of modelling. We were taught the correct deportment of a catwalk model. After hosting many fashion shows we decided to use our skills to build a platform for others to grow confidence, self-esteem and create an holistic mindset.Our determination and belief equip models with the necessary tools to step out of their comfort zone.
OUR MODELLING AND CONFIDENCE COACHING SERVICES. Paulette and Tray-Ann , are Runway trainers and organizers of our their events. Building self-esteem so you can take control of your confidence.
We are not an ordinary fashion platform. Our aim is to Wake up Diversity, in order to promote models with a unique difference to shine their light above the radar at fashion shows. Catwalk /runway training is a method we use to encourage individuals to get involved with an extra curricula activity. With Mental Health on the rise, we also pair hands with health and social care.
Our sessions are used to build Self-esteem and Grow confidence uniquely. We are not creating supermodels, we are building Super self-belief.
Tray-Ann and Paulette are not only runway trainers. They have buckets filled off experience in working with children of all age groups and cultures.
Amongst other skills. Tray-Ann is a qualified youth worker, a performing arts teacher with a history of acting in stage plays, and directing in various countries. Tray-Ann is also a qualified life coach as well as a qualified health and fitness practitioner.
Paulette is a qualified mental health practioner, a behaviour learning mentor to children and young people living with mental health issues.Paulette is a qualified NNEB Complex needs children practitioner, a photographer, and has written her first book
We are both trained confidence and NLP coaches. We are both experienced in dealing with children and adults who have developed low self-esteem and need a boost to rediscover and connect with their inner self. Our skills knowledge and experience in this area joins hand in hand with our current and previous roles.
WORKING IN PARTNERSHIP We work in partnership with outside professionals and other mentors including up and coming designers to ensure we all benefit from the pool of expertise, opportunities, power-sharing and resources that help people to thrive and shine. In return showcasing a range of eclectic outfits from the designers on the runway.
We do not discriminate against Height, shape, age, size, ethnicity and disability, male or female. We encourage every individual to get involved and build an
"I can attitude".
Organiser of I AM ECHO Design a Model Fashion Show