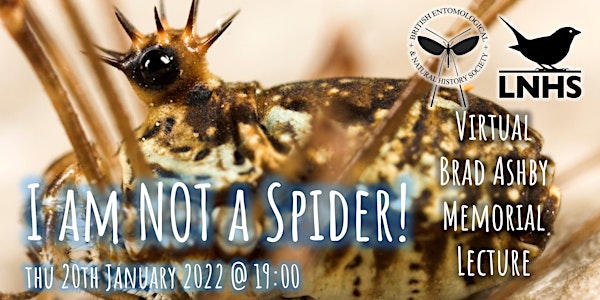 I am NOT a Spider! by Paul Richards: The Brad Ashby Memorial Lecture
This talk introduces you to the Opiliones, the harvestmen, some of the most easily seen and readily identified, yet overlooked invertebrates
About this event
Paul Richards, opiliones expert, Senior Curator of Natural History at Museums Sheffield and author of the FSC Guide to the Harvestmen of the British Isles, will deliver this year's joint LNHS/BENHS Brad Ashby lecture: 'I am NOT a spider!'
Many creatures may find themselves called 'Daddy long legs', but to whom should the term be correctly applied? Should any invertebrate with eight legs be called a spider? And what is the most venomous creature in your garden? The Harvestmen may have a thing or two to say about the misinformation surrounding these matters.
This talk will introduce you to the Opiliones, the harvestmen, and address some of these questions. They are some of the most easily seen and readily identified, yet overlooked invertebrates in Britain that are just crying out for you to give them your attention. Hopefully this richly illustrated lecture will inspire you take a fresh look at these amazing creatures.
Organiser of I am NOT a Spider! by Paul Richards: The Brad Ashby Memorial Lecture
The London Natural History Society (or LNHS as it is commonly known) is a local natural history society within the UK concerned with recording the wildlife of London, covering a circular area covering a 20-mile radius from St. Paul's Cathedral. The society aims include to foster the appreciation and study of London's wildlife and natural environment and assisting in the conservation of wildlife in the London area by helping to record London's wildlife. Society activities include running both indoor and outdoor events throughout the year and producing a number of publications, including the annual London Naturalist and London Bird Report. The LNHS library is housed at the Natural History Museum, London.