Description
THE AMAZING HOLLER4 ACTIVISTS CHOIR 'I CAN'T KEEP QUIET' WORKSHOP
PUSSY HATS TO THE READY WOMEN - WE CAN'T KEEP QUIET, WE WON'T KEEP QUIET!
---
To celebrate International Womens Day 2017 Holler4 are putting on a very special singing workshop for women on Saturday March 4th from 2 til 4pm where we are going to tap into the energy sparked globally by the Women's March and learn the fantastic "I cant keep quiet" in glorious 4 part harmony. The song by Alma Ha'rel and performed by Milck has become the anthem of the Womens March on Washington and we promise you are going to LOVE it!
Afterwards we will take to Piccadilly Circus and sing it loud and proud!
---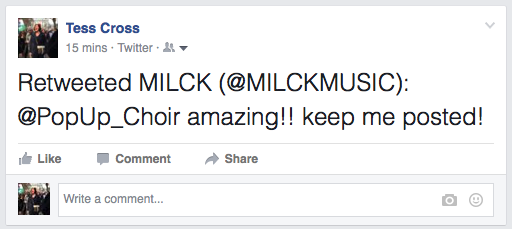 Here is the song performed at The Women's March on Washington
And here are Choir Choir Choir performing it with Milck.
We have a BIG vision for this song and will bring it to the next Womens March on a huge scale.
Imagine hunderds of us singing this song en masse. How beautiful and powerful will that be?
This will be the first workshop which makes it extra special.
Spread the word, lets make it an afternoon of joyful supportive singing sisterhood.
All levels of singing experience warmly welcomed!
FAQs
When I get to St James how do I find the Conference Room?
The Conference Room is accessed in a side alley (Church Place) between Costa Coffee and St James Church.
What are my transport/parking options for getting to and from the event?
TRANSPORT INFORMATION
Rail: Nearest stations are Charing Cross or Victoria
Underground: Piccadilly Circus on the Bakerloo and Piccadilly lines. Green Park on the Jubilee,
Piccadilly and Victoria lines.
Bus: Buses 14, 19, 22, 38, 98 and 159 will drop you off either in or very close to Piccadilly.
Car Parking: NCP car parks on Brewer Street, 02077 34 9497 or Westminster Council, Cockspur
Street / Spring Gardens, 0800 243 348.
Organiser of I CAN'T KEEP QUIET SINGING WORKSHOP FOR WOMEN
Denise Dobson is a natural voice choir leader with 2 thriving community choirs in Crouch End (Songworks Tuesday and Songworks Wednesday) as well as Holler4, an activists choir, famed for leading 100,000 people in a mass rendition of 'Something Inside So Strong' in Trafalgar square at the Womens March in 2017
Denise is really passionate about getting people singing, especially people who think they can't sing. She creates a space where everyone feels that their voice is welcome and she attracts singers from seasoned performers to absolute novices.  
In 2017 Denise started a programme of stand-alone Saturday Singing workshops and she is delighted to be welcoming Nickomo and Rasullah back for another Harmonic Temple Day.