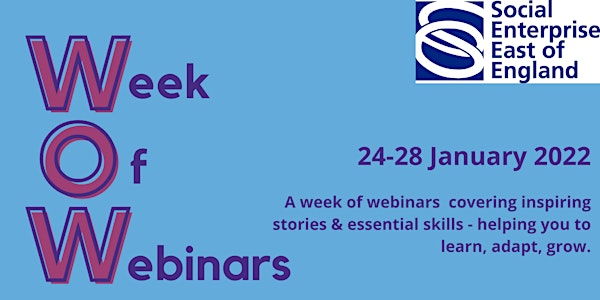 I don't have time for Marketing! Content Marketing for Social Enterprises
Many social enterprises have little time for marketing, but what should you be focusing on so that your social enterprise shines brightly?
About this event
At this webinar Jane Thompson from Thompson Marketing will take you through different strategies to get your organisation noticed, whilst ensuring you don't feel overwhelmed as a business owner – putting you in control of communicating your impact.
Do you feel you don't have time for marketing?
Or have you done some marketing but feel there isn't any structure to what you're doing?
This webinar will cover strategic essentials but also some practical tips to help you navigate the world of marketing, giving you confidence to embed a marketing strategy:
Marketing strategy and ensuring you focus on what works for you
Why content is always king
Social media platforms – what to focus on and how to manage them
Practical tips and tools – feel confident and build your marketing know-how
About your speaker
Jane Thompson is a Freelance Marketing Consultant specialising in working with all types of organisations in the third sector including social enterprises, not-for-profits and community initiatives.
With over 19 years experience as a Marketing Communications Manager, Jane has experience of working within different sized marketing teams, supervising agencies and in more recent years through running Thompson Marketing – her own Marketing Consultancy business that she started in 2016.
Jane is a qualified Member of the Chartered Institute of Marketing and is a supporting member of Social Enterprise UK. Jane is also the Membership and Marketing Manager for Social Enterprise East of England.