Event Information
Refund Policy
Refunds up to 7 days before event
Eventbrite's fee is nonrefundable.
About this Event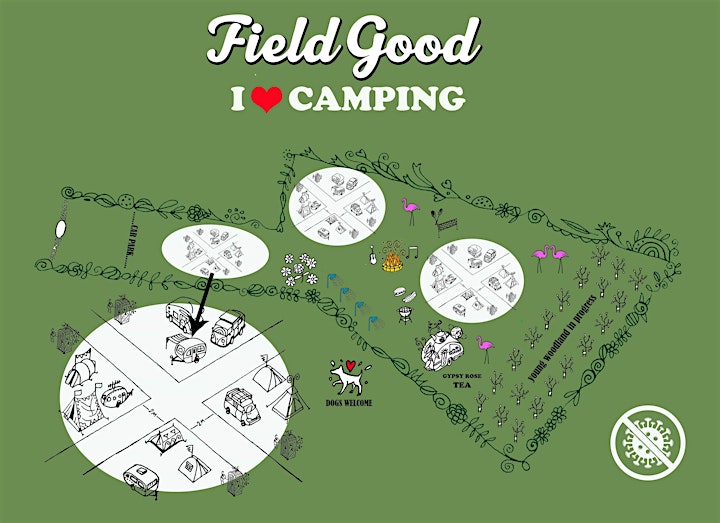 💖Please note DO NOT DRIVE INTO INGLESBATCH VILLAGE PLEASE USE GOOGLE FIELD GOOD BAR NOT POSTCODE BA29DZ WILL GET YOU NEAR BUT FIELDS DONT HAVE POSTCODES 😉 OR PRESS LOCATION BUTTON AT www.fieldgoodbar.co.uk
Look.out for signs 
Call 07814131014 
Field Good welcomes you to a socially responsible camping experience for your reunion with family and friends. This is an easy-going incentive for good times, to enjoy being together outside in the fresh air, immersed in nature .....
KIDS UNDER 5 COME FOR FREE
We have 12  pitches for up to 6 Friends or Family on our glorious site. £150 per camp per session 3-night mid-week special OR 2 night weekend. We plan to make the site look fab with lights and decor. This can be a camper van or caravan as well as tents.
Please select with your tribe your...inter-community would be great so up to 72 of your family and friends and they're extended is a nice idea!
This is an exclusive 4 week venture that rollover to August if the government change guidelines.Tickets are refundable after July 30th with the booking fee deducted as Eventbrite do not refund this and due toCovid will not pay out until the end of the events at the end of July
BYO Booze.. you are welcome to bring your own alcohol, we ask that you support our Breakfast, BBQ service, and Feasting Kitchen where possible
GLAMPING if you fancied  for 4 people fully furnished from our lovely Tinks £220 or 6 £280 this is an optional extra 
Book with her directly.
http://www.tinkerbelltenthire.co.uk/
SHOWERS
https://www.poshwashshowers.co.uk/
Showers are subject to strict regulations will be available at an extra cost for your time with us £3 per shower with the ever so brilliant Posh Wash Showers.. 
HAVE YOU BEEN BUSY MAKING ?
You are also welcome to sell wares NOT FOOD OR ALCOHOL from you area provided you are insured.
Our FIELD GOOD kitchen and grill will be fired up to serve you some fantastic food and various other concessions will be there .. and we ask if you can support this would be brilliant. We will have a large undercover communal area onsite too. Badminton, Football and other ideas are being included.
TERMS AND CONDITIONS
Although of course, we will issue guidelines we are also aware you know too well what's needed to ensure the smooth running of this enterprise, so these are just our terms and conditions to proceed ..
Site Noise restrictions (get this bit in early)
We are 1 mile from our nearest village, they are very tolerant and we understand that many people will be very sensitive to noise and maybe other people so we are keeping it  down...
All Music off by 11pm and this will be organised by Field Good ONLY No Mini rigs after this time either.
The Firepit will strictly close at midnight.
Acoustic music is permitted until midnight NO DRUMS
Each space will have its own chemical toilet.
Hot water facilities onsite for hand washing 24/7
BBQs are fine but NO firepits,.
NO GLASS at all please decant into plastic.. anyone found with glass on site will really endanger health and safety.
Well behaved dogs on leads at all times are welcome.
There are plenty of walks in the area so please do not allow your dog off the lead in the field. Anyone underage drinking will be asked to leave with their parents.
ALL YOUR RUBBISH IS YOURS TO TAKE HOME WE WANT A ZERO WASTER SITE thanks xx
Security on-site at all times
More than anything we want to open to like-minded people who care about the environment and other people.
Our nature is flexible and fun, but we reserve the right to ask people to leave if we feel they cant respect Field Good or its valued patrons...
Sending lots of LOVE as ever and wishes Field Good Team xxx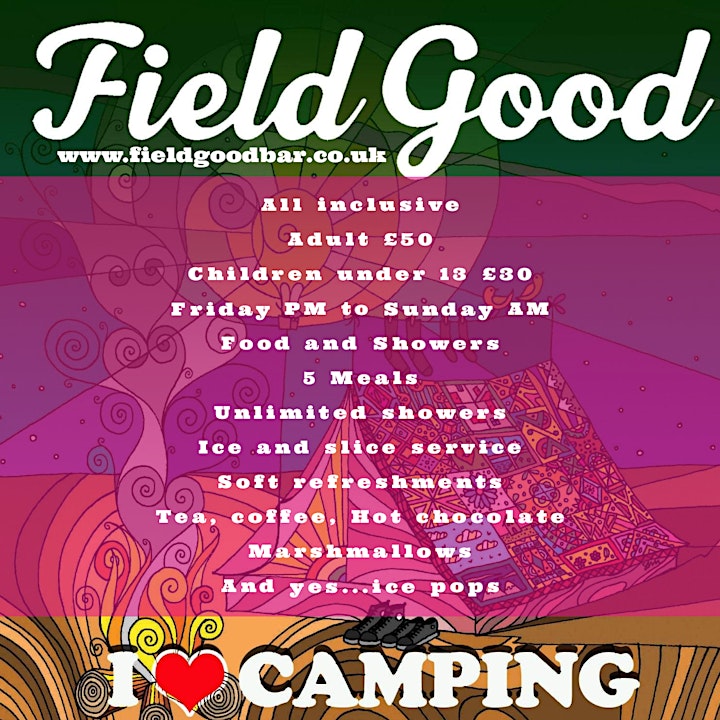 Inclusive .....let us sweae the small stuff ...