Description
"I Shall Not Hate" - Dr Izzeldin Abuelaish
'I shall not hate: the Gaza doctor Izzeldin Abuelaish discusses prospects and possibilities for peace between Israel and the Palestinian people in 2018'.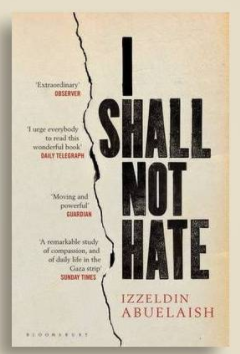 Dr Izzeldin Abuelaish , often referred to as "the Gaza Doctor" in the media, is a Palestinian medical doctor and
infertility specialist who has dedicated his life to peace in the conflict between Israel and Palestine. Born and raised in the Jabalia refugee camp in the Gaza Strip, he was the first doctor from Gaza to work in an Israeli hospital. On January 16th, 2009, during Operation Cast Lead, Dr Izzeldin Abuelaish's three daughters – Bessan, 21, Mayar, 15, Aya, 14 – and niece – Noor, 17 – were killed. Since he suffered the tragedy of losing his daughters in war, Dr Abuelaish has committed his life to forgiveness and reconciliation. He has written a bestselling book – I Shall Not Hate – which charts a brave path on the road to peace, and he has established a foundation dedicated to furthering educational opportunities for girls in the Middle East. Dr. Abuelaish has overcome many personal hardships, including poverty and violence, to become one of the most outspoken, prominent and beloved educators and public speakers on peace and development in the Middle East.
Fulton B Lecture Theatre
University of Sussex
Brighton
BN1 9RH

Following the lecture Dr Abuelaish will be selling and signing copies of his book 'I Shall Not Hate'.
This is a free, open lecture - everyone is welcome, but numbers are limited so please reserve your place.
'Dr Abuelaish's trip to the UK has been organised by Yachad, a British Jewish organisation, that campaigns for a political resolution to the Israeli-Palestinian conflict and an end to occupation. Yachad has a significant body of supporters within student populations on university campuses across the UK.'