Our very first sex and bodies open mic night- 'I shouted my Ex's name' is launching this September 5th in conjunction with the sex shop Sh!
About this Event
Serving you some raunchy rhymes, horny haikus, awkward alliterations and orgasmic odes - we promise to cringe you out and excite you in equal measure.
Before, during and after the show there will be time to make merry and enjoy a little tipple at the Pitfield London as well as time for you to browse the saucy sex shop Sh!
Come one and all for a titillating Thursday night of poetic fun.
*****
OUR FEATURE POET:
EMILY HARRISON
Emily Harrison is a poet and short story writer. A former Saboteur Awards Best Spoken Word Performer, she has performed at Glastonbury and Latitude as well as headlining numerous poetry events around the country. Her full-length poetry collection 'I Can't Sleep 'cause My Bed's On Fire' (2016) is published with Burning Eye Books. Emily's recent collaboration with TrueTube is the BAFTA nominated 'Reply With A Fully Stop If You Get This', a short film that explores living with a mental health disorder. Emily is currently working on a collection of short stories. She lives and teaches in Hackney.
Social:
Twitter: @EmilyHarrii
THE ORGANISERS:
CARMINA MASOLIVER
Carmina Masoliver is a poet from south London, and founder of She Grrrowls feminist arts nights. Her small chapbook was published by Nasty Little Press, and she recently published a She Grrrowls anthology with Burning Eye Books. She was long-listed for the Young Poet Laureate for London award in 2013, and the inaugural Jerwood Compton Poetry Fellowships in 2017. Alumni of the Roundhouse Poetry Collective, she has featured at nights such as Bang Said the Gun, and festivals including Latitude, Bestival and Lovebox both as a collective and individually. She performed internationally whilst living abroad, in Singapore, and in Spain. In 2017, she programmed 40 acts for She Grrrowls across the whole run at Edinburgh Fringe Festival, and in 2018 she showcased a segment at Women of the World Festival, Southbank. She has most recently been longlisted for the Out-Spoken Prize in Performance Poetry 2018.
Social:
Facebook: @CarminaPoetry
Instagram: carminamasoliver
Twitter: @CarminaPoetry
MY HAIRY VAG AND ME
After studying psychology and publishing an award winning paper on vaginas- she had a calling...and has been on the cutting edge of vagactivism and vagina poetry in London and across the UK ever since. Her poetry has been seen inside London taxis, heard on podcasts and listened to at many a badass feminist event. She aims to normalise conversations about bodies through humour and honesty. Cos there ain't nothing wrong with a vagina peeps!
Social:
Instagram : myhairyvagandme
*****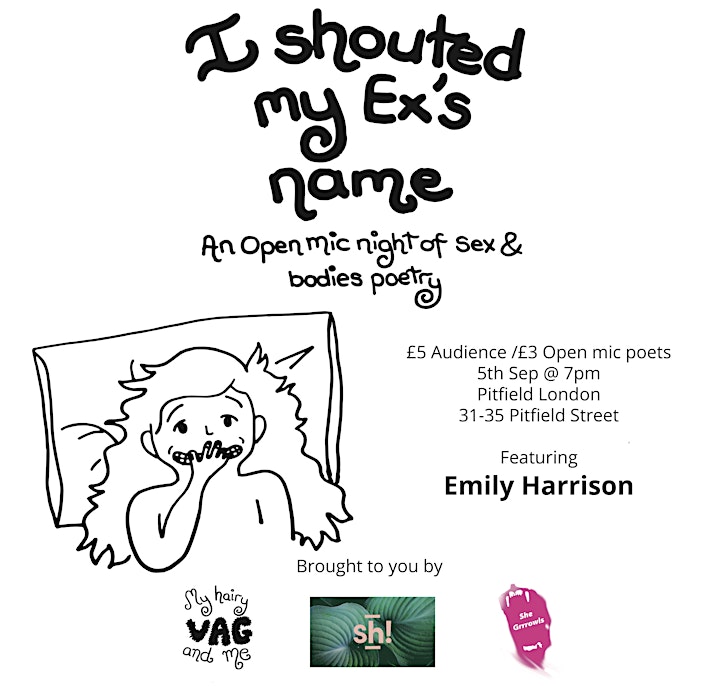 FAQs
- When do I need to arrive?
The show starts at 7.30pm- so please arrive between 7-7.20pm.
-How long are open mic spots?
Open mic spots are a raunchy five minutes long so make sure you time your piece/pieces beforehand.
-Anything else I need to prep for my open min slot?
Before the show send us an email with a couple of sentences for us to introduce you with: myhairyvagandme@gmail.com
-Can I buy tickets at the door?
Yes!- if we haven't sold out that is.
-Are there ID or minimum age requirements to enter the event?
There is no minimum age requirement however, please be aware that the themes covered over the course of this show may not be appropriate for everyone. Please email us if you have any questions: myhairyvagandme@gmail.com
-Is the venue wheelchair accessible?
Yes, there's a ramp. Drop us a line in advance, so that we can let the venue know: myhairyvagandme@gmail.com
-Do I have to bring my printed ticket to the event?
Nope, your name will be on a list. Easy peasy.