I Wouldn't Start From Here. A HeartEdge Introductory day.
An ecumenical day with Sam Wells and guests exploring theology and the future of the church in Liverpool and the North West.
About this event
Please note that we have changed the date of this due to the continuation of covid restrictions and the programme might change a little but will be very similar to the original plan.
Join Sam Wells of St Martin in the Fields for a keynote talk, Miranda Threlfall-Holmes from St Luke in the City, Kathy Versfeld from Strawberry Field, Kath Rogers from Crosby, Jackie Belfield Methodist Hospital Chapain, Dave Nicholson Commerce Consultant for HeartEdge and many others. Helen Jones of BBC Radio Merseyside will chair our panel.
We'll look at the HeartEdge 4Cs and how they work across Liverpool and the North west - including:
Congregation: Liturgy, worship & congregations.
Commerce: Being entrepreneurial, rethinking church buildings, growing income via enterprise.
Compassion: Growing participation to address social need.
Culture: Art, music and ideas connecting communities.
We're excited to be planning this as a physical event in Liverpool Parish Church and are charging £5 which will include lunch. We'll send more details about lunch and the appropriate arrangements nearer the time.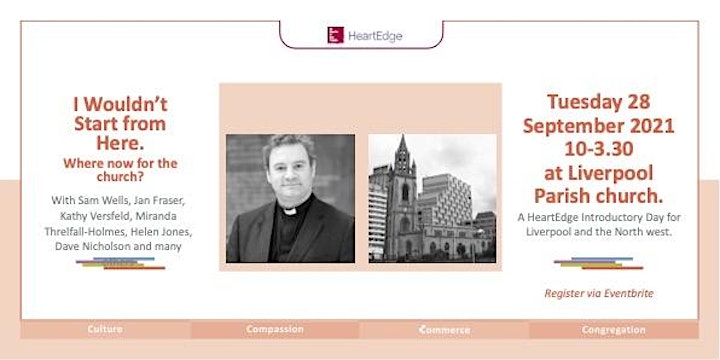 Organiser of I Wouldn't Start From Here. A HeartEdge Introductory day.