Description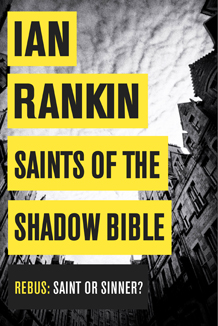 Ian Rankin returns to East Anglia before taking a year off from writing! Ian will not be carrying out any events until 2015, so this is your last chance to hear him for a while. This evening he is being interviewed by popular local crime writer Alison Bruce. They will cover a wide range of topics including Ian's new book.


Rebus is back on the force, albeit with a demotion and a chip on his shoulder. A 30-year-old case is being reopened, and Rebus's team from back then is suspected of foul play. With Malcolm Fox as the investigating officer is the past and present about to collide in a shocking and murderous fashion? And does Rebus have anything to hide? His colleagues back then called themselves 'The Saints', and swore a bond on something called 'the Shadow Bible'. But times have changed and the crimes of the past may not stay hidden much longer, especially with a referendum on Scottish independence just around the corner. Who are the saints and who the sinners? And can the one ever become the other?
Organiser of Ian Rankin in conversation with Alison Bruce
Heffers has been selling books in Cambridge since 1876 and is part of the fabric of the historic city centre. We pride ourselves on being a proper bookshop, packed with a vast range of titles from all kinds of subjects to explore, and with knowledgeable and friendly booksellers who are ready to offer advice and recommendations. Our literary event schedule is a busy one, with at least one event taking place most weeks throughout the year, and we are also the bookseller of choice for the Cambridge Literary Festival. Heffers also stocks an impressive range of non-book items including a fantastic selection of board games and we even run a regular games night called Board Games in the Bookshop.
For more information or to sign up for our newsletter please email heffers@heffers.co.uk.