Location
STEAMhouse, Belmont Works, Cardigan St, Birmingham B4 7RQ
Cardigan Street
Birmingham
B4 7RQ
United Kingdom
Join the iAtelier participants and partners as they reflect on the project and share learnings, prototypes and future plans
About this event
Please note this event will be hybrid - live at STEAMhouse and streamed online on Zoom
Exploring the interaction of traditional and digital techniques and tools can produce a myriad of creative and innovative outcomes.
Through Crafting Europe's iAtelier programme the Crafts Council and STEAMhouse have been supporting ten makers with craft or digital skills to develop new collaborations, prototype ideas, and integrate new digital fabrication technologies into craft practice.
Hear about the experience and impact of the project from participating makers Elise Gustilo, Joe Geehan, Claire Haley, Tusheeta David, Mariam Syed, Jess White, Duggie Dundas, Banita Mistry, and Charley Blackburn, and find out more about the five final collaborative projects which explore ideas across a range of materials and disciplines including furniture, millinery, textiles, and jewellery.
Event Schedule:
1.30pm Arrivals at STEAMhouse - teas and coffees
2.00pm Livestreamed event begins - hosted on Zoom
2.00pm Welcome and Introduction - Caroline Jackman, Head of Craft Business Skills, Crafts Council
2.10pm Reflections from STEAMhouse - Ruth Claxton, Artist Maker STEAMhouse
2.20pm Project presentations - Ply Away, Talaash, The Secret Life of Furniture, Winging it, Digital Ecology
3.10pm Q&A
3.30pm Livestream finishes
3.30–4pm Conversation and networking continues at STEAMhouse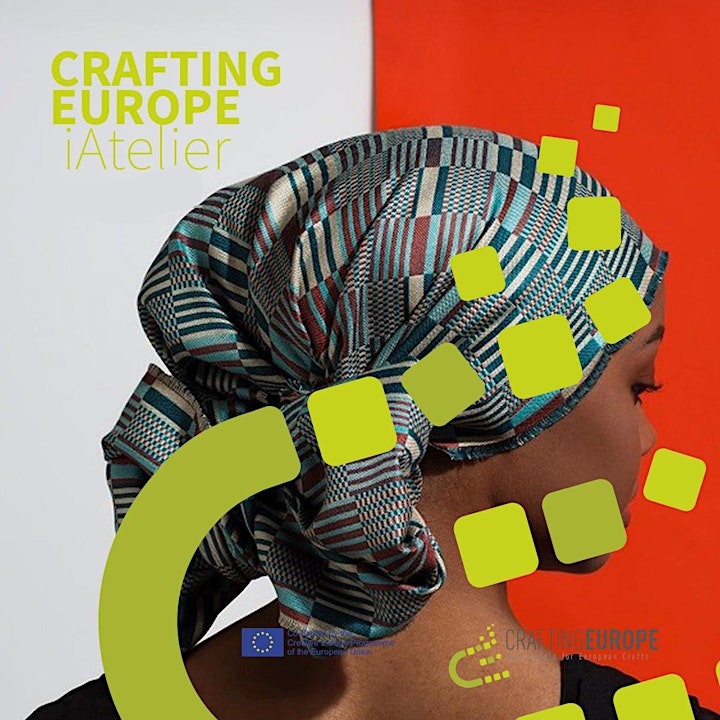 iAtelier is a Crafting Europe programme providing provision to aid with the adoption and use of ICT tools, primarily to encourage innovative forms of creation that integrate cutting-edge digital fabrication technologies into the practice of craft-making.
iAtelier brings together a network of existing digital innovation centres, such as Fab Labs, Makerspaces, and University Innovation and Research Centres to create a designer-makers digital craft development network. Through the iAtelier activities designer-makers will be linked with ICT and digital innovation providers to create a range of craft products that fuse traditional and digital methodologies.
Participants will be introduced to new fabrication tools and digital business innovation techniques to improve the effectiveness of micro-businesses in the crafts industry's sub-sector, and the creative industries in general. It is important to understand that digital fabrication technologies do not replace traditional technologies but instead should be viewed as additional tools that can be used to enhance traditional methods. The exploration of the intersection of traditional and digital techniques and tools can produce a myriad of creative and innovative outcomes.
STEAMHouse - part of Birmingham University, working with Eastside Projects is the UK partner Makerspace for iAtelier.
Crafts Council UK and STEAMHouse selected the following participants' projects:
Winging It by Claire Haley & Duggie Dundas
The Secret Life of Furniture by Jessie White, Duggie Dundas & Joe Geehan
Ply Away by Elise Gustilo, Joe Geehan & Claire Haley
Digital Ecology: Crafting with agar-agar by Charly Blackburn & Banita Mistry
Talaash (Exploration in Urdu and Hindi) by Mariam Syed & Tusheeta David
A summary of our participant's backgrounds and instagram links so you can find out more:
Charly Blackburn, @churlyblurburn, London, ceramics
Tusheeta David, @tusheetadavidjewellery, Sutton Coldfield, jewellery
Duggie Dundas, @duggiedundas, Salford, digital designer
Joe Geeham, @joe_geehan_designs/, Redditch, furniture/wood
Claire Hayley, @haleybirddesign/, Bristol, jewellery
Banita Mistry, @foreign__body/, Harrow, jewellery
Mariam Syed, @mariam.w.syed, Glasgow, textiles
Jessie White, @jessiewhitedesign/, London leatherwork
The UK iAtelier Cohort of 20 participants were selected in 2020 and took part in a series of masterclasses on co-design & co-collaboration and business development. Following the masterclasses, they were invited to team up and co-design a project proposal for the residency workshops and mentoring with STEAMHouse. The full cohort also included:
Abbie Adams, craft/making
Samantha Aplin digital design
Marta Fernández Abelló, digital design
Roc H Biel, digital design
Faye Hall, craft/making
Alexandra Klimek, craft/making
Andy Marsden, digital design
Yair Neuman, digital design
Charlotte Rodgers, craft/making
Roland Smith, craft/making
Diego Zamora, digital design