iAV21 (Intelligent Audio Visual)
About this event
No one has a crystal ball.
But we all have a view.
Join the discussion
Live from Shure UK's Rose Centre the AV Cultural Forum brings you iAV21
Where we explore and discuss:
Where are we?
Hybrid, resource and the workplace
With contributions from White Light Ltd, SHARP/ NEC, Shure, d&b audiotechnik and Forum members who work on the ground floor in the culture arena.
10.00 Introduction and welcome
10.20-11.20: White Light
Richard Wilson and Jason Larcombe will discuss where they feel the market is moving with content from:
Bryan Raven - Industry
Vaughan Roberts- Production Management
Chris Hollier- Lighting for Broadcast
Andy Hook- The Future
11.20-11.40 (approx)
We'll be running a recording Chris made with with Jack Laidlaw from Middlesbrough College on the exciting developments for the AV Technology qualification and degree level apprenticeships in conjunction with Open University distance learning. 
12.00-13.00 Shure UK
John Ellis will talk to his colleagues Peppe Mallozzi and Stuart Moots  about the latest on wireless bandwidths from ofcom as we see restrictions on bandwidth. Then John will at ways to look at various approaches to facilitate your boardroom spaces. 
13.00- 13.30 Bart Van Geldrop (approx)
We'll be running a recording where Chris discuss's insights into the Van Abbe Museum in Eindhoven with member Bart Van Geldrop who leads on audio visual at Van Abbe. 
14.00 SHARP/NEC
14:00     Welcome from AVCF Chairman – Chris Power
14:05     Introduction to SHARP NEC Display Solutions – Jonathan Cooper
14:10     WD551 TEAMS Certified Collaboration Display for Hybrid Meetings – Simon Hayes
14:25     Display Solution Overview & what does SNDS represent for Museums, Art Galleries and Cultural venues – Jonathan Cooper
14:40     NDi BirdDog Streaming tools Integrated into Display Technology with SDM – Graham Kirkpatrick & Phill Lane (BirdDog)
14.55     Conclusion – Jonathan Cooper
15.00-16.30 Museums session
A discussion of the day's themes from people working in the museum, galleries and heritage area. 
Featuring; Caroline Carter (Imperial College London), Jon Sheldon (National Gallery), Liam Helm (Royal Society), Sian Toogood (British Museum), Thea Stevenson (Wellcome), Dan Crompton (Tate), Jon Harris (Birmingham Museums Trust), Benji Fox (Royal Academy) Iain Smart (Royal College of Anaesthetists).
16.30-17.30 d&b audiotechnik
Wayne Powell and Andrew Horsburgh from d&b discuss their thoughts on:
PA design ideas for hybrid and remote systems.
Wayne Powell, business development for d&b audiotechnik
Andrew Horsburgh, education and application support for d&b audiotechnik
17.30 Harrison Award
Announcement of this year's recipient
17.45- SNUG 
Come and join us for an informal break at the end of the day and say hi to people... If you have a beer in hand, that's allowed :)
Hosting by sponsors Shure UK
Production services provided by sponsors Jacobs Massey Ltd
AV Cultural Forum 'People not boxes'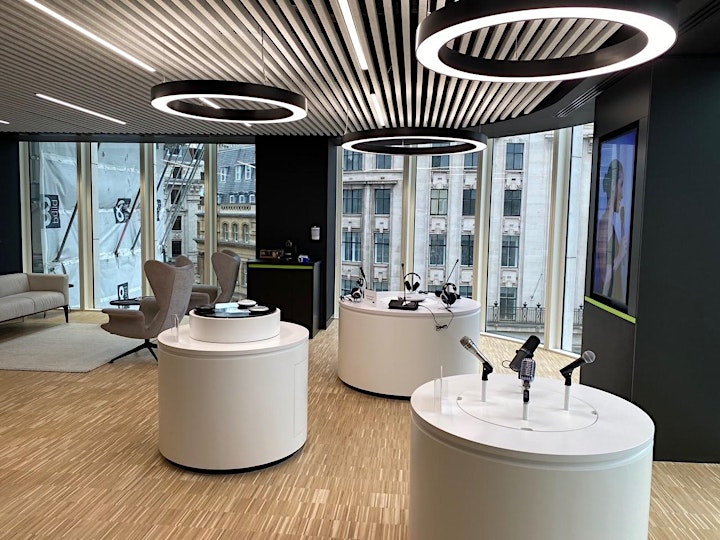 Organiser of iAV21 an annual event from the AV Cultural Forum