Description
The course focuses primarily on the mind-sets, roles, coaching skills and responsibilities of an Agile Coach, and after successful completion of the course, you will be ICP-ACC certified.
THIS COURSE IS ALSO ENDORSED BY
Scrum Alliance

By attending this course, you will be eligible to earn up to 24 Category C SEU Points.

Business Leadership Academy / Course Approved by International Coaching Federation (ICF)




By attending this course, you will be eligible to earn Agile Coach Practitioner certificate.

By attending this course, you will be eligible to earn ICF CCE 9 hrs.
This course is developed for
Agile team leaders or aspiring team leaders with a passion to increase their leadership impact and a desire to learn and practice coaching. Relevant roles include Project Managers, Scrum Masters, Agile Coaches, Product Owners, Analysts, and anyone with the desire to harness the power of coaching and influence teams.
After finishing the course
You will be able to differentiate between mentoring, facilitating, consulting, teaching and coaching, and acquire the knowledge and skills to create a safe environment for meaningful collaboration and healthy conflict resolution within an agile team. You will fully appreciate the team development concepts around starting and growing teams while paying particular attention to team dynamics and the surrounding organisational system. A key part of this course focuses on developing an understanding of professional coaching skill set and the value of honing these skills to serve individuals in an agile team.
The required learning objectives for the ICP-ACC certification will be covered in approximately 21 hours of instructional activities over the course of three days. You can find the agenda in detail below.
Agenda
The Roles of an Agile Coach

Responsibilities and Skills of an Agile Coach

Setting Boundaries for Coaching

Coach as Professional Coach

The Coaching Conversation – Coaching for Action

Professional Coaching Skills

Conducting the Coaching Conversation

Coach as Mentor

Mentoring vs. Coaching

Coach as Teacher

Teams

Setting up the Team Environment

Creating a Team Kick-off / Start-up Agenda

Characteristics of an Agile Team

Coaching the Journey Toward High Performance

Handling Conflict and Dysfunction within the Team

Handling Organisational Impediments

Planning to facilitate a conflict in a team



FAQ's
Q. Are meals provided?
Yes. Lunches are provided across the three-day course as well as beverages throughout the day to keep you going. Please let us know if you have any special requirement about your diet.
Q. Is it a residential course?
No. If you are travelling from outside London you may want to arrange your accommodation in advance. We are happy to assist if required, please contact us at info@leadership-tribe.com.
Q. Do you offer concession prices for your sessions?
Yes. If you have a group of more than 3 people booking the course together, you are eligible for the group booking discount at £1050 + VAT per person. If you're looking for a tailored course for your business, call us on +44 (0)267 096 0346 or email info@leadership-tribe.com to find out how we can help you.
About Our Trainers
Krishna Chodipilli
Krishna is an experienced Agile Coach, Trainer, Speaker and essentially a warm-hearted advocator of Software development and Agile Marketing. He has more than 15 years' experience in enterprise transformation, helping organisations to explore, create new frontiers in Enterprise and Business Agility by reducing clutter and focusing on the things that matter. Whether you are scaling Agile through your entire company or adopting it for the first time, he is distinctly competent to help identifying better ways to serve your clients.
Krishna has been training coaches globally for IT and Non-IT teams. His training and coaching styles are recognised with the following characteristics: honest, open and direct, curious and respectful, with humour and empathy. His challenging questions and highly attentive listening skills have contributed in building trust and effective relationships with coachees of various industries across hierarchy levels.
Coaching Specialisms • Leadership capabilities and the process of cultural change • Leadership challenges such as organisational restructuring, processes and personnel change accompanied with resistance and conflicts in their teams • Delivering 360° feedback and coaching for personal development and resilience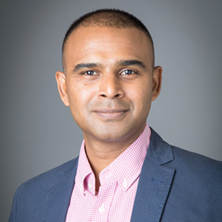 Vikram Dhar
Vikram is an International Coach Federation (ICF) Mentor Coach. He is a Licensed Neuro Linguistic Programming (NLP) Coach, certified by Dr Richard Bandler Co-founder of NLP. He is a certified NLP Trainer accredited by two largest boards in the world - American Board of NLP (US) and Association of NLP (UK). He has been personally trained by John Grinder Co-founder of NLP and works with various Neuro Scientists and Behaviour based experts across the world to create new cutting-edge coaching tools.

He works with individuals to help them to achieve their goals, change unwanted behaviour, eliminate limiting beliefs, and gain control over their personal and professional aspects in life. He is also a Mental Game Coach (expert in Sports Psychology), and is currently coaching Ladies Snooker Champion of India, who has represented India and won numerous medals for India at worldwide snooker events. He also coaches India national Jiu-Jitsu gold medallist, who has represented India in various international tournaments.
He is an experienced Leadership Development and Sales Coach, and works with various senior executives and sales teams across the globe. He has coached and mentored Agile teams across India, UK, China and Philippines for one of the largest companies in the world with 300,000+ global employees.